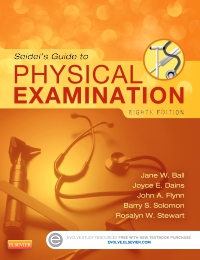 Physical Examination and Health Assessment Online for Seidel's Guide to Physical Examination, 8th Edition
Online Course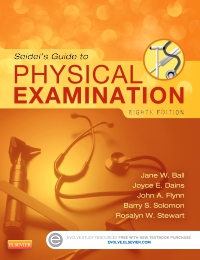 Or $0.00 with a valid access code
Corresponding to Seidel's Guide to Physical Examination, 8th Edition, Physical Examination and Health Assessment Online simplifies assessment skills and makes learning easier with video clips, animations, interactive activities, and review questions. It also features self-paced learning modules with capstone case studies for each body system to help you understand and apply physical exam and health assessment principles and techniques. Developed by clinicians and educators Jane Ball, Joyce Dains, John Flynn, Barry Solomon, and Rosalyn Stewart, this online course is designed to work as an independent learning experience or as a complement to classroom lectures and clinicals.
Duration for access to this product is for the life of the edition.
Some content has been removed from this site because Flash is no longer supported on web browsers.
Self-paced learning modules walk you through an anatomy and physiology review, subjective data, objective data, documentation, and abnormal findings for each body system.
Advanced Practice case studies allow you to experience client encounters in an office-like setting, covering advanced assessment techniques such as reviewing symptoms and systems, taking a supplemental history, performing a focused physical exam, ordering and interpreting diagnostic tests, and developing differential diagnoses and treatment plans.
Capstone cases for each body system show the realities of practice and promote the application of assessment skills in simulated experiences.
Video clips demonstrate how to conduct exams on patients of various ages, ethnicities, and genders.
Multiple-choice review questions provide the opportunity for self-assessment, with rationales to reinforce understanding of essential content.
Full-color photos with anatomic landmark overlays depict the anatomy beneath the surface of the skin.
Animations show three-dimensional anatomic illustrations and physiologic processes, bringing important anatomic and physiologic processes to life.
Audio clips play recorded heart, lung, and abdominal sounds, so you can hear and review real-life audio findings.
Interactive activities allow a quick review of assessment techniques, terms, and findings, with exercises such as Listen & Select, Match It, Picture It, Think It Through, True or False, and more.
Student checklists provide portable, quick reference to the main points of examinations for each body system.
Audio glossary includes key physical exam and health assessment terms with audio pronunciations.

Updated content reflects the latest research findings and evidence-based practice on techniques, normal and abnormal findings, and assessment of patients with specific abnormalities.

Modules
1. The History and Interviewing Process
2. Cultural Competency
3. Examination Techniques and Equipment
4. Vital Signs and Pain Assessment
5. Mental Status
6. Growth and Measurement
7. Nutrition
8. Skin, Hair, and Nails*
9. Lymphatic System*
10. Head and Neck*
11. Eyes*
12. Ears, Nose, and Throat*
13. Chest and Lungs*
14. Heart*
15. Blood Vessels*
16. Breasts and Axillae*
17. Abdomen*
18. Female Genitalia*
19. Male Genitalia*
20. Anus, Rectum, and Prostate*
21. Musculoskeletal System*
22. Neurologic System*
23. Sports Participation Evaluation
24. Putting it all Together
25. Taking the Next Steps: Critical Thinking
26. Recording Information
27. Emergency or Life-Threatening Situations
* Denotes chapters with capstone case studies
Assets
• Advanced Practice Case Studies
• Anatomic Overlays
• Animations
• Glossary
• Heart, Lung, and Abdomen Sounds
• Interactive Activities
• Multiple-Choice Review Questions
• Self-Paced Learning Modules with Capstone Case Studies
• Starter Guide
• Student Checklists
• Video Clips

Jane W. Ball, RN? DrPH? CPNP, Chief Nursing and Content O? cer,Triaj, Inc, Havre de Grace, Maryland, Joyce E. Dains, DrPH? JD? APRN? FNP?BC? FNAP? FAANP? FAAN, Professor and Executive Director, Advanced Practice;The University of Texas M. D. Anderson Cancer Center,Houston, Texas, John A. Flynn, MD, MBA, MEd, Professor of Medicine;The University of Chicago,Chicago, Illinois, Barry S. Solomon, MD, MPH, Professor of Pediatrics,Chief, Division of General Pediatrics;Assistant Dean for Medical Student A? airs,The Johns Hopkins University,School of Medicine,Baltimore, Maryland and Rosalyn W Stewart, MD, MS, MBA, Professor of Medicine and Pediatrics;The Johns Hopkins University School of Medicine,Baltimore, Maryland
Or $0.00 with a valid access code