Fundamentals of Nursing - Text & Elsevier Adaptive Quizzing (Access Card) Package
,
Package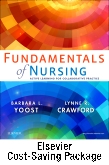 Free Shipping!
This item has low stock levels and may be back-ordered. We'll let you know if it is back-ordered, and you will not be charged until the item ships.
Corresponding chapter-by-chapter to Fundamentals of Nursing, Active Learning for Collaborative Practice, 1st Edition, Elsevier Adaptive Quizzing is the fun and engaging way to focus your study time and effectively prepare for class, course exams, and the NCLEX exam. Elsevier Adaptive Quizzing is comprised of a bank of high-quality practice questions that allows you to advance at your own pace — based on your performance — through multiple mastery levels for each chapter. A comprehensive dashboard allows you to view your progress and stay motivated.
UNIQUE! Elsevier's trusted, market-leading content serves as the foundation for all questions, which are written, reviewed, and leveled by experienced nursing educators, item writers, and authors.
UNIQUE! Unfolding questions become progressively more complex as you advance to higher levels, incorporating concepts such as delegation, multi-system disease, or complicating conditions to help you strengthen your critical thinking and clinical reasoning skills.
UNIQUE! Essential test-taking tips and strategies help you learn how to successfully dissect and tackle different question types and improve test-taking skills for both course exams and the NCLEX examination.
Confidence level indicators allow you to indicate your confidence when submitting answers, providing valuable insight into areas where you might require further study.
UNIQUE! Practice in Study Mode, which provides immediate feedback, or in Exam Mode where the quiz is timed and results are summarized at the end.
UNIQUE! In addition to detailed rationales for each question, select questions include interactive, multimedia resources such as illustrations, animations, videos, audio clips, and study tips to help you master challenging material.
The engaging, easy-to-use interface ensures that you'll be able to navigate through the program with ease.
Multiple mastery levels for each chapter, topic, or concept allow you to progress from one level to the next based on your performance.
Alternate item format questions — including multiple-response, fill-in-the-blank, prioritizing, graphic item options, chart/exhibit, video, audio, and hot spot — provide valuable NCLEX exam preparation.
The comprehensive dashboard allows you to view your personal learning progress with summaries of your strengths, weaknesses, mastery levels, and normative data.

Unit I: Nursing Basics 1. Nursing, Theory, and Professional Practice 2. Values, Beliefs, and Caring 3. Communication 4. Critical Thinking in Nursing Unit II: Nursing Process 5. Introduction to the Nursing Process 6. Assessment 7. Nursing Diagnosis 8. Planning 9. Implementation and Evaluation Unit III: Nursing Practice 10. Documentation, Electronic Health Records, and Reporting 11. Ethical and Legal Considerations 12. Leadership and Management 13. Evidence-Based Practice and Nursing Research 14. Health Literacy and Patient Education 15. Nursing Informatics 16. Health and Wellness Unit IV: Nursing Assessment 17. Human Development: Conception through Adolescence 18. Human Development: Young Adult through Older Adult 19. Vital Signs 20. Health History and Physical Assessment 21. Ethnicity and Cultural Assessment 22. Spiritual Health 23. Public Health, Community-based, and Home Health Care 24. Human Sexuality Unit V: Nursing Principles 25. Safety 26. Asepsis and Infection Control 27. Hygiene and Personal Care 28. Activity, Immobility, and Safe Movement 29. Skin Integrity and Wound Care 30. Nutrition 31. Cognitive and Sensory Alterations 32. Stress and Coping 33. Sleep Unit VI: Nursing Care 34. Diagnostic Testing 35. Medication Administration 36. Pain Management 37. Perioperative Nursing Care 38. Oxygenation and Tissue Perfusion 39. Fluid, Electrolytes, and Acid-Base Balance 40. Bowel Elimination 41. Urinary Elimination 42. Death and Loss Glossary Appendix A: Abbreviations, Roots, Prefixes and Suffixes Appendix B: NANDA-I Diagnostic Labels Appendix C: NCLEX-Style Question Study Tips

Barbara L Yoost, Lynne R Crawford and Elsevier