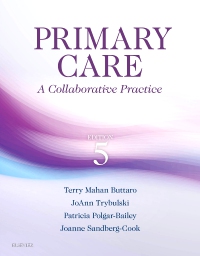 Publication Date:
04-19-2016
Primary Care - Elsevier eBook on VitalSource, 5th Edition
Elsevier eBook on VitalSource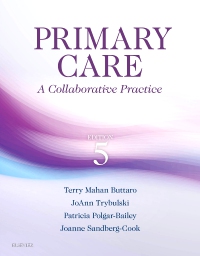 Publication Date:
04-19-2016
Most review copies are eBooks – how fast!
A review copy request is most likely to be fulfilled as an eBook on VitalSource rather than a print product, unless no eBook is available. eBooks become available in as little as a few hours. Print products will take between 7 and 10 days to arrive. To request a print copy, please contact the
Evolve Support Center
or your
Education Solutions Consultant
.
There's no better preparation for today's fast-paced, collaborative healthcare environment! Primary Care offers expert perspectives from a variety of primary care and nurse practitioners to help students learn to diagnose, treat, and manage hundreds of adult disorders. Care recommendations also indicate when to consult with physicians or specialists, and when to refer patients to an emergency facility. This edition includes six new chapters, a fresh new design, the latest evidence-based guidelines, and a new emphasis on clinical reasoning. Combining academic and clinical expertise, this comprehensive text shows NPs how to provide effective, truly interdisciplinary health care.
UNIQUE! A collaborative perspective promotes seamless continuity of care, with chapters written by NPs, physicians, PAs, and other primary care providers.
Comprehensive, evidence-based content covers every major disorder of adults seen in the outpatient office setting, reflects today's best practices, and includes the knowledge you need for the NP/DNP level of practice.
A consistent format in each chapter is used to describe disorders, facilitating easier learning and quick clinical reference.
Diagnostics and Differential Diagnosis boxes provide a quick reference for diagnosing disorders and making care management decisions.
Complementary and alternative therapies are addressed where supported by solid research evidence.
Referral icons highlight situations calling for specialist referral or emergency referral.

NEW chapters cover topics including transitional care, risk management, LGBTQ patient care, bullous pemphigoid, pulmonary embolism, and dysphagia.
NEW! An emphasis on clinical reasoning helps you develop skills in diagnosis and treatment, with coverage moving away from pathophysiology and toward diagnostic reasoning and disease management — including pharmacologic management.
NEW focus on interdisciplinary care underscores the importance of interprofessional education and practice, and includes Interdisciplinary Management features.
UPDATED chapters reflect the latest literature and evidence-based treatment guidelines, including new content on the Affordable Care Act as well as new coverage of patient satisfaction metrics, quality metrics, value-based purchasing, pharmacogenetics/genomics, and teen pregnancy and abnormal pregnancy.
NEW quick-reference features make it easier to locate important information, through colorful section tabs, bulleted summaries, additional algorithms, a more logical table of contents, an Index to Standardized Treatment Guidelines, and a Reference to Common Laboratory Values.

Part 1: Introduction
1.The Evolving Landscape of Collaborative Practice
2.Transitional Care NEW!
3.Translating Research Into Clinical Practice
4.The Patient, the Provider, and Primary Care: An Integrated Perspective
5.Population-Based Care for Primary Care Providers
6.Health Literacy, Health Care Disparities, and Culturally Responsive Primary Care
7.Genetic Considerations in Primary Care
8.Risk Management NEW!
Part 2: Primary Care: Adolescence Through Adulthood
9.Adolescent Issues
10.LGBTQ Patient Care NEW!
11.Pregnancy and Prenatal Care
12.Lactation Guidance
13.Aging and Common Geriatric Syndromes
14.Palliative and End-of Life Care
Part 3: Health Maintenance
15.Obesity and Weight Management
16.Lifestyle Management
17.Routine Health Screening and Immunizations
18.Principles of Occupational and Environmental Health in Primary Care
19.College Health
20.Health Care of the International Traveler
21.Presurgical Clearance
22.Preparticipation Sports Physical
Part 4: Office Emergencies
23.Disaster/Emergency Preparedness and Response in Primary Care
24.Acute Bronchospasm
25.Anaphylaxis
26.Bites and Stings
27.Bradycardia and Tachycardia
28.Cardiac Arrest
29.Chemical Exposure
30.Electrical Injuries
31.Environmental Allergies
32.Head Trauma
33.Hypotension
34.Poisoning
35.Sexual Assault
36.Syncope
37.Thermal Injuries
Part 5: Evaluation and Management of Skin Disorders
38.Examination of the Skin and Approach to Diagnosis of Skin Disorders
39.Surgical Office Procedures
40.Principles of Dermatologic Therapy
41.Screening for Skin Cancer
42.Acne Vulgaris
43.Alopecia
44.Animal and Human Bites
45.Bullous Pemphigoid NEW!
46.Burns (Minor)
47.Cellulitis
48.Contact Dermatitis
49.Corns and Calluses
50.Cutaneous Herpes
51.Dermatitis Medicamentosa
52.Dry Skin
53.Eczematous Dermatitis (Atopic Dermatitis)
54.Fungal Infections (Superficial)
55.Herpes Zoster (Shingles)
56.Hidradenitis Suppurativa (Acne Inversa)
57.Hyperhidrosis
58.Intertrigo
59.Nail Disorders
60.Pigmentation Changes (Vitiligo)
61.Pruritus
62.Psoriasis
63.Purpura
64.Scabies
65.Seborrheic Dermatitis
66.Stasis Dermatitis
67.Urticaria
68.Warts
69.Wound Management
Part 6: Evaluation and Management of Eye Disorders
70.Evaluation of the Eyes
71.Cataracts
72.Blepharitis, Hordeolum, and Chalazion
73.Conjunctivitis
74.Corneal Surface Defects and Ocular Surface Foreign Bodies
75.Dry Eye Syndrome
76.Nasolacrimal Duct Obstruction and Dacryocystitis
77.Preseptal and Orbital Cellulitis
78.Pinguecula and Pterygium
79.Traumatic Ocular Disorders
Part 7: Evaluation and Management of Ear Disorders
80.Auricular Disorders
81.Cerumen Impaction
82.Cholesteatoma
83.Impaired Hearing
84.Inner Ear Disturbances
85.Otitis Externa
86.Otitis Media
87.Tympanic Membrane Perforation
Part 8: Evaluation and Management of Nose Disorders
88.Chronic Nasal Congestion and Discharge
89.Epistaxis
90.Nasal Trauma
91.Rhinitis
92.Sinusitis
93.Smell and Taste Disturbances
94.Tumors and Polyps of the Nose
Part 9: Evaluation and Management of Oropharynx Disorders
95.Dental Abscess
96.Diseases of the Salivary Glands
97.Epiglottitis
98.Oral Infections
99.Parotitis
100.Peritonsillar Abscess
101.Pharyngitis and Tonsillitis
Part 10: Evaluation and Management of Pulmonary Disorders
102.Acute Bronchitis
103.Asthma
104.Chest Pain (Noncardiac)
105.Chronic Cough
106.Chronic Obstructive Pulmonary Disease
107.Dyspnea
108.Hemoptysis
109.Lung Cancer
110.Pleural Effusions and Pleurisy
111.Pneumonia
112.Pneumothorax
113.Pulmonary Embolism NEW!
114.Pulmonary Hypertension
115.Sarcoidosis
Part 11: Evaluation and Management of Cardiovascular Disorders
116.Cardiac Diagnostic Testing: Noninvasive Assessment of Coronary Artery Disease
117.Abdominal Aortic Aneurysm
118.Cardiac Arrhythmias
119.Carotid Artery Disease
120.Chest Pain and Coronary Artery Disease
121.Heart Failure
122.Hypertension
123.Infective Endocarditis
124.Myocarditis
125.Peripheral Arterial and Venous Insufficiency
126.Valvular Heart Disease and Cardiac Murmurs
Part 12: Evaluation and Management of Gastrointestinal Disorders
127.Abdominal Pain and Infections
128.Anorectal Complaints
129.Cholelithiasis and Cholecystitis
130.Cirrhosis
131.Constipation
132.Diarrhea, Noninfectious
133.Diverticular Disease
134.Dysphagia NEW!
135.Gastroesophageal Reflux Disease
136.Gastrointestinal Hemorrhage
137.Hepatitis
138.Inflammatory Bowel Disease
139.Irritable Bowel Syndrome
140.Jaundice
141.Nausea and Vomiting
142.Pancreatitis
143.Tumors of the Gastrointestinal Tract
144.Peptic Ulcer Disease
Part 13: Evaluation and Management of Genitourinary Disorders
145.Incontinence
146.Prostate Cancer
147.Prostatic Hyperplasia (Benign)
148.Proteinura and Hematuria
149.Renal Failure
150.Sexual Dysfunction (Male)
151.Testicular Disorders
152.Urinary Calculi
153.Urinary Tract Infections and Sexually Transmitted Infections
154.Uropathies (Obstructive) and Tumors of the Genitourinary Tract (Kidneys, Ureters, and Bladder)
Part 14: Evaluation and Management of Gynecologic Concerns
155.Amenorrhea
156.Bartholin's Gland Cysts and Abscesses
157.Breast Disorders
158.Chronic Pelvic Pain
159.Dysmenorrhea
160.Dyspareunia
161.Ectopic Pregnancy
162.Fertility Control
163.Genital Tract Cancers
164.Infertility
165.Menopause
166.Pap Test Abnormalities
167.Pelvic Inflammatory Disease
168.Sexual Dysfunction (Female)
169.Unplanned Pregnancy
170.Vulvar and Vaginal Disorders
Part 15: Evaluation and Management of Musculoskeletal and Arthritic Disorders
171.Ankle and Foot Pain
172.Bone Tumors
173.Bursitis
174.Elbow Pain
175.Fibromyalgia and Myofascial Pain Syndrome
176.Gout
177.Hand and Wrist Pain
178.Hip Pain
179.Infectious Arthritis
180.Knee Pain
181.Low Back Pain
182.Metabolic Bone Disease: Osteoporosis and Paget's Disease of the Bone
183.Neck Pain

Terry Mahan Buttaro, PhD, AGPCNP-BC, FAANP, FNAP, Clinical Assistant Professor, Coastal Medical Associates, Salisbury, Massachusetts; University of Massachusetts Boston, Boston, Massachusetts, Patricia Polgar-Bailey, PsyD, MPH, FNP-BC, CDE, BC-ADM, Family Nurse Practitioner and Integrative Care Provider, Charlottesville Free Clinic; Clinical Psychologist, Blue Mountains Health, Charlottesville, Virginia, Joanne Sandberg-Cook, MS, APRN, ANP/GNP-BC, Adult/Gerontologic Nurse Practitioner (retired), Dartmouth-Hitchcock Medical Center, Dartmouth-Hitchcock at Kendal, Hanover, New Hampshire; Director, Community Nurse of Thetford, Inc, Thetford Center, Vermont and JoAnn Trybulski, PhD, ARNP, FNAP, Formerly,Director, DNP Program, Chamberlain College of Nursing, Doral, Florida
Most review copies are eBooks – how fast!
A review copy request is most likely to be fulfilled as an eBook on VitalSource rather than a print product, unless no eBook is available. eBooks become available in as little as a few hours. Print products will take between 7 and 10 days to arrive. To request a print copy, please contact the
Evolve Support Center
or your
Education Solutions Consultant
.