Elsevier Adaptive Learning for Foundations of Maternal-Newborn and Women's Health Nursing (Access Card), 6th Edition
Elsevier Adaptive Learning - Access Card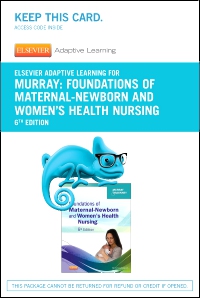 Free Shipping!
In Stock
This item has low stock levels and may be back-ordered. We'll let you know if it is back-ordered, and you will not be charged until the item ships.
Corresponding chapter-by-chapter to Foundations of Maternal-Newborn and Women's Health Nursing, 6th Edition, Elsevier Adaptive Learning combines the power of brain science with sophisticated, patented Cerego algorithms to help you learn faster and remember longer. It's fun; it's engaging; and it's constantly tracking your performance and adapting to deliver content precisely when it's needed to ensure core information is transformed into lasting knowledge.
Duration for access to this product, which may be at the discretion of your institution, is up to 36 months. Elsevier reserves the right to restrict or remove access due to changes in product portfolio or other market conditions.
An individual study schedule reduces cognitive workload and helps you become a more effective learner by automatically guiding the learning and review process.
The mobile app offers a seamless learning experience between your smartphone and the web with your memory profile maintained and managed in the cloud.
UNIQUE! Your memory strength is profiled at the course, chapter, and item level to identify personal learning and forgetting patterns.
UNIQUE! Material is re-presented just before you would naturally forget it to counteract memory decay.
A personalized learning pathway is established based on your learning profile, memory map, and time required to demonstrate information mastery.
The comprehensive student dashboard allows you to view your personal learning progress.

Part I: Foundations for Nursing Care of Childbearing Families 1. Maternity and Women's Health Care Today 2. The Nurse's Role in Maternity and Women's Health Care 3. Ethical, Social, and Legal Issues 4. Reproductive Anatomy and Physiology 5. Hereditary and Environmental Influences on Childbearing

Part II: The Family Before Birth 6. Conception and Prenatal Development 7. Physiologic Adaptations to Pregnancy 8. Psychosocial Adaptations to Pregnancy 9. Nutrition for Childbearing 10. Antepartum Fetal Assessment 11. Perinatal Education

Part III: The Family During Birth 12. Processes of Birth 13. Nursing Care During Labor and Birth 14. Intrapartum Fetal Surveillance 15. Pain Management During Childbirth 16. Nursing Care During Obstetric Procedures

Part IV: The Family Following Birth 17. Postpartum Physiologic Adaptations 18. Postpartum Psychosocial Adaptations 19. Normal Newborn: Processes of Adaptation 20. Assessment of the Normal Newborn 21. Care of the Normal Newborn 22. Infant Feeding 23. Home Care of the Infant

Part V: Families at Risk during the Childbearing Period 24. The Childbearing Family with Special Needs 25. Complications of Pregnancy 26. Concurrent Disorders During Pregnancy 27. Intrapartum Complications 28. Postpartum Maternal Complications 29. High-Risk Newborn: Complications Associated with Gestational Age and Development 30. High-Risk Newborn: Acquired and Congenital Conditions

Part VI: Women's Health Care 31. Family Planning 32. Infertility 33. Preventive Care for Women 34. Women's Health Problems

Appendixes A. Use of Drugs and Botanical Preparations during Pregnancy and Breastfeeding B. Keys to Clinical Practice: Components of Daily Care C. Answers to Check Your Reading D. Answers to Critical Thinking Exercises Glossary

Sharon Smith Murray, MSN, RN, C, Professor Emerita, Health Professions, Golden West College, Huntington Beach, CA and Emily Slone McKinney, MSN, RN, C, Baylor Healthcare System, Dallas, TX