Study Guide for Gould's Pathophysiology for the Health Professions - Elsevier eBook on VitalSource, 5th Edition
Elsevier eBook on VitalSource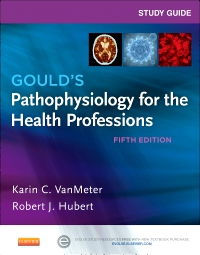 Or $0.00 with a valid access code
Master the content from your textbook with this helpful study tool! Corresponding to the chapters in Gould's Pathophysiology for the Health Professions, 5th Edition, by Karin VanMeter and Robert Hubert, this study guide helps you understand and apply the material with practical exercises, activities, and review questions.
Learning activities provide a variety of ways to assess your knowledge or identify areas for further study, including labeling exercises, matching exercises on important terminology, application questions that apply to more complex situations, crossword puzzles, and compare/contrast completion charts.
The answer key for all of the activities is provided at the end of the study guide.
Use of the text's authorial team, Karin VanMeter and Robert Hubert, ensures that content in the study guide is cohesive and consistent with text content.

NEW! Labeling activities challenge you to identify or match a definition or concept with a familiar illustration from the text.
UPDATED chapters reflect the text's logical, systematic approach.

Section I: Pathophysiology: Background and Overview 1. Introduction to Pathophysiology 2. Fluid, Electrolyte, and Acid-Base Imbalances 3. Introduction to Basic Pharmacology and Other Common Therapies 4. Pain Section II: Defense/Protective Mechanisms NEW! 5. Inflammation and Healing 6. Infection 7. Immunity Section III: Pathophysiology of Body Systems 8. Skin Disorders 9. Musculoskeletal Disorders 10. Blood and the Circulatory System 11. Lymphatic System Disorders 12. Cardiovascular System Disorders 13. Respiratory System Disorders 14. Neurological Disorders 15. Eyes, Ears and Other Sensory Organs 16. Endocrine Disorders 17. Digestive System Disorders 18. Urinary System Disorders 19. Reproductive System Disorders 20. Neoplasms and Cancer Section IV: Factors Contributing to Pathophysiology 21. Congenital and Genetic Disorders 22. Complications Due to Pregnancy 23. Complications Due to Adolescence 24. Complications Due to Aging Section V: Environmental Factors and Pathophysiology 25. Immobility and Associated Problems 26. Stress and Associated Problems 27. Substance Abuse and Associated Problems 28. Environmental Hazards and Associated Problems Answer Key

Karin C. VanMeter, PhD, Lecturer, Iowa State University, Department of Biomedical Sciences, College of Veterinary Medicine, Ames, Iowa and Robert J. Hubert, BS, Laboratory Coordinator, Iowa State University, Department of Animal Sciences, Ames, Iowa.