Clinical Companion for Fundamentals of Nursing
,
Paperback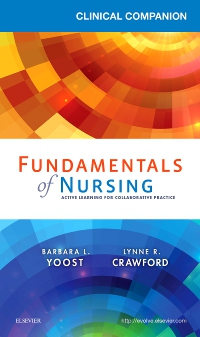 Free Shipping!
In Stock
This item has low stock levels and may be back-ordered. We'll let you know if it is back-ordered, and you will not be charged until the item ships.
Say hello to the perfect pocket-sized partner for Barbara Yoost and Lynne Crawford's brand new fundamentals text: the easy-to-use Clinical Companion for Fundamentals of Nursing: Active Learning for Collaborative Practice. This new Clinical Companion features the hard-to-remember charts, graphs, numbers, and abbreviations you need to know for your first clinical experience and beyond — all in quick reference format. Its topics follow the flow of the textbook, so retrieving, reviewing, and retaining clinical facts and figures could not be easier.
Small, portable size so you can carry it with you on clinical days and also use as a reference in clinical practice.
Includes basic facts and figures you need for early clinical experience.
Content presented in tabular, list, and outline formats for easy retrieval and review of key information on adult health care.
Topics organized by unit follow the flow of the textbook.
Chapter outlines with corresponding page numbers provide quick, easy access to information.

UNIT I: NURSING BASICS
1. Nursing and Professional Practice
2. Values, Beliefs and Caring
3. Communication
4. Critical Thinking in Nursing
UNIT II: NURSING PROCESS
5. Introduction to the Nursing Process
6. Assessment
7. Nursing Diagnosis
8. Planning
9. Implementation and Evaluation
UNIT III: NURSING PRACTICE
10. Documentation, Electronic Health Records, and Reporting
11. Ethical and Legal Considerations
12. Leadership and Management
13. Health Literacy and Patient Education
14. Health and Wellness
UNIT IV: NURSING ASSESSMENT
15. Human Development
16. Vital Signs
17. Ethnicity and Cultural Assessment
18. Spiritual Health
19. Public Health, Community-Based, and Home Health Care
20. Human Sexuality
UNIT V: NURSING PRINCIPLES
21. Safety
22. Asepsis and Infection Control
23. Hygiene and Patient Care
24. Activity, Immobility, and Safe Movement
25. Skin Integrity and Wound Care
26. Nutrition
27. Cognitive and Sensory Alterations
28. Stress and Coping
UNIT: VI NURSING CARE
29. Diagnostic Testing
30. Medication Administration
31. Perioperative Nursing Care
32. Oxygenation and Tissue Perfusion
33. Fluid, Electrolytes, and Acid-Base Balance

Barbara L Yoost, MSN, RN, CNE, ANEF and Lynne R Crawford, MSN, MBA, RN, CNE