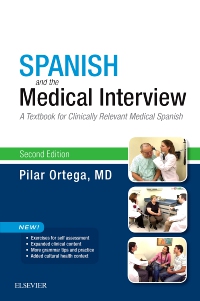 Publication Date:
07-01-2015
Spanish and the Medical Interview Elsevier eBook on VitalSource, 2nd Edition
Elsevier eBook on VitalSource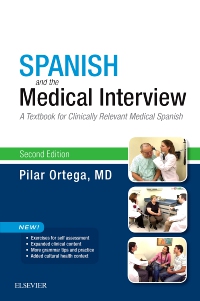 Publication Date:
07-01-2015
Or $0.00 with a valid access code
Focusing on communication needs in real-world clinical situations, Dr. Pilar Ortega's updated edition of this practical text helps you address today's growing demand for Spanish-speaking physicians and healthcare workers. This pocket-sized resource provides basic Spanish skills, sample interview questions, relevant cultural information, and more, in addition to online videos of physician-patient interactions, interactive self-assessment tools, and clinical vignettes. You'll find exactly what you need to develop better physician-patient communication skills, increase your cultural competence, and make better clinical decisions in your practice.
Understand the nuts and bolts of better communication through Spanish grammar, vocabulary, pronunciation, sample interview questions, and helpful interview techniques.

Pocket size allows for quick reference in an easily accessible format.

Improve your skills with new and expanded content including more practice exercises for self-assessment, information on cultural issues, grammar tips and practice, complex clinical scenarios, and how to best use interpreters in your practice.

Stay up to date with new chapters on pediatric health; common procedures and informed consent; the physician's impression and plan; diabetes medication; travel history and special exposures; adult immunization history; exercise and adult health safety screening; and specialized physical examination.

Gauge and hone your doctor-patient communication skills with interactive self-assessment tools and practice exercises.

Watch video of real-time physician-patient exchanges (with English and Spanish subtitles), complete interactive practice exercises, and learn from clinical vignettes—all online at Student Consult.

eBook version included! Access the entire book online or offline across all devices with the Student Consult eBook.

CHAPTER 1

Basics of Conversational Spanish

1.1 Pronunciation

1.2 Syntax and Grammar

1.3 Verb Conjugation

1.4 Addressing the Patient: Tú versus Usted

CHAPTER 2

Setting the Stage for the Clinical Encounter

2.1 General Greetings

2.2 Addressing the Patient

2.3 Provider's Introduction

2.4 Extended Introduction: Getting to Know the Patient

2.5 Setting the Agenda

CHAPTER 3

History of the Present Illness

3.1 Basic Anatomy

3.2 Chief Complaint

3.3 History of the Present Illness

CHAPTER 4

Past Medical History and Review of Systems

4.1 Past Medical History of Chronic Diseases

4.2 Past Medical History of Acute Diseases

4.3 Past Surgical History

4.4 Review of Systems

CHAPTER 5

Medications and Drug Effects

5.1 Medication History

5.2 Allergy History

5.3 Medication Instructions

5.4 Drug Side Effects

5.5 Diabetes Medication

CHAPTER 6

Family History

6.1 Naming Family Members

6.2 Talking about Family Life and Health

6.3 Family History

CHAPTER 7

Social and Sexual History

7.1 Assuring the Patient of Confidentiality

7.2 Social History

7.3 Travel History and Special Exposures

7.4 Substance Use History

7.5 Sexual History

7.6 Review of Reproductive Systems

CHAPTER 8

Mental Health and Cognition

8.1 General Mental Health

8.2 Spirituality and Health

8.3 Cognitive Assessment

8.4 Psychiatric History and Review of Systems

CHAPTER 9

Preventive Health and Nutrition

9.1 Access to Preventive Medical Care

9.2 Preventive Routine Screening Tests

9.3 Adult Immunization History

9.4 Exercise and Adult Health Safety Screening

9.5 Diet History

9.6 Body Mass Index, Special Diets, and Recommendations

CHAPTER 10

Pediatrics

10.1 Addressing the Pediatric Patient

10.2 Pregnancy, Delivery, and Neonatal History

10.3 Developmental History

10.4 Pediatric Safety

10.5 Immunization History

10.6 Infant Diet

10.7 Common Pediatric Illnesses

CHAPTER 11

Physical Examination

11.1 General Physical Examination

11.2 Specialized Physical Examination

11.3 Physical Findings

CHAPTER 12

Procedures and Informed Consent

12.1 Informed Consent

12.2 Discussing Common Procedures

12.3 Discussing Emergent Procedures

12.4 Advanced Directives

CHAPTER 13

Impression and Plan

13.1 Physician's Impression

13.2 Plan of Care: Additional Testing

13.3 Plan of Care: Treatment and Follow-up

13.4 Discussing Test Results

13.5 Delivering Bad News

13.6 System-Based Summary of Impression and Plan

13.7 Concluding the Visit

CHAPTER 14

Knowing your Limitations: When and How to Use a Medical Interpreter

14.1 When to Use a Medical Interpreter

14.2 Types of Medical Interpretation

14.3 Working Effectively with a Medical Interpreter

APPENDIX

Abbreviated Spanish Medical Interview Guide

Extended Spanish Medical Interview Guide

ANSWER KEY

BIBLIOGRAPHY

INDEX

Pilar Ortega, MD, Clinical Assistant Professor, Department of Emergency Medicine, Department of Medical Education, Hispanic Center of Excellence in Medicine, University of Illinois at Chicago College of Medicine; Attending Physician, Department of Emergency Medicine, Advocate Illinois Masonic Medical Center; Chicago, Illinois