The Simulated Administrative Medical Office - Textbook & SimChart for the Medical Office EHR Exercises (Retail Access Card) Package
Simulations - SimChart - Access Card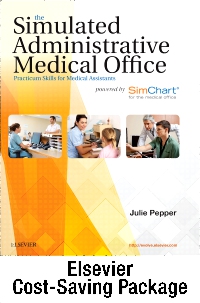 Free Shipping!
In Stock
This item has low stock levels and may be back-ordered. We'll let you know if it is back-ordered, and you will not be charged until the item ships.
Get two weeks of job experience under your belt with The Simulated Administrative Medical Office: Externship Practice for Medical Assisting! This simulated practicum walks you through ten days on the job as an administrative medical assistant working in the front office of a medical practice. Clear, step-by-step instructions show you how to complete tasks — such as patient scheduling, billing, and insurance — using SimChart for the Medical Office. The guide also reinforces points of professionalism to ensure you'll be well prepared to succeed in your actual externships and future AMA career!

Please refer to the individual product pages for the duration of access to these products.
50 tasks each simulate an actual administrative duty of the medical assistant — such as managing patient scheduling, insurance, or billing — to develop your front office skills.
Step-by-step instructions simplify the daily tasks and make simulations and practice more realistic.
Examples of forms and supplies are included online to use in completing assigned daily tasks.
Tasks are fully aligned with CAAHEP and ABHES competencies for medical assisting, including the newest CAAHEP standards.

Introduction
Day One
TASK 1.1 Risk Management
TASK 1.2 Preparing the Schedules
TASK 1.3 Scheduling Telephone Appointments and Inpatient Consultations
TASK 1.4 Written Communications
TASK 1.5 Records Management and Patient List
Day Two
TASK 2.1 Patient List
TASK 2.2 Patient Reception
TASK 2.3 Scheduling Appointments
TASK 2.4 Medical Transcription
TASK 2.5 Scheduling Emergency or Urgent Appointments
Day Three
TASK 3.1 Patient Reception and Referral
TASK 3.2 Medical Transcription
TASK 3.3 Insurance Claim Form
TASK 3.4 Written Communications
TASK 3.5 Preparing the Superbill
Day Four
TASK 4.1 Telephone Messages and Appointment Schedule
TASK 4.2 Correspondence and Mail
TASK 4.3 Scheduling Appointments
TASK 4.4 Records Management
Day Five
TASK 5.1 Medical Transcription
TASK 5.2 Posting Charges to a Superbill
TASK 5.3 Billing and Banking Procedures
TASK 5.4 Financial Management
Day Six
TASK 6.1 Internet Research
TASK 6.2 Establishing a Meeting
TASK 6.3 Telephone Messages
TASK 6.4 Scheduling Appointments
Day Seven
TASK 7.1 Insurance Claim Forms
TASK 7.2 Patient Reception
TASK 7.3 Scheduling Nursing Home Services
TASK 7.4 Telephone Messages
TASK 7.5 Scheduling Appointments
TASK 7.6 Scheduling Surgeries
TASK 7.7 Medical Records
Day Eight
TASK 8.1 Office Management
TASK 8.2 Inventory Management
TASK 8.3 Telephone Messages
TASK 8.4 Medical Transcription
Day Nine
TASK 9.1 Patient Registration Record
TASK 9.2 Health History Form
Day Ten
TASK 10.1 Obtaining Information from the EHR
TASK 10.2 Other Dashboard Features
TASK 10.3 Identifying EHR Features
TASK 10.4 Additional EHR Features

Julie Pepper, BS, CMA (AAMA), Medical Assisting Program Instructor, Health Navigator Program Director, Chippewa Valley Technical College, Eau Claire, Wisconsin