Netter's Essential Physiology Elsevier eBook on VitalSource (Retail Access Card), 2nd Edition
Elsevier eBook on VitalSource - Access Card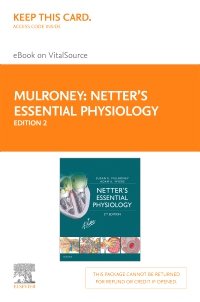 Free Shipping!
This item has low stock levels and may be back-ordered. We'll let you know if it is back-ordered, and you will not be charged until the item ships.
Grasp key concepts quickly with the visual, concise, and clinical approach to physiology found in this second edition of Netter's Essential Physiology. Lucid prose combines with classic Netter art, clinical correlations, "light bulb" side notes, end-of-chapter questions, and brand-new videos to ensure a complete understanding of these complex concepts. Logically written and highly readable, it's ideal for a basic understanding of physiology, as an overview of the subject, or as a supplement to lectures.
You may also be interested in: Netter's Physiology Flash Cards: ISBN 978-0-323-35954-2, the companion flash cards to this book.
Beautifully clear drawings and diagrams from the Netter collection illustrate key concepts and further your visual understanding of the subject.
Self-assessment review questions at the end of each chapter serve to expedite study.

Student Consult eBook version included with purchase. This enhanced eBook experience includes access -- on a variety of devices -- to the complete text, 8 animations, and new video tutorials. You'll also be able to test your knowledge with additional multiple-choice questions.
A brand-new chapter on blood provides increased coverage of immunology.
Additional "light bulb" boxes highlight interesting memorable details or examples providing enhanced context.
A greater number of clinical correlations integrate pathophysiology into the content.
New video tutorials explain difficult concepts and help to reinforce comprehension of the material.

Section 1: Cell Physiology, Fluid Homeostasis, and Membrane Transport

1. The Cell and Fluid Homeostasis

2. Membrane Transport

Section 1 Review Questions

Section 2: The Nervous System and Muscle

3.Nerve and Muscle Physiology

4. Organization and General Functions of the Nervous System

5. Sensory Physiology

6. The Somatic Motor System

7. The Autonomic Nervous System

Section 2 Review Questions

Section 3: Cardiovascular Physiology

8. The Blood

9. Overview of the Heart and Circulation

10. Cardiac Electrophysiology

11. Flow, Pressure, and Resistance

12. The Cardiac Pump

13. The Peripheral Circulation

Section 3 Review Questions

Section 4: Respiratory Physiology

14. Pulmonary Ventilation and Perfusion and Diffusion of Gases

15. The Mechanics of Breathing

16. Oxygen and Carbon Dioxide Transport and Control of Respiration

Section 4 Review Questions

Section 5: Renal Physiology

17. Overview, Glomerular Filtration, and Renal Clearance

18. Renal Transport Processes

19. Urine Concentration and Dilution Mechanisms

20. Regulation of Extracellular Fluid Volume and Osmolarity

21. Regulation of Acid-Base Balance by the Kidneys

Section 5 Review Questions

Section 6: Gastrointestinal Tract

23.Motility Through the Gastrointestinal Tract

24. Gastrointestinal Secretions

25. Hepatobiliary Function

26. Digestion and Absorption

Section 6 Review Questions

Section 7: Endocrine Physiology

27. General Principles of Endocrinology and Pituitary and Hypothalamic Hormones

28. Thyroid Hormones

29. Adrenal Hormones

30. The Endocrine Pancreas

31. Calcium-Regulating Hormones

32. Hormones of the Reproductive System

Section 7 Review Questions

Answers

Susan Mulroney, PhD, Department of Physiology, Georgetown University Medical Center and Adam Myers, PhD, Department of Physiology and Biophysics, Georgetown University School of Medicine