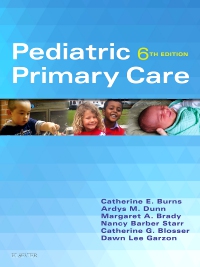 Publication Date:
03-15-2016
Pediatric Primary Care - Elsevier eBook on VitalSource, 6th Edition
Elsevier eBook on VitalSource
Publication Date:
03-15-2016
Give your Nurse Practitioner students the comprehensive foundation they need to be successful for the primary care of children with Pediatric Primary Care, 6th Edition. Covering the full spectrum of health conditions seen in pediatric primary care, this in-depth and evidence-based textbook takes the unique perspective of the Nurse Practitioner as it guides students through assessing, managing, and preventing health problems in infants, children, and adolescents. Key topics include developmental theory, issues of daily living, the health status of children today, and diversity and cultural considerations. This sixth edition also features a new chapter on pediatric pharmacology, a new full-color design and illustrations, new QSEN integration, incorporation of Joint Commission goals and measures, Practice Alert highlights, a refocused chapter on practice management, updated coverage of the impact of the Affordable Care Act, and much, much more!
Comprehensive content provides a complete foundation in the primary care of children from the unique perspective of the Nurse Practitioner and covers the full spectrum of health conditions seen in the primary care of children, emphasizing both prevention and management.
In-depth guidance on assessing and managing pediatric health problems covers patients from infancy through adolescence.
Four-part organization includes 1) an introductory unit on the foundations of global pediatric health, child and family health assessment, and cultural perspectives for pediatric primary care; 2) a unit on managing child development; 3) a unit on health promotion and management; and 4) a unit on disease management.
Content devoted to issues of daily living covers issues that are a part of every child's growth — such as nutrition and toilet training — that could lead to health problems unless appropriate education and guidance are given.
Algorithms are used throughout the book to provide a concise overview of the evaluation and management of common disorders.
Resources for providers and families are also included throughout the text for further information.
Expert editor team well is well-versed in the scope of practice and knowledge base of Pediatric Nurse Practitioners (PNPs) and Family Nurse Practitioners (FNPs).

NEW! Updated content throughout reflects the latest developments in our understanding of disease processes, disease management in children, and current trends in pediatric healthcare.
NEW! Chapter on prescribing pediatric medications emphasizes the unique needs of children in pharmacotherapy.
NEW! Practice Alerts highlight situations that may require urgent action, consultation, or referral for additional treatment outside the primary care setting.
NEW! Full-color design and illustrations improve usability and learning.
NEW! Graduate-level QSEN integration:

Quality and Safety Education for Nurses (QSEN) is now introduced in the Preface.
The QSEN Safety competency is now emphasized via the new Practice Alert highlights and integration of National Patient Safety Goals and Core Measures.
The Informatics competency is addressed with new informatics content in a refocused Strategies for Managing a Pediatric Health Care Practice chapter.
The Teamwork and Collaboration competency is addressed by new content on the trending topic of interprofessional collaboration, also in the Strategies for Managing a Pediatric Health Care Practice chapter.
The Evidence-Based Practice competency is integrated through icons that reference evidence-based guidelines.

Reorganized application of Gordon's Functional Health Patterns provides a more conceptually consistent flow with Gordon's model.
Expanded integration of Healthy People 2020 goes beyond the emphasis on physical activity in the previous edition.
Expanded coverage of health literacy includes application of health literacy principles — the ability to obtain, read, understand, and use healthcare information to make appropriate health decisions and follow instructions for treatment — in relevant chapters.
Additional coverage of growth and development includes a thorough revision of the chapter on developmental management in pediatric primary care along with inclusion of developmental milestones in appropriate chapters.
Expanded coverage of assessment, genetics and epigenetics, mental health issues, the Children with Special Health Care Needs (CSHCN) Services Program, and global health reflect the growing impact of these trends on pediatric primary care.
Updated coverage of the Affordable Care Act includes a focus on the impact of the Affordable Care Act (including Medicaid expansion) and its implications for access to pediatric healthcare.
Updated coverage of the Bright Futures guidelines goes beyond the previous edition's focus on mental health and sexual development.
NEW! Focus on diversity (vs culture) offers a greater emphasis on diversity in its many dimensions rather than on culture alone.
Refocused practice management chapter has been retitled Strategies for Managing a Pediatric Health Care Practice and eliminates general practice management content that is already covered in other parts of the curriculum to focus on content more specific to pediatric practice management — including the various settings for pediatric primary care, informatics, and other essential topics influenced by the Affordable Care Act, National Patient Safety Goals, and the growing trend of interprofessional collaboration.

Unit One: Pediatric Primary Care Foundations
1.Health Status of Children: Global and Local Perspectives
2.Child and Family Health Assessment
3.Cultural Perspectives for Pediatric Primary Care
Unit Two: Management of Development
4.Developmental Management in Pediatric Primary Care
5.Developmental Management of Infants
6.Developmental Management in Early Childhood
7.Developmental Management of School-Age Children
8.Developmental Management of Adolescents
Unit Three: Approaches to Health Management in Pediatric Primary Care
9.Introduction to Functional Health Patterns and Health Promotion
10.Breastfeeding
11.Nutrition
12.Elimination Patterns
13.Physical Activity and Sports for Children and Adolescents
14.Sleep and Rest
15.Sexuality
16.Values and Beliefs
17.Role Relationships
18.Self-Perception Issues
19.Coping and Stress Tolerance: Mental Health and Illness
20.Cognitive-Perceptual Disorders: Attention-Deficit/Hyperactivity Disorder, Learning Problems, Sensory Processing Disorder, Autism Spectrum Disorder, Blindness, and Deafness
Unit Four: Approaches to Disease Management
21.Introduction to Disease Management
22.Prescribing Medications in Pediatrics NEW!
23.Pediatric Pain Management
24.Infectious Diseases and Immunizations
25.Atopic and Rheumatic Disorders
26.Endocrine and Metabolic Disorders
27.Hematologic Disorders
28.Neurologic Disorders
29.Eye Disorders
30.Ear Disorders
31.Cardiovascular Disorders
32.Respiratory Disorders
33.Gastrointestinal Disorders
34.Dental and Oral Disorders
35.Genitourinary Disorders
36.Gynecologic Disorders
37.Dermatologic Disorders
38.Musculoskeletal Disorders
39.Common Injuries
40.Perinatal Conditions
41.Genetic Disorders
42.Environmental Health Issues
43.Complementary Medicine
44.Strategies for Managing a Pediatric Health Care Practice

Index


Catherine E. Burns, PhD, RN, CPNP-PC, FAAN, Professor Emeritus, Primary Health Care Nurse Practitioner Specialty, School of Nursing, Oregon Health & Science University, Portland, Oregon, Ardys M. Dunn, PhD, RN, PNP, Associate Professor Emeritus, University of Portland School of Nursing, Portland, Oregon; Professor, Retired, Samuel Merritt College School of Nursing, Oakland, California, Margaret A. Brady, PhD, RN, CPNP-PC, Professor, School of Nursing, California State University Long Beach, Long Beach, California; Co-Director, PNP Program, School of Nursing, Azusa Pacific University, Azusa, California, Nancy Barber Starr, MS, APRN, BC (PNP), CPNP-PC, Pediatric Nurse Practitioner, Advanced Pediatric Associates, Aurora, Colorado, Catherine Blosser, MPA:HA, RN, APRN, BC (PNP), Pediatric Nurse Practitioner, Albertina Kerr Health Services, Portland, Oregon and Dawn Lee Garzon, PhD, CPNP-PC, PMHS, FAANP, FAAN, Pediatric Nurse Practitioner,St. Louis Children's Hospital,St. Louis , MO