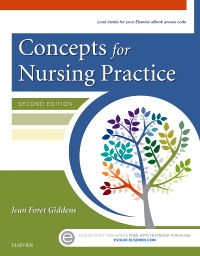 Publication Date:
12-16-2015
Concepts for Nursing Practice - Elsevier eBook on VitalSource, 2nd Edition
Elsevier eBook on VitalSource
Publication Date:
12-16-2015
Need a proven nursing title that can effortlessly guide you through teaching in a concept-based curriculum? Then look no further than Concepts for Nursing Practice, 2nd Edition! Written by conceptual learning expert Jean Giddens, this innovative interactive text is the only one of its kind exclusively focused on explaining broad concepts as a basis for helping students make conceptual connections and helping them use that knowledge to locate, analyze, and apply nursing specifics. Coverage centers on 58 of the most common physiologic, behavioral, and professional nursing concepts — including six all new concepts — that can be used throughout the nursing curriculum. Featured exemplars for each concept are also discussed to help students easily understand the concepts and apply them to the clinical setting. In addition to a more refined and intuitive organization, this new second edition also boasts instructor resources that have been significantly expanded to include separate TEACH lesson plans, presentation guides, and test banks for both RN and LPN/LVN programs. In a nutshell, Concepts for Nursing Practice, 2nd Edition is the key to making your concept-based teaching efforts easier and more effective than ever.
Authoritative content written by expert Jean Giddens sets the standard for the rapidly growing concept-based curriculum movement.
Exemplar lists for each concept, covering the lifespan and all clinical settings aid readers in assimilating concepts into practice.
Case studies in each chapter allow readers to apply knowledge of concepts to real world examples.
Logical organization of concepts into units and themes helps readers form immediate connections among related concepts – a key to conceptual learning.
Original concept illustrations give readers visual cues to understanding and making connections across concepts.

NEW! Six all-new concepts — spirituality, self-management, sleep, hormonal regulation, fatigue, and health disparities — cover a broader spectrum of nursing practice and provide added flexibility across a variety of nursing programs.
NEW! Featured exemplar sections highlight selected exemplars related to each concept and provide a brief synopsis of the exemplar.
NEW! Expanded resources for LPN/LVN programs include unique student review questions to offer additional study assistance.
NEW! Revised format for Health and Illness concepts includes concise and consistent explanations of conditions across the lifespan along with the rationale for care.
NEW! Revised format for Health Care Recipient and Professional Nursing/Health Care concepts provides streamlined explanations of conceptual material in a more logical order.
NEW! Renamed theme on Resilience (formerly Coping and Stress Tolerance) emphasizes this increasingly important aspect of personal responsibility in health and illness.

Unit 1: Health Care Recipient Concepts

Theme: Attributes and Resources 1. Development 2. Functional Ability 3. Family Dynamics

Theme: Personal Preference 4. Culture 5. Spirituality 6. Adherence 7. Self-Management

Unit 2: Health and Illness Concepts

Theme: Homeostasis and Regulation 8. Fluid and Electrolytes 9. Acid-Base Balance 10. Thermoregulation 11. Sleep 12. Cellular Regulation 13. Intracranial Regulation 14. Hormonal Regulation 15. Glucose Regulation 16. Nutrition 17. Elimination 18. Perfusion 19. Gas Exchange 20. Clotting

Theme: Sexuality and Reproduction 21. Reproduction 22. Sexuality

Theme: Protection and Movement 23. Immunity 24. Inflammation 25. Infection 26. Mobility 27. Tissue Integrity 28. Sensory Perception 29. Pain 30. Fatigue

Theme: Resilience 31. Stress 32. Coping

Theme: Mood and Cognition 33. Mood and Affect 34. Anxiety 35. Cognition 36. Psychosis

Theme: Maladaptive Behavior 37. Addiction 38. Interpersonal Violence

Unit 3: Professional Nursing and Health Care Concepts

Theme: Nursing Attributes and Roles 39. Professional Identity 40. Clinical Judgment 41. Leadership 42. Ethics 43. Patient Education 44. Health Promotion

Theme: Care Competencies 45. Communication 46. Collaboration 47. Safety 48. Technology and Informatics 49. Evidence 50. Health Care Quality

Theme: Health Care Delivery 51. Care Coordination 52. Caregiving 53. Palliative Care 54. Health Disparities

Theme: Health Care Infrastructure 55. Health Care Organizations 56. Health Care Economics 57. Health Policy 58. Health Care Law

Jean Foret Giddens, PhD, RN, FAAN, Robert Wood Johnson Foundation Executive Nurse Fellow, Dean and Professor, School of Nursing, Virginia Commonwealth University, Richmond, Virginia
In Stock
Most review copies are eBooks – how fast!