Elsevier Adaptive Learning for Introduction to Medical-Surgical Nursing, 6th Edition
Elsevier Adaptive Learning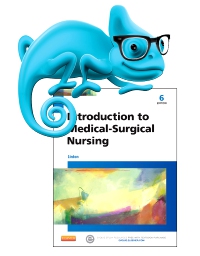 Or $0.00 with a valid access code
Corresponding chapter-by-chapter to Introduction to Medical-Surgical Nursing, 6th Edition, Elsevier Adaptive Learning combines the power of brain science with sophisticated, patented Cerego algorithms to help you learn faster and remember longer. It's fun; it's engaging; and it's constantly tracking your performance and adapting to deliver content precisely when it's needed to ensure core information is transformed into lasting knowledge.
Duration for access to this product, which may be at the discretion of your institution, is up to 36 months. Elsevier reserves the right to restrict or remove access due to changes in product portfolio or other market conditions.
An individual study schedule reduces cognitive workload and helps you become a more effective learner by automatically guiding the learning and review process.
The mobile app offers a seamless learning experience between your smartphone and the web with your memory profile maintained and managed in the cloud.
UNIQUE! Your memory strength is profiled at the course, chapter, and item level to identify personal learning and forgetting patterns.
UNIQUE! Material is re-presented just before you would naturally forget it to counteract memory decay.
A personalized learning pathway is established based on your learning profile, memory map, and time required to demonstrate information mastery.
The comprehensive student dashboard allows you to view your personal learning progress.

Unit I Patient Care Concepts
1. The Health Care System
2. Nursing in Varied Patient Care Settings
3. Legal and Ethical Considerations
4. The Leadership Role of the Licensed Practical Nurse
5. The Nurse-Patient Relationship
6. Cultural Aspects of Nursing Care
7. The Nurse and the Family
8. Health and Illness
9. Nutrition
10. Developmental Processes
11. The Older Patient
12. The Nursing Process and Critical Thinking
Unit II Pysiologic Responses to Illness
13. Inflammation, Infection, and Immunity
14. Fluid and Electrolytes
15. Pain Management
Unit III Acute Care
16. First Aid, Emergency Care, and Disaster Management
17. Surgical Care
18. Intravenous Therapy
19. Shock
Unit IV Long-Term Care and Home Health Care
20. Falls
21. Immobility
22. Delirium and Dementia
23. Incontinence
24. Loss, Death, and End-of-Life Care
Unit V Cancer
25. The Patient with Cancer
26. The Patient with an Ostomy
Unit VI Neurologic Disorders
27. Neurologic Disorders
28. Cerebrovascular Accident
29. Spinal Cord Injury
Unit VII Respiratory Disorders
30. Disorders of the Upper Respiratory Tract: Nose, Sinuses, Throat
31. Acute Disorders of the Lower Respiratory Tract
32. Chronic Disorders of the Lower Respiratory Tract
Unit VIII Hematologic and Immunologic disorders
33. Hematologic Disorders
34. Immunologic Disorders
35. Human Immunodeficiency Virus and Acquired Immunodeficiency Syndrome
Unit IX Cardiovascular Disorders
36. Cardiac Disorders
37. Vascular Disorders
38. Hypertension
Unit X Digestive Disorders
39. Disorders of the Upper Digestive Tract
40. Disasters of the Lower Digestive Tract
41. Liver, Gallbladder, and Pancreatic Disorders
Unit XI Urologic Disorders
42. Urologic Disorders
Unit XII Musculoskeletal Disorders
43. Connective Tissue Disorders
44. Fractures
45. Amputations
Unit XIII Endocrine Disorders
46. Pituitary and Adrenal Disorders
47. Thyroid and Parathyroid Disorders
48. Diabetes Mellitus and Hypoglycemia
Unit XIV Reproductive Disorders
49. Female Reproductive Disorders
50. Male Reproductive Disorders
51. Sexually Transmitted Infections
Unit XV Integumentary Disorders
52. Skin Disorders
Unit XVI Disorders of the Eyes and Ears
53. Eye and Vision Disorders
54. Ear and Hearing Disorders
Unit XVII Mental Health and Illness
55. Psychologic Responses to Illness
56. Psychiatric Disorders
57. Substance-Related and Addictive Disorders
Glossary
Index


Adrianne Dill Linton, BSN, MN, PhD, RN, FAAN, Professor Emeritus and former Chair of the Department of Family and Community Health at the University of Texas San Antonio School of Nursing.