Netter's Introduction to Clinical Procedures Elsevier eBook on Vitalsource
,
Elsevier eBook on VitalSource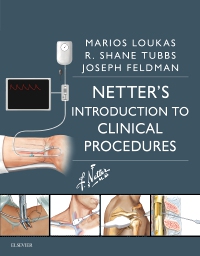 Or $0.00 with a valid access code
Written with the student in mind, Netter's Introduction to Clinical Procedures, by Drs. Marios Loukas, R. Shane Tubbs, and Joseph Feldman, uses the well-known Netter anatomy art as a foundation for reinforcing the relevant clinical anatomy needed to successfully understand and perform basic procedures. Learn the practical application of this knowledge with step-by-step guides incorporating concise text, interactive images, and animation.
Duration for access to this product, which may be at the discretion of your institution, is up to 84 months. Elsevier reserves the right to restrict or remove access due to changes in product portfolio or other market conditions.
Didactic Netter illustrations provide clear informative visuals for quick understanding of anatomical relationships.
Concise explanations enhance understanding of clinical underpinnings and implications.
More than 30 common clinical procedures are explained and demonstrated with step-by-step illustrations.
Multiple choice questions reinforce key concepts and challenge your knowledge.

Introduction

Section 1, Airway/Breathing

1. Endotracheal intubation

2. Intercostal Nerve block

3. Mask Ventilation

4. Thoracostomy

5. Thoacentesis

6. Tracheostomy, Tracheotomy, Cricothyroidotomy

Section 2, Circulation and Vascular Access

7. Cardiac Pacing

8. Cardioversion and Defibrillation

9. Diagnostic Peritoneal Lavage

10. Expanded Focused Assessment with Sonography for Trauma (E-FAST) Examination

11. Fasciotomy

12. Nosebleed Cauterization

13. Pericardiocentesis

14. Central Venous Catherization

15. Peripheral Arterial Line Placement

16. Peripheral Intravenous Cannulation

17. Venous Cutdown

Section 3, Dislocations and Pain Management

18. Dislocated Hip Reduction

19. Dislocated Finger Reduction

20. Dislocated Knee Reduction

21. Dislocated Shoulder Reduction

22. Occipital Nerve block

23. Digital Nerve Block

24. Dental Nerve Blocks

Section 4, Removal of Fluid, Infection, and Foreign Bodies

25. Abdominal Paracentesis

26. Auricular Hematoma Drainage

27. Cerumen Removal

28. Ear and Nose Foreign Body Removal

29. Burr Hole Craniotomy

30. Elbow Joint Aspiration

31. Ingrown Toenail Removal

32. Knee Joint Aspiration

33. Lumbar Puncture

34. Nasogastric Tube Placement

35. Paronychia Incision and Drainage

36. Skin Abscess Incision and Drainage

37. Shoulder Joint Aspiration

38. Transurethral (Foley Catheter) and Suprapubic Urinary Bladder Catheterization

Appendix Answers to Review Questions

Marios Loukas, MD, PhD, Dean of Basic Sciences, Dean of Research, Professor and Co-chair, Department of Anatomical Sciences, School of Medicine, St.George's University, Grenada WI, R. Shane Tubbs, MS, PA-C, PhD, Professor and Chief Scientific Officer, Seattle Science Foundation, Seattle, Washington; Professor, Department of Anatomical Sciences, St. George's University, Grenada, West Indies and Joseph Feldman, MD, FACEP, Chairman, Emergency Services, Emergency & Trauma Center, Hackensack University Medical Center, Hackensack, New Jersey