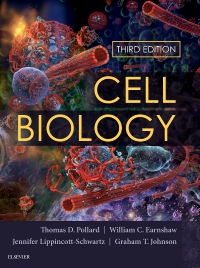 Publication Date:
11-28-2016
Evolve Resources for Cell Biology, 3rd Edition
Resources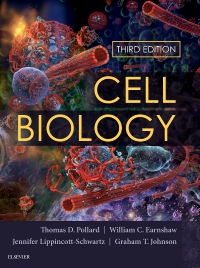 Publication Date:
11-28-2016
Any student who attempts to register for access will be reported to the school's faculty and administration.
Clearly written format incorporates rich illustrations, diagrams, and charts.
Uses real examples to illustrate key cell biology concepts.
Includes beneficial cell physiology coverage.
Clinically oriented text relates cell biology to pathophysiology and medicine.
Takes a mechanistic approach to molecular processes.

Major new didactic chapter flow leads with the latest on genome organization, gene expression and RNA processing.
Boasts exciting new content including the evolutionary origin of eukaryotes, super resolution fluorescence microscopy, cryo-electron microscopy, gene editing by CRISPR/Cas9, contributions of high throughput DNA sequencing to understand genome organization and gene expression, microRNAs, IncRNAs, membrane-shaping proteins, organelle-organelle contact sites, microbiota, autophagy, ERAD, motor protein mechanisms, stem cells, and cell cycle regulation.
Features specially expanded coverage of genome sequencing and regulation, endocytosis, cancer genomics, the cytoskeleton, DNA damage response, necroptosis, and RNA processing.
Includes hundreds of new and updated diagrams and micrographs,plus fifty new protein and RNA structures to explain molecular mechanisms in unprecedented detail.
Student Consult eBook version included with purchase. This enhanced eBook experience allows you to search all of the text, figures, images, and over a dozen animations from the book on a variety of devices.

Section 1: Introduction to Cell Biology

1 Introduction to Cells

2 Evolution of Life on Earth

Section 2: Chemical and Physical Background

3 Molecules: Structures and Dynamics

4 Biophysical Principles

5 Macromolecular Assembly

6 Research Strategies

Section 3: Chromatin, Chromosomes, and the Cell Nucleus

7 Chromosome Organization

8 DNA Packaging in Chromatin and Chromosomes

9 Nuclear Structure and Dynamics

Section 4: Central Dogma: From Gene to Protein

10 Gene Expression

11 Eukaryotic RNA Processing

12 Protein Synthesis and Folding

Section 5: Membrane Structure and Function

13 Membrane Structure and Dynamics

14 Membrane Pumps

15 Membrane Carriers

16 Membrane Channels

17 Membrane Physiology

Section 6: Cellular Organelles and Membrane Trafficking

18 Posttranslational Targeting of Proteins

19 Mitochondria, Chloroplasts, Peroxisomes

20 Endoplasmic Reticulum

21 Secretory Membrane System and Golgi Apparatus

22 Endocytosis and the Endosomal Membrane

23 Processing and Degradation of Cellular Components

Section 7: Signaling Mechanisms

24 Plasma Membrane Receptors

25 Protein Hardware for Signaling

26 Second Messengers

27 Integration of Signals

Section 8: Cellular Adhesion and the Extracellular Matrix

28 Cells of the Extracellular Matrix and Immune System

29 Extracellular Matrix Molecules

30 Cellular Adhesion

31 Intercellular Junctions

32 Connective Tissues

Section 9: Cytoskeleton and Cellular Motility

33 Actin and Actin-Binding Proteins

34 Microtubules and Centrosomes

35 Intermediate Filaments

36 Motor Proteins

37 Intracellular Motility

38 Cellular Motility

39 Muscles

Section 10: Cell Cycle

40 Introduction to the Cell Cycle

41 G1 Phase and Regulation of Cell Proliferation

42 S Phase and DNA Replication

43 G2 Phase and Control of Entry into Mitosis

44 Mitosis and Cytokinesis

45 Meiosis

46 Programmed Cell Death

Glossary

Appendix

Thomas D. Pollard, MD, Sterling Professor, Department of Molecular, Cellular, and Developmental Biology, Yale University, New Haven, CT, William C. Earnshaw, PhD, FRS, Professor and Wellcome Trust Principal Research Fellow, Wellcome Trust Centre for Cell Biology, ICB, University of Edinburgh, Scotland, United Kingdom, Jennifer Lippincott-Schwartz, PhD, Group Leader, Howard Hughes Medical Institute, Janelia Research Campus, Ashburn, Virginia, United States and Graham Johnson, MA, PhD, CMI, Director, Animated Cell, Allen Institute for Cell Biology, Seattle, Washington;, QB3 Faculty Fellow, University of California, San Francisco, San Francisco, California

This product is available in the following formats:
Any student who attempts to register for access will be reported to the school's faculty and administration.