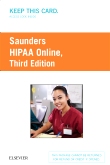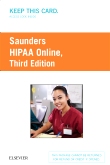 Or $0.00 with a valid access code
Develop proficiency in HIPAA protocols by working through concise learning modules! HIPAA Online uses activities and quizzes to help you understand the principles for HIPAA compliance. Case studies show how HIPAA's privacy rules and standards apply to the healthcare setting. Upon completing the course, you can print a certificate of completion to prove your knowledge of HIPAA to potential employers!
Duration for access to this product is for the life of the edition.
Easy-to-use modules provide lessons segmented into chunks of information, allowing you to learn the material at a manageable pace.
Learning activities include multiple choice, short answer, matching, crossword, true or false, and case studies, making it easier to master difficult material.
What Have You Learned? quizzes at the end of each lesson assess your understanding and help you identify areas requiring further review.
Application activities reinforce concepts and let you apply HIPAA concepts to the healthcare setting.
Printable certificate of completion demonstrates your basic HIPAA proficiency to prospective healthcare employers.
Hyperlinked terms connect you directly to definitions for fast, easy reference.

NEW HIPAA updates include the HIPAA Omnibus Rule, additional requirements of HITECH regulations, new standards relating to data breaches, and new regulations prohibiting the sale of protected health information and for its use in marketing or fundraising.

Module 1: Introduction to HIPAA
The History of HIPAA
The Privacy Rule and Standards
HIPAA Documentation
Policies and Procedures
Module 2: Practicalities of HIPAA
Risk Reduction
Expecting the Unexpected
HIPAA Resources
Module 3: Application of HIPAA
The Complaint Process
Compliance and Enforcement Activities
Or $0.00 with a valid access code