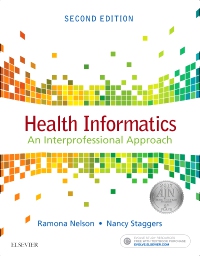 Publication Date:
01-17-2017
Health Informatics, 2nd Edition
Paperback
Publication Date:
01-17-2017
Awarded second place in the 2017 AJN Book of the Year Awards in the Information Technology category. Show students how information technology intersects with health care. Health Informatics: An Interprofessional Approach, 2nd Edition prepares your students for success in today's technology-filled healthcare practice. Concise coverage includes information systems and applications such as electronic health records, clinical decision support, telehealth, ePatients, and social media tools, as well as system implementation. New to this edition are topics including data science and analytics, mHealth, principles of project management, and contract negotiations. It's no surprise that this unique text won a 2013 American Journal of Nursing Book of the Year award!
Experts from a wide range of health disciplines cover the latest on the interprofessional aspects of informatics — a key Quality and Safety Education for Nurses (QSEN) initiative and a growing specialty area in nursing.
Case studies encourage higher-level thinking about how concepts apply to real-world nursing practice.
Discussion questions challenge you to think critically and to visualize the future of health informatics.
Objectives, key terms and an abstract at the beginning of each chapter provide an overview of what you will learn.
Conclusion and Future Directions section at the end of each chapter describes how informatics will continue to evolve as healthcare moves to an interprofessional foundation.

NEW! Updated chapters reflect the current and evolving practice of health informatics, using real-life healthcare examples to show how informatics applies to a wide range of topics and issues.
NEW mHealth chapter discusses the use of mobile technology, a new method of health delivery — especially for urban or under-served populations — and describes the changing levels of responsibility for both patients and providers.
NEW Data Science and Analytics in Healthcare chapter shows how Big Data — as well as analytics using data mining and knowledge discovery techniques — applies to healthcare.
NEW Project Management Principles chapter discusses proven project management tools and techniques for coordinating all types of health informatics-related projects.
NEW Contract Negotiations chapter describes strategic methods and tips for negotiating a contract with a healthcare IT vendor.
NEW Legal Issues chapter explains how federal regulations and accreditation processes may impact the practice of health informatics.
NEW HITECH Act chapter explains the regulations relating to health informatics in the Health Information Technology for Education and Clinical Health Act as well as the Meaningful Use and Medicare Access & CHIP Reauthorization Act of 2015.

Unit 1: Foundational Information in Health Informatics
1. Health Informatics: Introduction, Definition and Significance
2. Theoretical Foundations of Health Informatics
3. Use of Evidence Based Practice and Practice Based Evidence in Health Informatics
4. Models, Theories and Research for Program Evaluation
5. Technical Infrastructure to Support Healthcare
Unit 2: Information Systems and Applications For the Delivery of Health Care
6. Electronic Health Records and Applications for Managing Patient Care
7. Administrative Application in Healthcare
8. Telehealth and Applications for Delivering Care at a Distance
9. Home Health and Related Community Based Systems
10. Clinical Decision Support Systems in Healthcare
11. Public Health Informatics
Unit 3: Participatory Health Care Informatics
12. The Engaged ePatient
13. Social Media Tools for Practice and Education
14. Personal Health Records
15. mHealth – The Intersection of Mobile Technology and Health NEW!
Unit 4: Managing the Life Cycle of a Health Information System
16. Strategic Planning and Selecting an Information System
17. Project Management Principles for Health Informatics NEW!
18. Contract Negotiations and Software Licensing NEW!
19. Implementing and Upgrading an Information System
20. Downtime and Disaster Recovery for Health Information Systems
Unit 5: Usability, Standards, Safety and Analytics in Health Informatics
21. Improving the User Experience for Health Information Technology
22. Informatics Related Standards and Standards and Standard Setting Organizations
23. Data Science and Analytics in Healthcare NEW!
24. Patient Safety and Quality Initiatives in Health Informatics
Unit 6: Governance Structures, Legal, and Regulatory Issues in Health Informatics
25. Legal Issues, Federal Regulations, and Accreditation NEW!
26. Privacy and Security
27. The Health Information Technology for Education and Clinical Health (HITECH) Act, Meaningful Use (MU) and Medicare Access & CHIP Reauthorization Act of 2015 (MACRA) NEW!
28. Health Policy and Informatics
29. Health Information Technology Governance
Unit 7: Education and Health Informatics
30. Informatics in the Curriculum for Healthcare Professionals
31. Distributive Education: Applications, Techniques and Issues
32. Informatics Tools for Educating Health Professionals
33. Simulation in Healthcare Education
Unit 8: International Health Informatics Efforts
34. International Efforts, Issues and Innovations
Unit 9: Exploring the Past and the Future
35. The Evolving History of Health Informatics
36. Future Directions and Future Research in Health Informatics

Ramona Nelson, PhD, RN-BC, ANEF, FAAN, Professor Emerita Slippery Rock University Slippery Rock, Pennsylvania President, Ramona Nelson Consulting Allison Park, Pennsylvania and Nancy Staggers, PhD, RN, FAAN, Professor, Informatics School of Nursing University of Maryland Baltimore, Maryland and Adjunct Professor, College of Nursing and Department of Biomedical Informatics University of Utah Salt Lake City, Utah
In Stock
Most review copies are eBooks – how fast!