Elsevier's Surgical Technology Exam Review - Elsevier eBook on VitalSource
,
Elsevier eBook on VitalSource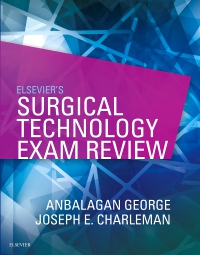 Or $0.00 with a valid access code
The all-in-one surgical technology review you've been waiting for is finally here! Elsevier's Surgical Technology Exam Review combines comprehensive content review, worktext practice, and customizable simulated testing options to give you the 360-degree preparation needed for success on the CST exam. Content chapters offer a thorough review of the CST exam focus areas — including medical terminology, basic science, asepsis, surgical technique, and surgical procedures — all in a helpful outline format. Each chapter also features full-color images and illustrations, review questions with rationales, and surgical concept maps., A sample exam at the end of the book provides a simulated test-day experience. The realistic preparation continues online with a testing engine that lets you access exam questions by category or create custom-generated exams that match the format of the CST exam. If you're looking to pass the CST and be fully prepared for clinical practice, this is the one Surgical Technology review book that you can't afford to be without!
UNIQUE! All-in-one resource incorporates content discussions, worktext practice, review questions, and six full practice exams to fully prepare users for the certification exam.
UNIQUE! Surgical concept maps in the worktext help emphasize the critical thinking skills needed for clinical success by combining relevant medical terminology, anatomy, pathophysiology, microbiology, and pharmacology for each surgical procedure and helping users learn how to apply that foundational knowledge to the operating room.
Content chapters offer a thorough review of the CST exam focus areas — including medical terminology, basic science, asepsis, surgical technique, and surgical procedures — all in an outline format.
National Board format utilizes the exam blueprint for the National Board of Surgical Technology and Surgical Assisting's CST exam to organize content and practice exams.
Six practice exams (each with 175 questions) help users improve familiarity with answering exam-style questions and build test-taking confidence.
Realistic testing experience utilizes an online, computer-based testing environment and timing function to mimic the actual testing experience.
Practice exam customization enables users to practice specific CST blueprint categories in practice mode or use an auto-generator for full CST-style tests in exam mode.
Answer keys and rationales for each chapter review question and practice test question help users fully comprehend the information being asked and why a specific choice is best.
UNIQUE! Full-color photos and illustrations offer vivid images of instruments, equipment, clinical situations, concept maps, and basic science to help improve comprehension.
Chapter review questions allow users to test their level of comprehension before moving onto the next chapter and provide practice for the simulated exams.

Introduction to the CST Exam Study Tips

1. Medical Terminology 2. Anatomy and Physiology 3. The Surgical Environment

Biomedical Science
Operating Room Environment
Instrumentation and Equipment

4. Aseptic Techniques

Wound Management
Microbiology Related to Surgery

5. Pharmacology and Anesthesia 6. Professionalism and the Surgical Patient 7. Core Surgical Procedures

General Surgery
Gynecological and Obstetrics Surgery
Genitourinary Surgery
Ear, Nose, and Throat Surgery
Orthopedic Surgery

8. Specialty Surgical Procedures

Head and Neck Surgery
Neurological Surgery
Plastic and Reconstructive Surgery
Ophthalmic Surgery
Cardiothoracic Surgery
Peripheral Vascular Surgery

Practice Exam Bibliography Index

Anbalagan George, MBBS, CST, MPE, Instructor
Surgical Technology Program
Berkeley College
Clifton, NJ;
Instructor
Surgical Technology Program
Westchester Community College
State University of New York
Ossining, NY and Joseph E Charleman, CST/CSFA, CRCST, LPN , MS, Program Chair
Surgical Technology and Sterile Processing
Berkeley College
Clifton, NJ;
Surgical Technician, Surgical First Assistant, and Operating Room Assistant Supervisor
Associated Surgeons of New Jersey
Englewood, NJ