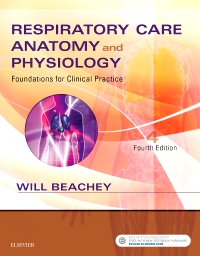 Publication Date:
04-14-2017
Respiratory Care Anatomy and Physiology, 4th Edition
Paperback
Publication Date:
04-14-2017
Prepare students to think critically, take a more clinical perspective, and connect theory with practice! Written specifically for respiratory care students, practicing therapists, and others in the cardiopulmonary field in an easy-to-understand format, Respiratory Care Anatomy and Physiology: Foundations for Clinical Practice, 4th Edition details applied respiratory and cardiovascular physiology and how anatomy relates to physiological functions. Content focuses on detailed anatomy and physiology of the pulmonary, cardiovascular, and renal systems, and covers the physiological principles underlying common therapeutic, diagnostic, and monitoring therapies and procedures. Thoroughly updated to reflect changes in the NBRC exam, this comprehensive, clinically relevant text features open-ended concept questions that help students learn how to think like the experts they aim to become.
Chapter outlines, chapter objectives, key terms, and a bulleted points to remember feature highlight important concepts and make content more accessible.
Open-ended concept questions require reasoned responses based on thorough comprehension of the text, fostering critical thinking and discussion.
Clinical Focus boxes throughout the text place key subject matter in a clinical context to help you connect theory with practice by understanding how physiology guides clinical decision-making in the real world.
Appendixes contain helpful tables, formulas and definitions of terms and symbols.
Evolve resources include a 600-question test bank in NBRC-style, PowerPoint presentations with ARS questions, an image collection, and an answer key to concept questions.

UPDATED! Thoroughly updated content reflects changes in the NBRC exam.
NEW and UPDATED! New images enhance understanding of key concepts.

SECTION I: THE RESPIRATORY SYSTEM 1. The Airways and Alveoli 2. The Lungs and Chest Wall 3. Mechanics of Ventilation 4. Ventilation 5. Pulmonary Function Measurements 6. Pulmonary Blood Flow 7. Gas Diffusion 8. Oxygen Equilibrium and Transport 9. Carbon Dioxide Equilibrium and Transport 10. Acid-Base Regulation 11. Control of Ventilation 12. Ventilation-Perfusion Relationships 13. Clinical Assessment of Acid-Base and Oxygenation Status 14. Physiological Basis for Advanced Oxygenation and Lung Protective Strategies 15. Physiology of Sleep Disordered Breathing 16. Fetal and Newborn Cardiopulmonary Physiology

SECTION TWO: THE CARDIOVASCULAR SYSTEM 17. Functional Anatomy of the Cardiovascular System 18. Cardiac Electrophysiology 19. The Electrocardiogram and Cardiac Arrhythmias 20. Control of Cardiac Output and Hemodynamics

SECTION III: THE RENAL SYSTEM 21. Filtration, Urine Formation, and Fluid Regulation 22. Electrolyte and Acid-Base Regulation

SECTION IV: INTEGRATED RESPONSES IN EXERCISE AND AGING 23. Cardiopulmonary Response to Exercise in Health, Disease 24. Effects of Aging on the Cardiopulmonary System Appendices

Will Beachey, PhD, RRT, FAARC, St. Alexius Medical Center and University of Mary Bismarck, North Dakota
In Stock
Most review copies are eBooks – how fast!