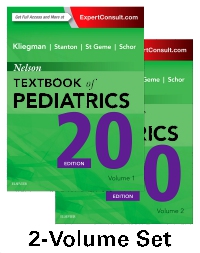 Publication Date:
06-05-2015
Nelson Textbook of Pediatrics Elsevier eBook on VitalSource, 20th Edition
Elsevier eBook on VitalSource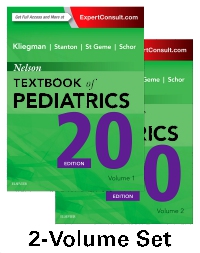 Publication Date:
06-05-2015
Most review copies are eBooks – how fast!
A review copy request is most likely to be fulfilled as an eBook on VitalSource rather than a print product, unless no eBook is available. eBooks become available in as little as a few hours. Print products will take between 7 and 10 days to arrive. To request a print copy, please contact the
Evolve Support Center
or your
Education Solutions Consultant
.
Form a definitive diagnosis and create the best treatment plans possible using evidence-based medicine and astute clinical experiences from leading international authors—many new to this edition.

A NEW two-volume layout provides superior portability and exceptional ease of use.

Gain a more complete perspective. Along with a broader emphasis on imaging and molecular diagnoses and updated references, the new edition includes an increased focus on international issues to ensure relevance in pediatrics practice throughout the world.

Effectively apply the latest techniques and approaches with complete updates throughout 35 new chapters, including: Innovations in Addressing Child Health and Survival in Low Income Settings; Developmental Domains and Theories of Cognition; The Reggio Emilia Educational Approach Catatonia ; Refeeding Syndrome; Altitude-associated Illness; Genetic Approaches to Rare and Undiagnosed Diseases; Healthcare-Associated Infections; Intrapartum and Peripartum Infections; Bath salts and other drugs of abuse; Small Fiber Polyneuropathy; Microbiome; Kingella kingae; Mitochondrial Neurogastrointestinal Encephalomyopathy; Nonalcoholic Fatty Liver Disease; Plagiocephaly; CNS Vasculitis; Anterior Cruciate Ligament Rupture; and Sports-Related Traumatic Brain Injury.

Recognize, diagnose, and manage genetic and acquired conditions more effectively. A new Rehabilitation section with 10 new chapters, including: Evaluation of the Child for Rehabilitative Services; Severe Traumatic Brain Injury; Spinal Cord Injury and Autonomic Crisis Management; Spasticity; Birth Brachial Plexus Palsy; Traumatic and Sports-Related Injuries; Meningomyelocele; Health and Wellness for Children with Disabilities.

Manage the transition to adult healthcare for children with chronic diseases through discussions of the overall health needs of patients with congenital heart defects, diabetes, and cystic fibrosis.

Understand the principles of therapy and which drugs and dosages to prescribe for every disease.

Expert Consult eBook version included with purchase. This enhanced eBook experience allows you to search all of the text, figures, and references from the book on a variety of devices.

VOLUME 1

PART I

The Field of Pediatrics

1 OVERVIEW OF PEDIATRICS

2 QUALITY AND SAFETY IN HEALTHCARE FOR CHILDREN

3 ETHICS IN PEDIATRIC CARE

4 CULTURAL ISSUES IN PEDIATRIC CARE

5 MAXIMIZING CHILDREN'S HEALTH: ?SCREENING, ANTICIPATORY GUIDANCE, AND COUNSELING

PART II

Growth, Development, and Behavior

6 OVERVIEW AND ASSESSMENT OF ?VARIABILITY

7 COGNITIVE DEVELOPMENT: DOMAINS AND THEORIES

8 ASSESSMENT OF FETAL GROWTH AND DEVELOPMENT

9 THE NEWBORN

10 THE FIRST YEAR

11 THE SECOND YEAR

12 THE PRESCHOOL YEARS

13 MIDDLE CHILDHOOD

14 ADOLESCENCE

15 ASSESSMENT OF GROWTH

16 DEVELOPMENTAL-BEHAVIORAL SCREENING AND SURVEILLANCE

17 CHILDCARE: HOW PEDIATRICIANS CAN SUPPORT CHILDREN AND FAMILIES

18 LOSS, SEPARATION, AND BEREAVEMENT

19 SLEEP MEDICINE

PART III

Behavioral and Psychiatric Disorders

20 ASSESSMENT AND INTERVIEWING

21 PSYCHOLOGICAL TREATMENT OF CHILDREN AND ADOLESCENTS

22 SOMATIC SYMPTOM AND RELATED DISORDERS

23 RUMINATION AND PICA

24 MOTOR DISORDERS AND HABITS

25 ANXIETY DISORDERS

26 MOOD DISORDERS

27 SUICIDE AND ATTEMPTED SUICIDE

28 EATING DISORDERS

29 DISRUPTIVE, IMPULSE-CONTROL, AND CONDUCT DISORDERS

30 AUTISM SPECTRUM DISORDER

31 CHILDHOOD PSYCHOSES

PART IV

Learning Disorders

32 NEURODEVELOPMENTAL FUNCTION AND DYSFUNCTION IN THE SCHOOL-AGE CHILD

33 ATTENTION-DEFICIT/HYPERACTIVITY DISORDER

34 DYSLEXIA

35 LANGUAGE DEVELOPMENT AND COMMUNICATION DISORDERS

36 INTELLECTUAL DISABILITY

PART V

Children with Special Needs

37 ADOPTION

38 FOSTER AND KINSHIP CARE

39 IMPACT OF VIOLENCE ON CHILDREN

40 ABUSED AND NEGLECTED CHILDREN

41 FAILURE TO THRIVE

42 CHRONIC ILLNESS IN CHILDHOOD

43 PEDIATRIC PALLIATIVE CARE

PART VI

Nutrition

44 NUTRITIONAL REQUIREMENTS

45 FEEDING HEALTHY INFANTS, CHILDREN, ?AND ADOLESCENTS

46 NUTRITION, FOOD SECURITY, AND HEALTH

47 OVERWEIGHT AND OBESITY

48 VITAMIN A DEFICIENCIES AND EXCESS

49 VITAMIN B COMPLEX DEFICIENCIES AND EXCESS

50 VITAMIN C (ASCORBIC ACID)

51 RICKETS AND HYPERVITAMINOSIS D

52 VITAMIN E DEFICIENCY

53 VITAMIN K DEFICIENCY

54 MICRONUTRIENT MINERAL DEFICIENCIES

PART VII

Fluid and Electrolyte Disorders

55 ELECTROLYTE AND ACID-BASE DISORDERS

56 MAINTENANCE AND REPLACEMENT THERAPY

57 DEFICIT THERAPY

58 FLUID AND ELECTROLYTE TREATMENT OF SPECIFIC DISORDERS

PART VIII

Pediatric Drug Therapy

59 PEDIATRIC PHARMACOGENETICS, PHARMACOGENOMICS, AND PHARMACOPROTEOMICS

60 PRINCIPLES OF DRUG THERAPY

61 ANESTHESIA, PERIOPERATIVE CARE, AND SEDATION

62 PEDIATRIC PAIN MANAGEMENT

63 POISONING

64 COMPLEMENTARY THERAPIES AND INTEGRATIVE MEDICINE

PART IX

The Acutely Ill Child

65 EVALUATION OF THE SICK CHILD IN THE OFFICE AND CLINIC

66 EMERGENCY MEDICAL SERVICES FOR CHILDREN

67 PEDIATRIC EMERGENCIES AND RESUSCITATION

68 NEUROLOGIC EMERGENCIES AND STABILIZATION

69 SYNCOPE

70 SHOCK

71 RESPIRATORY DISTRESS AND FAILURE

72 ACUTE CARE OF THE VICTIM OF MULTIPLE TRAUMA

73 ALTITUDE-ASSOCIATED ILLNESS IN CHILDREN (ACUTE MOUNTAIN SICKNESS)

74 DROWNING AND SUBMERSION INJURY

75 BURN INJURIES

76 COLD INJURIES

PART X

Human Genetics

77 INTEGRATION OF GENETICS INTO PEDIATRIC PRACTICE

78 THE GENETIC APPROACH IN PEDIATRIC MEDICINE

79 THE HUMAN GENOME

80 PATTERNS OF GENETIC TRANSMISSION

81 CYTOGENETICS

82 GENETICS OF COMMON DISORDERS

83 GENETIC APPROACHES TO RARE AND UNDIAGNOSED DISEASES

PART XI

Metabolic Disorders

84 AN APPROACH TO INBORN ERRORS OF METABOLISM

85 DEFECTS IN METABOLISM OF AMINO ACIDS

86 DEFECTS IN METABOLISM OF LIPIDS

87 DEFECTS IN METABOLISM OF CARBOHYDRATES

88 MUCOPOLYSACCHARIDOSES

89 DISORDERS OF PURINE AND PYRIMIDINE METABOLISM

90 HUTCHINSON-GILFORD PROGERIA SYNDROME

91 THE PORPHYRIAS

92 HYPOGLYCEMIA

PART XII

The Fetus and the Neonatal Infant

93 OVERVIEW OF MORTALITY AND MORBIDITY

94 THE NEWBORN INFANT

95 HIGH-RISK PREGNANCIES

96 THE FETUS

97 THE HIGH-RISK INFANT

98 CLINICAL MANIFESTATIONS OF DISEASES IN THE NEWBORN PERIOD

99 NERVOUS SYSTEM DISORDERS

100 DELIVERY ROOM EMERGENCIES

101 RESPIRATORY TRACT DISORDERS

102 DIGESTIVE SYSTEM DISORDERS

103 BLOOD DISORDERS

104 GENITOURINARY SYSTEM

105 THE UMBILICUS

106 METABOLIC DISTURBANCES

107 THE ENDOCRINE SYSTEM

108 DYSMORPHOLOGY

109 INFECTIONS OF THE NEONATAL INFANT

PART XIII

Adolescent Medicine

110 ADOLESCENT DEVELOPMENT

111 THE EPIDEMIOLOGY OF ADOLESCENT HEALTH PROBLEMS

112 DELIVERY OF HEALTHCARE TO ADOLESCENTS

113 VIOLENT BEHAVIOR

114 SUBSTANCE ABUSE

115 THE BREAST

116 MENSTRUAL PROBLEMS

117 CONTRACEPTION

118 ADOLESCENT PREGNANCY

119 ADOLESCENT RAPE

120 SEXUALLY TRANSMITTED INFECTIONS

121 CHRONIC FATIGUE SYNDROME

Immunology

Section 1 EVALUATION OF THE IMMUNE SYSTEM

122 EVALUATION OF SUSPECTED IMMUNODEFICIENCY

Section 2 THE T-, B-, AND NK-CELL SYSTEMS

123 T LYMPHOCYTES, B LYMPHOCYTES, AND NATURAL KILLER CELLS

124 PRIMARY DEFECTS OF ANTIBODY PRODUCTION

125 PRIMARY DEFECTS OF CELLULAR ? IMMUNITY

126 PRIMARY COMBINED ANTIBODY AND CELLULAR IMMUNODEFICIENCIES

Section 3 THE PHAGOCYTIC SYSTEM

127 NEUTROPHILS

128 MONOCYTES, MACROPHAGES, AND DENDRITIC CELLS

129 EOSINOPHILS

130 DISORDERS OF PHAGOCYTE FUNCTION

131 LEUKOPENIA

132 LEUKOCYTOSIS

Section 4 THE COMPLEMENT SYSTEM

133 THE COMPLEMENT SYSTEM

134 DISORDERS OF THE COMPL

Robert M. Kliegman, MD, Professor & Chair Emeritus, Department of Pediatrics - Medical College of Wisconsin Nelson Undiagnosed & Rare Disease Program, Bonita F. Stanton, MD, Vice-Dean of Research, Professor of Pediatrics, Wayne State University School of Medicine, Detroit, Michigan, Joseph W. St. Geme III, MD, Chair, Department of Pediatrics, Professor of Pediatrics and Microbiology, Perelman School of Medicine at the University of Pennsylvania; Physician-in-Chief, Leonard and Madlyn Abramson Endowed Chair in Pediatrics, Children's Hospital of Philadelphia, Philadelphia, Pennsylvania and Nina F Schor, MD, PhD, William H. Eilinger Professor and Chair, Department of Pediatrics, Professor, Department of Neurology, Pediatrician-in-Chief, Golisano Children's Hospital, University of Rochester Medical Center, Rochester, New York
Most review copies are eBooks – how fast!
A review copy request is most likely to be fulfilled as an eBook on VitalSource rather than a print product, unless no eBook is available. eBooks become available in as little as a few hours. Print products will take between 7 and 10 days to arrive. To request a print copy, please contact the
Evolve Support Center
or your
Education Solutions Consultant
.