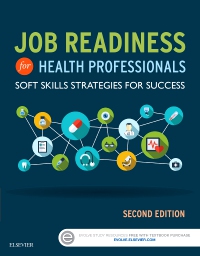 Job Readiness for Health Professionals
, 2nd Edition
Paperback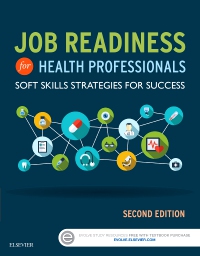 In Stock
This item has low stock levels and may be back-ordered. We'll let you know if it is back-ordered, and you will not be charged until the item ships.
Help your students develop the soft skills — the personal qualities, habits, attitudes, and social graces needed to work successfully with anyone, anywhere. Job Readiness for Health Professionals, Soft Skills Strategies for Success, 2nd Edition provides a unique tool for soft skill programming to help graduates succeed on the job as effective, engaged, and high-functioning employees. This handy resource uses an 8th grade reading level and a consistent, easy-to-follow modular format to guide your students through the essential entry-level soft skills like how to dress, speak, and collaborate in the healthcare setting. With two new chapters, new Video Case vignettes, and 48 soft skills and behavioral competencies, it gives students and instructors the tools necessary to join the healthcare workforce.
Behavioral objectives provided for mastering each skill.
Worktext format with journaling activities and multiple self-reflection activities offers valuable review exercises.
Critical thinking exercises woven throughout skills include multidisciplinary scenarios from the field.
What If? boxes feature short scenarios that encourage you to think about how you would handle a situation in the workplace.
Case studies throughout use fictional vignettes to illustrate the issues involved with the specific skills.
Down a Dark Road vignettes depict what can go terribly wrong when a skill is ignored or not mastered.
Experiential Exercises are actions or experiments that you can perform on your own to gain a deeper appreciation for the skill.
Cross Currents with Other Skills ties together and cross-references related skills, pointing out the synergies and connections between them.

NEW! Highly anticipated Finding Your First Job chapter highlights competencies that you need to consider and prepare for when starting your job search, beginning a career in the health professions, writing your resume, and interviewing.
NEW! Video Case vignettes with assessment and implementation tools on interview skills, active listening, dealing with others, problem solving and decision making, communication, presenting yourself for the workforce, working as a team, dealing with authority, and enhancing your promotability provide a multimedia component with real-life workplace scenarios for your review.
NEW! Being a Student chapter covers competencies where students often struggle, including: taking meaningful notes, remaining calm and confident during assessments, and successfully preparing for practicum interviews.
NEW! New content on financial literacy, including managing finances and paying back students loans, covers the impact financial decisions have on your life — both personally and as you look for a job.

1. Who Are You?
Adopting a Positive Mental Attitude
Managing your Time and Organizing your Life
Achieving Honesty and Integrity
Aiming to be Adaptable and Flexible
Striving for Tolerance
Being Dependable
2. NEW! Being a Student
Taking Notes
Improving Test Scores
Preparing For Externship
3. NEW! Finding Your First Job
Your Career in the Health Professions
Beginning the Job Search
Writing Your Resume
The Art of Interviewing
4. Ready for Work
Modeling Business Etiquette
Dressing for Success
Displaying Good Grooming, Personal Hygiene, and Cleanliness
5. Gaining Energy and Reducing Stress
Gaining Energy, Persistence, and Perseverance
Vowing to be Drug-Free and Unimpaired
Managing Stress
6. Being Easy to Deal With
Building Trust
Showing Empathy, Sensitivity, and Caring
7. Dealing with Others
Managing and Resolving Conflict
Dealing with Difficult People
Valuing Multicultural Competence
8. Speaking and Writing Professionally
Speaking Professionally in your Workplace
Writing, Grammar, and Spelling
Professional Phone Technique
9. Interacting Successfully
Listening Actively
Communicating with Special Groups of Clients
Reading and Speaking Body Language
10. Planning for Career Success
Setting Goals and Planning Actions
Following Rules and Regulations
Maintaining Confidentiality and Discretion
Keeping Records
Managing Your Money
11. Enhancing Your Promotability
Thinking Critically
Talking to your Manager or Supervisor
Taking Accountability
Contributing as a Member of the Team
Committing to your Profession
12. Building Personal Emotional Strengths
Building Self-Esteem
Controlling Anxiety
Practicing Patience
Strengthening Resilience
13. Managing Your Emotions
Separating your Work and Personal Problems
Managing Anger and Strong Emotions
Exuding Optimism, Enthusiasm, and Positivity
14. Go Forth and Prosper
Expect Acceptance
Index

Elsevier
In Stock
This item has low stock levels and may be back-ordered. We'll let you know if it is back-ordered, and you will not be charged until the item ships.