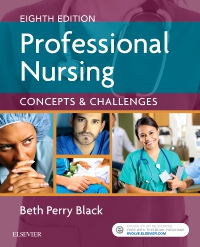 Publication Date:
06-05-2016
Professional Nursing - Elsevier eBook on VitalSource, 8th Edition
Elsevier eBook on VitalSource
Publication Date:
06-05-2016
Appropriate for use in early courses in baccalaureate curricula; in RN-to-BSN and RN-to-MSN courses; and as a resource for practicing nurses and graduate students, Professional Nursing: Concepts & Challenges, 8th Edition equips students and new nurses to positively impact their careers and the nursing profession. This leading text details what it means to be a professional nurse — the history, values and standards, and commitment to life-long learning. This edition features new information on QSEN, Electronic Health Record information, the effect of social media in nursing, and updated information on the Affordable Care Act. Valuable learning aids throughout every chapter include: case studies, cultural challenges, evidence-based practice, critical thinking, interviews, professional profiles, historical notes, nursing research, concepts & challenges, and ideas for further exploration. This edition discusses the current state of the nursing profession, standards and scope of practice, transition into professional practice, health care delivery systems, and future challenges for the nursing profession.
Evidence-based Practice boxes highlight problems identified in patient care, the nursing researcher's questions and research, the results of that research, and the resultant recommendations for care.
Considering Culture boxes highlight the impact of culture on the way in which nurses fulfill their roles and the way in which patients experience healthcare.
Interview boxes explore the issues of culture and faith from the perspectives of leaders in those fields.
Thinking Critically Challenges present questions or scenarios for in-depth consideration of relevant issues.
Case Study boxes feature scenarios involving relevant issues in patient care.
Discusses the implications of social media on nursing, including ethics and boundaries.
Historical Notes highlight little-known stories of heroisms in the nursing profession.
Key terms are bolded where defined in the text.
A Glossary is included at the end of the text.
Learning outcomes are presented at the chapter openings.
Concepts and Challenges and Ideas for Further Exploration at the end of the chapters help you in review and test prep.

EXPANDED! Additional QSEN information helps develop your knowledge, skills, and attitudes.
NEW! Electronic Health Record information readies you to electronically keep track of patients' medical records.
EXPANDED! Additional information on evidence-based practice prepares you to make more informed decisions about patient care.
UPDATED! Additional information on national patient safety goals keeps you current.
EXPANDED! More content on stressors and work/life balance, so you know what to expect upon entering the workforce.
NEW! Updated information on the Affordable Care Act keeps you in the know.
EXPANDED! Additional content on workplace issues helps eliminate some surprises down the line.
NEW! Professional Profile boxes spotlight individuals in the field.
NEW! Nurses Doing Research boxes give insight into nursing experiences

1 Nursing in Today's Evolving Health Care Environment
2 The History and Social Context of Nursing
3 Nursing's Pathway to Professionalism
4 Nursing Education in an Evolving Health Care Environment
5 Becoming a Professional Nurse: Defining Nursing and Socialization into Practice
6 Nursing as a Regulated Practice: Legal Issues
7 Ethics: Basic Concepts for Professional Nursing Practice
8 Conceptual and Philosophical Foundations of Professional Nursing Practice
9 Nursing Theory: The Basis for Professional Nursing
10 The Science of Nursing and Evidence-Based Practice
11 Developing Nursing Judgment through Critical Thinking
12 Communication and Collaboration in Professional Nursing
13 Nurses, Patients, and Families: Caring at the Intersection of Health, Illness, and Culture
14 Health Care in the United States
15 Political Activism in Nursing: Communities, Organizations, Government
16 Nursing's Challenge: To Continue to Evolve

Beth Black, PhD, RN, FAAN, Assistant Professor, University of North Carolina - Chapel Hill School of Nursing, Chapel Hill, North Carolina