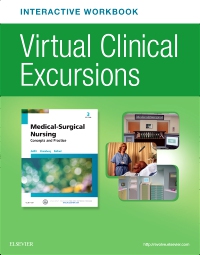 Virtual Clinical Excursions Online eWorkbook for Medical-Surgical Nursing, 3rd Edition
Simulations - VCE - Digital Workbook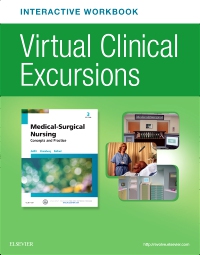 Or $0.00 with a valid access code
This product requires an instructor adoption and is not available for independent study.
One of the most complete nursing education learning systems available, Virtual Clinical Excursions 4.0 (VCE) is an interactive print and online workbook that guides you through a virtual hospital where the patients are real and their conditions are constantly changing. Each lesson features a core reading assignment from Medical-Surgical Nursing: Concepts & Practice, 3rd Edition along with activities based on "visiting" the patients in the hospital. By immersing you in a realistic, yet safe, nursing environment, VCE simulates the average clinical rotation by allowing you to conduct a complete assessment of a patient and set priorities for care, collect information, analyze and interpret data, prepare and administer medications, and reach conclusions about complex problems. This unique virtual setting is the best way to learn about the complexities of patient care by giving you the perfect environment to practice what you've learned.
Duration for access to this product, which may be at the discretion of your institution, is up to 36 months. Elsevier reserves the right to restrict or remove access due to changes in product portfolio or other market conditions.
Online workbook guides you throughout the patient scenarios to collect information, make decisions, and set priorities.
Nurse-client interaction videos depict conversations and situations involving nurses, patients, family members, and hospital staff to help you discern between communications that are ideal and those that need improvement.
Nursing information regarding patients' acute care provides quick access to vital information such as physician's orders, laboratory reports, patient education, nursing admission, and more, offering a richly detailed portrait of the patient.
Vital signs tool within each patient's room allows you to check the patient's status at critical moments, and promotes safe practice.
Allows for easy and quick access to various patient charts, including Physician's Orders, Laboratory Reports, Patient Education, Nursing Admission, and many more.
Unique records that house data from the virtual patient's hospital stay allows you to record new findings to see how the data for different attributes has changed over time.
Physical examination experience with unique images and assessment findings advance your understanding of each patient's system assessments.
Patient medication administration enhances your ability to think critically about safe medication practices and follow safe medication standards.
Updated drug reference includes a comprehensive set of the latest drug monographs to help you make the best clinical judgments.
Laboratory guide provides standard value ranges for all laboratory values offered within the virtual patient hospital, so you can confirm and compare standard lab values against your patients' test results.

NEW! Updated content from Medical-Surgical Nursing: Concepts & Practice, 3rd Edition addressed through patient care activities in the VCE workbook, providing you with active learning of the latest evidence-based care.

Interactive Workbook

Getting Started Lesson 1 Fluids, Electrolytes, Acid-Base Balance, and Intravenous Therapy Lesson 2 Care of Surgical Patients: Preoperative and Intraoperative Care Lesson 3 Care of Patients with Pain Lesson 4 Care of Patients with Cancer Lesson 5 Care of Patients with Disorders of the Respiratory System: Part 1 Lesson 6 Care of Patients with Disorders of the Respiratory System: Part 2 Lesson 7 Care of Patients with Cardiovascular Disorders Lesson 8 Care of Patients with Neurologic Disorders Lesson 9 Care of Patients with Gastrointestinal Disorders Lesson 10 Musculoskeletal and Connective Tissue Disorders Lesson 11 Care of Patients with Urinary Disorders Lesson 12 Care of Patients with Endocrine Disorders Lesson 13 Care of Patients with Substance Abuse Disorders Lesson 14 Mental Health Care: Patients with Anxiety and Thought Disorders Lesson 15 Mental Health Care: Patients with Cognitive Disorders

Online Virtual Hospital

Online Testing Program How to Create Quizzes and Exams from Question Pools Harry George Question Pool Jacquline Catanazaro Question Pool Piya Jordan Question Pool Clarence Hughes Question Pool Pablo Rodriguez Question Pool Patricia Newman Question Pool

Susan C. deWit, MSN, RN, CNS, PHN, Formerly, Instructor of Nursing, El Centro College, Dallas, TX; and Allan Hancock College, Santa Maria, CA, Holly K. Stromberg, RN, BSN, MSN, PHN, Alumnus CCRN and Carol Dallred
Or $0.00 with a valid access code
This product requires an instructor adoption and is not available for independent study.