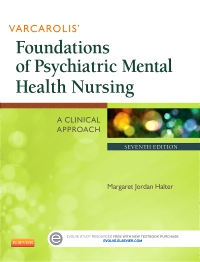 Publication Date:
08-01-2015
PART LWD - Varcarolis' Foundations of Psychiatric Mental Health Nursing – eBook on VitalSource, 7th Edition
Elsevier eBook on VitalSource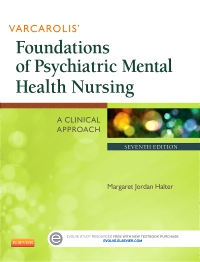 Publication Date:
08-01-2015
Or $0.00 with a valid access code
The 7th edition of this market-leading textbook offers a clear, straightforward way to understand the often intimidating subject of psychiatric mental health nursing. Its practical, clinical perspective and user-friendly writing style help you quickly master key concepts. Clinical chapters follow the nursing process framework and progress from theory to application with a wealth of real-world examples to prepare you for practice.
UNIQUE! A conversational, user-friendly writing style helps you quickly grasp complex psychiatric mental health nursing concepts.

Clinical chapters are logically and consistently organized with sections on the clinical picture, epidemiology, comorbidity, etiology, and application of the nursing process.

Clinical chapters follow the nursing process, providing you with consistent guidelines for comprehensive assessment and intervention.

Vignettes prepare you for real-world practice with personal, descriptive characterizations of patients with specific psychiatric disorders.

Coverage of psychopharmacology in clinical chapters familiarizes you with specific drug treatment options, including the most commonly used drugs and important nursing considerations for their use.

Assessment Guidelines boxes list essential guidelines for comprehensive patient assessment.

Case Studies with Nursing Care Plans present individualized histories of patients with specific psychiatric disorders and include interventions with rationales and evaluation statements for each patient goal.

A separate chapter on cultural implications, as well as Considering Culture boxes throughout the text, provides essential information on culture, worldviews, and techniques for providing culturally competent care.

Coverage of treatment and recovery in the community addresses the need for successful ongoing psychiatric mental health nursing care in the community setting.
A chapter on end-of-life care examines the psychological impact of terminal illness and death on patients, families, and nurses.

New content on integrative care –this content will cover patient centered medical homes, integrated care clinics and the role of advanced practice nurses in psychiatric care

*Relevant QSEN competencies will be introduced in Chapter One, Mental Health and Mental Illness, and will be integrated throughout the text. A common sense, and how it applies to practice, approach will be used to highlight the competencies relevant to psych nursing care such as safety, communication, evidence based practice and others.

* Include more content and discussion on genetics as the basis for psychological disorders. Will consider a new chapter or add this content to Chapter 3, Biological Basis for Understanding Psychotropic Drugs

*Enhance content on the health promotion and prevention of illness in pediatric patients

*The author has secured a knowledgeable, expert contributor to develop meaningful, concept maps for the clinical chapters and we will work to revise our current concept map creator on Evolve to be more state of the art

*Integrate the DSM-V to the extent that we know prior to publication to make our text as current as possible. DSM-V content is to be released in Spring 2013 while our text is in production. All relevant and updated NANDA content will be included as well

* The number of photos and illustrations will be increased to add to the appeal of the text (per reviewer comments). One example is to include normal brain images in the clinical chapters that are also accompanied by an image demonstrating clinical pathology (eg: schizophrenia)

UNIT ONE FOUNDATIONS IN THEORY

Chapter 1 Mental Health and Mental Illness

Chapter 2 Relevant Theories and Therapies for Nursing Practice

Chapter 3 Biological Basis for Understanding Psychotropic Drugs

UNIT TWO FOUNDATIONS FOR PRACTICE

Chapter 4 Psychiatric Mental Health Nursing in Acute Care Settings

Chapter 5 Psychiatric Mental Health Nursing in Community Settings

Chapter 6 Cultural Implications for Psychiatric Mental Health Nursing

Chapter 7 Legal and Ethical Guidelines for Safe Practice

UNIT THREE PSYCHOSOCIAL NURSING TOOLS

Chapter 8 The Nursing Process and Standards of Care for Psychiatric Mental Health Nursing

Chapter 9 Therapeutic Relationships

Chapter 10 Communication and the Clinical Interview

Chapter 11 Understanding Responses to Stress

UNIT FOUR PSYCHOBIOLOGICAL DISORDERS

Chapter 12 Anxiety and Anxiety Disorders

Chapter 13 Depressive Disorders

Chapter 14 Bipolar Disorders

Chapter 15 Schizophrenia

Chapter 16 Eating Disorders

Chapter 17 Cognitive Disorders

Chapter 18 Addictive Disorders

Chapter 19 Personality Disorders

Chapter 20 Sleep Disorders

Chapter 21 Sexual Dysfunction and Sexual Disorders

Chapter 22 Somatoform, Factitious, and Dissociative Disorders

UNIT FIVE TRAUMA INTERVENTIONS

Chapter 23 Crisis and Disaster

Chapter 24 Suicide

Chapter 25 Anger, Aggression, and Violence

Chapter 26 Child, Older Adult, and Intimate Partner Abuse

Chapter 27 Sexual Assault

UNIT SIX INTERVENTIONS FOR SPECIAL POPULATIONS

Chapter 28 Disorders of Children and Adolescents

Chapter 29 Psychosocial Needs of the Older Adult

Chapter 30 Serious Mental Illness

Chapter 31 Psychological Needs of Patients with Medical Conditions

Chapter 32 Care for the Dying and for Those Who Grieve

Chapter 33 Forensic Psychiatric Nursing

UNIT SEVEN OTHER INTERVENTION MODALITIES

Chapter 34 Therapeutic Groups

Chapter 35 Family Interventions

Chapter 36 Integrative Care

APPENDICES

A DSM-IV-TR Classification

B Historic Synopsis of Psychiatric Mental Health Nursing

C NANDA-I-Approved Nursing Diagnoses

D Answers to Chapter Review Questions

GLOSSARY

INDEX

Margaret Jordan Halter, PhD, PMHCNS-BC, Editor, Manual of Psychiatric Nursing Care,Former Clinical Nurse Specialist, Cleveland Clinic Akron General, Akron, Ohio,Former Faculty,Malone College, Canton, Ohio; University of Akron, Akron, Ohio,The Ohio State University, Columbus, Ohio,Former Associate Dean, Ashland University, Mansfield, Ohio