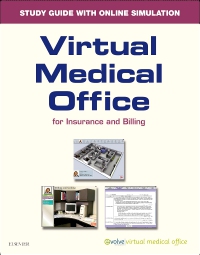 Virtual Medical Office for Insurance eWorkbook
,
Simulations - VMO - Digital Workbook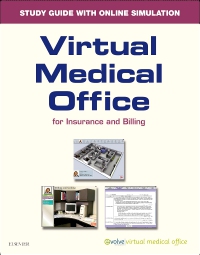 Let your students practice medical coding and billing without leaving the classroom! Virtual Medical Office for Insurance includes 15 virtual patient encounters to help students develop the critical thinking and decision-making skills they'll need in externships and on the job. Virtual Medical Office begins each study guide lesson with a reading assignment from one of Elsevier's core texts in medical assisting or insurance, billing, and coding, and then provides online practice with coding procedures and diagnoses, filing insurance claims, problem solving for rejected claims, catching common coding errors, and much more. VMO provides a safe environment in which students can practice what they are learning in the text!
15 unique cases highlight CAAHEP and ABHES competencies with exercises relating to different payers, different billing situations, and common coding errors.
Nearly two hours of video include five videos for each case: one at check-in, three in the exam room, and one at checkout, providing opportunities to practice and learn how patients are processed through the medical office.
Realistic data includes medical records for each case, an office policy manual, a fee schedule, a daysheet, and more.
A study guide (available in print and on Evolve):

Complements the textbook with lessons that correlate reading assignments with patients in the virtual practice.
Promotes active learning as you collect information from a variety of sources to make coding and billing decisions.
Encourages critical thinking as you sharpen problem-solving skills and troubleshoot rejected claims.
Offers proofreading practice by asking you to spot and correct common coding errors, as in real practice.
Augments knowledge of HIPAA by letting you compare the policy manual, the contents of each case's medical record, and what actually happens in the videos.
Makes lessons available online, allowing you to complete assignments and submit them electronically to your instructor.
Focuses on key objectives through brief, manageable chunks of information.
introduces the VMO software with a detailed tour of the medical office.
Includes a detailed office tour to make it easier to use the VMO software and the online study guide.

UPDATED content reflects changes in the main text and in the medical office.

Getting Started
Quick Office Tour
Detailed Office Tour
Lesson 1: Role of an Insurance Billing Specialist
Lesson 2: Compliance and the E-Health Initiative
Lesson 3: Basics of Health Insurance
Lesson 4: Medical Documentation
Lesson 5: Diagnostic Coding
Lesson 6: Procedural Coding
Lesson 7: The Paper Claim CMS-1500
Lesson 8: Electronic Data Interchange: Transactions and Security
Lesson 9: Receiving Payments and Insurance Problem Solving
Lesson 10: Office and Insurance Collection Strategies
Lesson 11: The Blue Plans, Private Insurance and Managed Care Plans
Lesson 12: Medicare
Lesson 13: Medicaid and Other State Programs
Lesson 14: TRICARE and CHAMPVA
Lesson 15: Workers' Compensation
Lesson 16: Disability Income Insurance and Disability Benefit Programs
Lesson 17: Hospital Billing
Lesson 18: Seeking a Job and Attaining Professional Advancement

Elsevier

This product is available in the following formats: