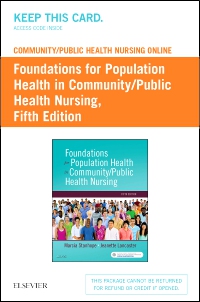 Publication Date:
10-17-2017
Community/Public Health Nursing Online for Stanhope and Lancaster: Foundations for Population Health in Community/Public Health Nursing (Access Card), 5th Edition
Online Course - Access Card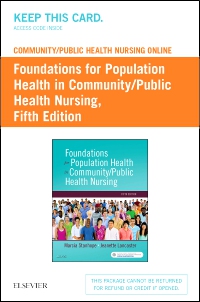 Publication Date:
10-17-2017
14 modules cover the core concepts of community/public health nursing apply content from the textbook to the real world.
Unfolding case studies, videos, and photos provide a realistic portrayal of the roles and responsibilities of a community/public health nurse.
An assessment quiz in every module evaluates your knowledge of the content and reinforces classroom assignments.
Learning activities include engaging exercises such as matching, multiple-choice, and short-answer questions to test your knowledge and critical thinking skills.
Reading assignments tie the learning modules to specific areas of the text.
Immediate feedback on all activities reinforces your understanding and helps you master course content.

Marcia Stanhope, PhD, RN, FAAN, Education and Practice Consultant and Professor Emerita, College of Nursing, University of Kentucky, Lexington, Kentucky and Jeanette Lancaster, PhD, RN, FAAN, Sadie Heath Cabiness Professor and Dean Emerita, School of Nursing, University of Virginia, Charlottesville, Virginia; Associate, Tuft & Associates, Inc.