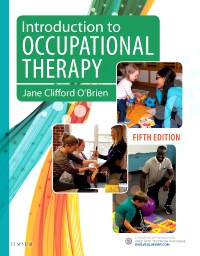 Publication Date:
02-17-2017
Introduction to Occupational Therapy, 5th Edition
Paperback
Publication Date:
02-17-2017
Prepare your students for success in OT practice with a complete overview of the profession! Introduction to Occupational Therapy makes it easier to learn the roles and responsibilities of the OT practitioner. Content promotes evidence-based OT practice, from client evaluation to planning interventions and goals to reaching optimal outcomes. Students will also learn valuable skills in clinical reasoning and in providing occupational therapy across the client's entire lifespan. Unmatched for its wide perspective and practical knowledge, this resource includes discussions of OT treatment settings and a new chapter on cultural competence.
Complete coverage of OT practice prepares you for care in areas such as adult, pediatric, geriatric, and mental health.
A broad perspective fits the needs of both Occupational Therapy and Occupational Therapy Assistant students.
Case studies and activities in each chapter help you apply concepts and develop problem-solving skills.
Emphasis on evidence-based practice helps you learn to think logically and use research literature to formulate diagnoses and treatment plans.
The OT Practice Framework provides a sound basis for decision making, defining occupational therapy areas of concern and the OT process.
Chapter objectives, key terms, chapter summaries, and review questions highlight important content in each chapter.
Student resources on the Evolve companion website include review questions with answers along with crossword puzzles to reinforce what you've learned in the book.

NEW content on OT theory and practice includes the latest updates to the Occupational Therapy Practice Framework and OT Code of Ethics.
New coverage of the role of certified Occupational Therapy Assistants shows where OTAs are employed, what licensure requirements they must meet, and how they fit into the scope of OT practice.
NEW chapter on cultural competence provides the tools you need to work with culturally diverse clients in today's healthcare environment, and includes case studies with examples of cultural competence and its impact on the practice of OT.
NEW Centennial Vision commentary provides a 'big picture' view of today's occupational therapy, and shows how OT is becoming a powerful, widely recognized, science-driven, and evidence-based profession as it reaches the age of 100.

Section I: Occupational Therapy: The Profession
1. Introductory Questions
2. Looking Back: A History of Occupational Therapy
3. Philosophical Principles and Values in Occupational Therapy
4. Current Issues and Emerging Practice Areas
5. A Global Perspective of Occupational Therapy NEW!
Section II: Occupational Therapy: The Practitioner
6. From Student to Practitioner: Educational Preparation and Certification
7. The Occupational Therapy Practitioner: Roles, Responsibilities, and Relationships
8. Practicing Legally and Ethically
9. Professional Organizations
Section III: The Practice of Occupational Therapy
10. Occupational Therapy Practice Framework: Domain and Process
11. Occupational Therapy Across the Lifespan
12. Treatment Settings and Models of Health Care
13. Service Management Functions
Section IV: The Process of Occupational Therapy
14. Occupational Therapy Process: Evaluation, Intervention, and Outcomes
15. Models of Practice and Frames of Reference
16. Intervention Modalities
17. Therapeutic Relationships
18. Therapeutic Reasoning
Appendices
Glossary

Jane Clifford O'Brien, PHD, MS.ED.L, OTR/L, FAOTA, Professor, Occupational Therapy Department, University of New England Portland, Maine, United States
In Stock
Most review copies are eBooks – how fast!