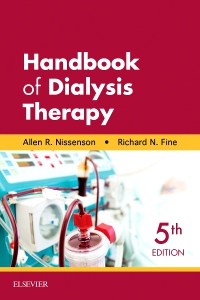 Publication Date:
10-24-2016
Handbook of Dialysis Therapy E-Book, 5th Edition
Hardcover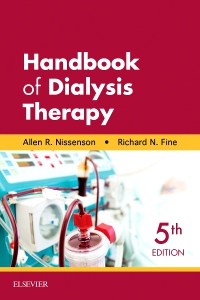 Publication Date:
10-24-2016
Free Shipping!
This item has low stock levels and may be back-ordered. We'll let you know if it is back-ordered, and you will not be charged until the item ships.
Providing practical, immediately useful guidelines that can be applied directly to patient care, Handbook of Dialysis Therapy is a must-have resource for all dialysis caregivers. This new edition has been updated with the latest cutting-edge technology, dialysis techniques, and complications related to various diseases for both pediatric and adult patients. In-depth yet concise, it explains complex dialysis concepts through abundant diagrams, photos, line drawings, and tables, while its readable hands-on approach allows for quick review of key information.
Presents the practice-proven experience of top experts in the field of dialysis treatment.
Offers dialysis guidance for both adult and pediatric patients in one convenient source.
Features a readable hands-on approach, allowing you to quickly review the complicated concepts of dialysis.
Includes helpful annotated bibliography lists in each section for further in-depth research on any subject.
Explains complex dialysis concepts through abundant diagrams, photos, line drawings, and tables.

Features new chapters on care delivery, patient-centric care, rehabilitation, quality of life, geriatrics, and interventional nephrology.
Includes information on the management of the pediatric patient undergoing dialysis.
Defines the quality imperatives, roles, and responsibilities of dialysis facility medical directors and attending nephrologists.
Updates nephrologists on the latest alternative dialysis modalities.

Section 1: Demographics

C H A P T E R 1 Demographics of the End-Stage Renal Disease Patient

Section 2: Vascular Access for Hemodialysis

C H A P T E R 2 Vascular Access for Hemodialysis in Adults

C H A P T E R 3 Central Venous Access for Hemodialysis

C H A P T E R 4 Noninfectious Complications from Vascular Access

C H A P T E R 5 Infectious Complications from Vascular Access

C H A P T E R 6 Surveillance for Arteriovenous Access

C H A P T E R 7 Interventional Nephrology

C H A P T E R 8 Cannulation of Hemodialysis Vascular Access: Science and Art

Section 3: Peritoneal Access Devices

C H A P T E R 9 Peritoneal Access Devices, Placement Techniques, and Maintenance

Section 4: Mechanical Aspects of Dialysis

C H A P T E R 1 0 Water Treatment Equipment for In-Center Hemodialysis

C H A P T E R 1 1 Methods and Complication of Dialyzer Reuse

C H A P T E R 1 2 Dialysate Composition

C H A P T E R 1 3 Safety Monitors in Hemodialysis

C H A P T E R 1 4 Methods of Hemodialysis Anticoagulation

Section 5: Home Dialysis

C H A P T E R 1 5 Home Preparation and Installation for Home Hemodialysis

C H A P T E R 1 6 Peritoneal Dialysis Cyclers and Other Mechanical Devices

Section 6: Dialyzers

C H A P T E R 1 7 Selecting a Dialyzer: Technical and Clinical Considerations

Section 7: Adequacy of Dialysis

C H A P T E R 1 8 Uremic Toxicity C H A P T E R 1 9 Urea Kinetic Modeling for Guiding Hemodialysis Therapy in Adults

C H A P T E R 2 0 The Dialysis Prescription

Section 8: Improving Outcomes in Dialysis Patients

C H A P T E R 2 1 Improving Outcomes for End-Stage Renal Disease Patients: Shifting the Quality Paradigm

C H A P T E R 2 2 Quality, Safety, Accountability, and Medical Director Responsibilities

C H A P T E R 2 3 Initiation of Dialysis Therapy

Section 9: Complications During Hemodialysis

C H A P T E R 2 4 Common Clinical Problems During Hemodialysis

C H A P T E R 2 5 Arrhythmias in Hemodialysis Patients

C H A P T E R 2 6 Prevention and Therapeutic Management of Bleeding in Dialysis Patients

Section 10: Alternative Hemodialytic Techniques

C H A P T E R 2 7 Hemofiltration/Hemodiafiltration

C H A P T E R 2 8 Convective Renal Replacement Therapies for Acute Kidney Injury

C H A P T E R 2 9 Anticoagulation for Continuous Renal Replacement Therapy (CRRT)

C H A P T E R 3 0 Wearable Artificial Kidney

Section 11: Peritoneal Dialysis: Clinical Practice

C H A P T E R 3 1 Determination of Continuous Ambulatory Peritoneal Dialysis and Automated Peritoneal Dialysis Prescriptions

C H A P T E R 3 2 Peritoneal Dialysis Solutions

C H A P T E R 3 3 Lymphatics, Peritoneal Fluid Losses, and Peritoneal Dialysis

Section 12: Peritoneal Dialysis: Infectious Complications

C H A P T E R 3 4 Abnormalities of Host Defense Mechanisms During Peritoneal Dialysis

C H A P T E R 3 5 Peritoneal Catheter Exit-Site and Tunnel Infections

C H A P T E R 3 6 Peritonitis in Peritoneal Dialysis

Section 13: Peritoneal Dialysis: Noninfectious Complications

C H A P T E R 3 7 Peritoneal Membrane Dysfunction: Inadequate Solute Removal, Ultrafiltration Failure and Encapsulating Peritoneal Sclerosis

C H A P T E R 3 8 Abdominal Catastrophes, Peritoneal Eosinophilia, and Other Unusual Events in Peritoneal Dialysis

C H A P T E R 3 9 Metabolic Complications of Peritoneal Dialysis

C H A P T E R 4 0 Abdominal Hernias in Continuous Ambulatory Peritoneal Dialysis

C H A P T E R 4 1 Dialysate Leaks

C H A P T E R 4 2 Hydrothorax and Peritoneal Dialysis

Section 15: Acid-Base Homeostasis

C H A P T E R 4 3 Acid-Base Homeostasis in Dialysis

Section 16: Nutritional Management of Dialysis

Allen R. Nissenson, MD, FACP, Emeritus Professor of Medicine, David Geffen School of Medicine at the University of California, Los Angeles, Los Angeles, California; Chief Medical Officer, DaVita, Inc., El Segundo, California and Richard E. Fine, MD, Boston University, Cambridge, MA, USA