Saunders Q & A Review for the NCLEX-RN® Examination - Elsevier eBook on VitalSource, 7th Edition
Elsevier eBook on VitalSource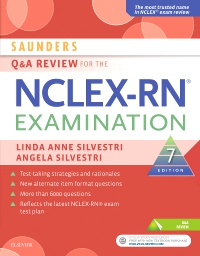 Or $0.00 with a valid access code
Practice makes perfect with Saunders Q&A Review for the NCLEX-RN® Examination, 7th Edition. This popular review offers more than 6,000 test questions, giving you all the Q&A practice you need to pass the NCLEX-RN® examination! Each question enhances review by including a test-taking strategy, rationales for correct and incorrect answers, and page references to major nursing textbooks. Questions are organized to match the Client Needs and Integrated Processes found in the most recent NCLEX-RN test plan. Q&A practice is also provided on an Evolve companion website, with many study and testing options. From the most trusted name in NCLEX review, Linda Anne Silvestri, this resource is part of the popular Saunders Pyramid to Success.
A detailed test-taking strategy is included for each question, providing clues for analyzing and selecting the correct answer.
Chapters organized by Client Needs simplify review and reflect the question mix in the NCLEX-RN test plan blueprint.
Rationales are provided for both correct and incorrect answer options.
All alternate item question types are represented, including multiple response, prioritizing/ordered response, fill-in-the-blank, illustration/hot spot, chart/exhibit questions, graphic option, and questions incorporating audio and video.
An 85-question comprehensive exam represents the content and percentages of question types identified in the NCLEX-RN test plan.
A Priority Nursing Tip is included with each question, highlighting need-to-know patient care information.
Introductory chapters feature preparation guidance for the NCLEX-RN including chapters on academic and nonacademic preparation, advice from a recent nursing graduate, and transitional issues for the foreign-educated nurse.

NEW! Reflects the latest NCLEX-RN® test plan to familiarize you with newly added content they may encounter on the exam.
NEW! Additions to the Evolve companion website include a 75-question post-test, case studies with follow-up questions, and links to animations for selected rationales, offering unique remediation opportunities.
NEW! Trade drug names replaced with generic drug names reflecting latest test plan changes.
NEW! Health Problem label included to help you study selected health topics. This will also allow you to focus your study when reviewing questions on Evolve.

Unit I: NCLEX-RN Preparation 1. The NCLEX-RN Examination 2. Profiles to Success 3. The NCLEX-RN Examination: A Graduate's Perspective 4. Test-Taking Strategies

Unit II: Client Needs 5. Client Needs and the NCLEX-RN Test Plan Test 1: Physiological Integrity Test 2: Safe and Effective Care Environment Test 3: Health Promotion and Maintenance Test 4: Psychosocial Integrity

Unit III: Integrated Processes 6. Integrated Processes and the NCLEX-RN Test Plan Test 5: Integrated Processes

Unit IV: Comprehensive Test Test 6: Comprehensive Test

References Index

Linda Anne Silvestri, PhD, RN, FAAN, Nursing Instructor, University of Nevada, Las Vegas, School of Nursing, Las Vegas, Nevada; President and Owner, Nursing Reviews, Inc., Henderson, Nevada; Director and Owner, Professional Nursing Seminars, Inc., Henderson, Nevada; Elsevier, Author of NCLEX Review Resources, Next Generation NCLEX® (NGN) Subject Matter Expert and Consultant and Angela Elizabeth Silvestri, PhD, APRN, FNP-BC, CNE, Associate Professor & BSN Program Director, University of Nevada, Las Vegas, School of Nursing, Las Vegas, Nevada.