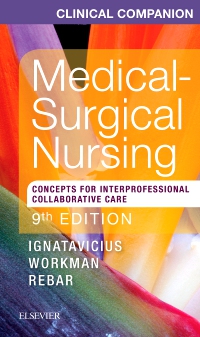 Publication Date:
10-12-2017
Clinical Companion for Medical-Surgical Nursing - Elsevier eBook on VitalSource, 9th Edition
Elsevier eBook on VitalSource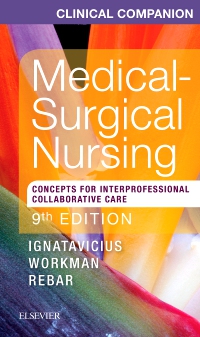 Publication Date:
10-12-2017
Or $0.00 with a valid access code
The go-to clinical companion for medical-surgical nursing students! Clinical Companion for Ignatavicius, Workman, and Rebar's Medical-Surgical Nursing: Interprofessional Collaborative Care, 9th Edition, is an A-Z, easy-to-use guide to more than 250 common medical-surgical conditions and their management. Written in a reader-friendly, direct-address style, this convenient tool is perfect for helping you out on clinical days in school and in practice. This edition features a unique focus on the concepts and exemplars found in the Ignatavicius textbook, along with updated content throughout that cross-references to the main text. With a streamlined collaborative care format, complete with new QSEN highlights and a reorganized Concepts in Medical-Surgical Nursing section, it will quickly become your favorite bedside reference.
A-Z synopses of more than 250 diseases and disorders, along with related collaborative care, serve as both a quick reference for clinical days and a study resource for diseases/disorders and related collaborative care.
QSEN highlights each focus on one or more of the six core QSEN competencies (Patient-Centered Care, Teamwork & Collaboration, Evidence-Based Practice, Quality Improvement, Safety, and Informatics) to help you understand how to apply QSEN competencies for safe patient care.
Quick reference thumb tabs appear along the edges of the pages to facilitate quick access to clinical information for just-in-time learning and reference at the bedside.

NEW! Updated content matches the 9th edition of the Ignatavicius textbook for a reliably seamless reference and study experience.
NEW and UNIQUE! Additional focus on concept exemplars reflects the new conceptual focus of the Ignatavicius textbook and includes cross-references to refer you to relevant exemplar disorders.
NEW and UNIQUE! A Concepts for Interprofessional Collaborative Care section (Part One) reflects the emphasis on nursing concepts in the Ignatavicius textbook and provides you with a quick reference to essential concepts needed for effective nursing practice.
NEW and UNIQUE! Interprofessional focus added to remind you to coordinate care with other health professionals.
NEW! Cross references to the Ignatavicius textbook point you to detailed coverage of each concept or disorder.
UNIQUE! Consistent collaborative care format mirrors that of the Ignatavicius textbook to more effectively prepare you for clinical days.
UNIQUE! Nursing Safety Priorities (Drug Alert, Critical Rescue, and Action Alert) reinforce critical safety measures at the bedside and mirror those in the Ignatavicius textbook.

PART I: CONCEPTS FOR INTERPROFESSIONAL COLLABORATIVE CARE New title/focus

PART II: DISEASES AND DISORDERS Alphabetical entries for more than 250 common medical-surgical conditions

Donna D. Ignatavicius, MS, RN, CNE, CNEcl, ANEF, Speaker and Curriculum Consultant for Academic Nursing Programs; Founder, Boot Camp for Nurse Educators; President, DI Associates, Inc. Littleton, Colorado,United States, Christine Winkelman, RN, PhD, CCRN, ACNP, Assistant Professor, Frances Payne Bolton School of Nursing, Case Western Reserve University; Clinical Nurse, Trauma/Critical Care Float Pool, MetroHealth Medical Center, Cleveland, Ohio, M. Linda Workman, PhD, RN, FAAN, Visiting Professor, Case Western Reserve University, Cleveland, Ohio, Cherie R. Rebar, PhD, MBA, RN, COI, Subject Matter Expert and Nursing Education Consultant, Beavercreek, Ohio; Professor of Nursing, Wittenberg University, Springfield, Ohio and Nicole M. Heimgartner, DNP, RN, CNE, CNEcl, COI, Subject Matter Expert and Nursing Education Consultant, Louisville, Kentucky; Adjunct Faculty, American Sentinel University, Aurora, Colorado