Introduction to Health Services Administration - Elsevier eBook on VitalSource
,
Elsevier eBook on VitalSource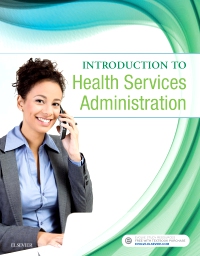 Or $0.00 with a valid access code
Learn how to effectively manage both people and a practice as a health care administrator with Elsevier's Introduction to Health Services Administration. This comprehensive and easy-to-understand text includes an overview of health care delivery in the United States along with an exploration of each role and function of a health services administrator in an ambulatory care facility. From scheduling patients to managing the revenue cycle, you will learn about every aspect of workflow in addition to relevant issues that heavily influence health care practices today, like HIPPA, regulatory compliance, civil and criminal law, and more. This text also provides a wonderful overview of necessary skills such as how to use an electronic health record system and practice management software, how to budget for staff and equipment, how to manage inventory, how to manage risk, how to improve quality and performance in the practice, and how to best market the practice. If you're looking to become a successful health services administrator, this text is the critical first step.
UNIQUE! Comprehensive approach covers the role and functions of a health services administrator and applies them to an array of ambulatory care settings — from a traditional physician's office to a retail care clinic.
UNIQUE! Coverage of key PAHCOM and AAPC competencies help you prepare for the competencies on the CMM and CPPM credentialing exams.
UNIQUE! Case study scenarios are constructed around many different settings to provide a snapshot of professional life.
UNIQUE! Takeaway boxes highlight key points and important concepts.
Current Trends in Health Care boxes discuss methods, ideas, and newsworthy issues.
Take Learning to the Next Level boxes clarify the subjects being discussed with supplemental information.
Learning Checkpoints appear in each section to help you gauge your own learning successes at that point in the reading.
Review questions are tied to each learning objective.
More than 200 images illustrate difficult concepts and bring health services administration to life.
Key terms with definitions in the margins make it easy to identify and learn new vocabulary.
Answers to exercises in the text and review questions in the back of the book equip you for self-study.

Unit I. Introduction to Health Services Administration 1 The Health Services Administrator 2 Health Care Professionals and Settings 13 Health Care Delivery

Unit II. Administrative Management 4 Health Care Processes and Workflow 5 Documentation 6 Technology 7 Managing Supplies and Inventory 8 Basic Finance and Health Care Accounting 9 The Revenue Cycle 210 Quality, Performance Improvement, and Risk Management

Unit III. Ethical and Legal Concerns 11 Legal Issues and Fraud in Health Care 12 Health Insurance Portability and Accountability Act (HIPAA) 313 Compliance

Unit IV. Communication 14 Business Communication and Professionalism 415 Marketing

Unit V. People and Organizational Management 16 Hiring, Training, and Evaluating Employees 17 Leadership, Motivation and Conflict Management 518 Project Management

Textbook Answer Key Glossary Index

Elsevier