Ferri's Clinical Advisor 2016 Elsevier eBook on VitalSource (Retail Access Card)
,
Elsevier eBook on VitalSource - Access Card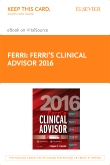 Free Shipping!
This item has low stock levels and may be back-ordered. We'll let you know if it is back-ordered, and you will not be charged until the item ships.
Ferri's Clinical Advisor 2016 is simply the fastest, most effective way to access up-to-date diagnostic and treatment information on more than 700 common medical conditions. The popular "5 books in 1" format provides quick guidance on diseases and disorders, differential diagnoses, medical algorithms, laboratory tests, and clinical practice guidelines. Yearly updates by experts in key clinical fields ensure that you're current with fast-changing medical knowledge, and extra electronic content delivers more than 100 exclusive topics, additional algorithms, and much more.
An easy-to-use format with cross-references, outlines, bullets, tables, boxes, and algorithms to expedite your search
More than 200 lab tests help hone your skills in reviewing normal values and interpreting results
Electronic access to additional algorithms, new images and tables, EBM boxes, patient teaching guides, and extra topics. Links between each section allow you to navigate easily from a selected topic to relevant associated material and back again

More than 200 new figures and tables and 19 new topics in the Diseases and Disorders section, including diffuse idiopathic skeletal hyperostosis, traumatic brain injury, toxic megacolon, and primary immunodeficiency disease
New topics in the Differential Diagnosis section, including eosinophilia, drug-induced neutropenia and methemoglobinemia, and respiratory distress in the newborn, and optimize patient care with 22 new tables and boxes
15 new algorithms, including goiter, jaundice, and trauma in pregnancy

SECTION I: DISEASES AND DISORDERS

Abdominal aortic aneurysm

Abdominal Compartment Syndrome

Abruptio placentae

Abscess, brain

Abscess, breast

Abscess, epidural

Abscess, liver

Abscess, lung

Abscess, pelvic

Abscess, perirectal

Abscess, peritonsillar (previously Peritonsillar Abscess)

Abscess, renal

Abscess, retropharyngeal (previously Retropharyngeal Abscess)

Abuse, child

Abuse, drug

Abuse, elder

Acetaminophen poisoning

Achalasia

Achilles tendon rupture

Acne vulgaris

Acoustic neuroma

Acquired Immunodeficiency Syndrome

Acromegaly

Actinic keratosis

Actinomycosis

Acute Bronchitis

Acute colonic pseudo-obstruction (Ogilvie's syndrome)

Acute Coronary Syndromes

Acute Kidney Injury

Acute liver failure

Acute Respiratory Distress Syndrome (ARDS)

Acute stress disorder

Acute urinary retention (AUR)

Adrenal insufficiency (was Addison disease)

Adult onset Still disease (AOSD)

Alcoholism

Alopecia

Alpha-1-Antitrypsin deficiency

Alzheimer's disease

Amaurosis fugax

Amblyopia

Amebiasis

Amenorrhea

Amnestic disorders

Amyloidosis

Amyotrophic lateral sclerosis

Anaerobic infections

Anal fissure

Anaphylaxis

Anemia, aplastic

Anemia, hemolytic (previously Anemia, autoimmune hemolytic)

Anemia, Inflammatory (earlier Anemia of chronic disease)

Anemia, iron deficiency

Anemia, pernicious

Anemia, sideroblastic

Angina pectoris

Angioedema

Ankle fracture

Ankle sprain

Ankylosing spondylitis

Anorectal fistula

Anorexia nervosa

Anoxic brain injury

Anthrax

Antiphospholipid antibody syndrome

Anxiety (generalized anxiety disorder)

Aortic dissection

Aortic regurgitation

Aortic stenosis

Appendicitis, acute

Arrhythmogenic Right Ventricular Dysplasia

Asbestosis

Ascariasis

Ascites

Aspergillosis

Asthma

Astrocytoma

Ataxia

Ataxia Telengiectasia

Atelectasis

Atopic dermatitis

Atrial fibrillation

Atrial flutter

Atrial myxoma

Atrial septal defect

Attention-deficit/hyperactivity disorder

Autism spectrum disorders

AV Malformations, Cerebral

Avascular necrosis (previously Aseptic necrosis)

Babesiosis

Baker's cyst

Balanitis

Barrett's Esophagus

Bartter's Syndrome

Basal cell carcinoma

Bedbug Bite

Behcet's disease

Bell's Palsy

Benign paroxysmal positional vertigo

Biceps Tendonitis

Bipolar disorder

Bisphosphonate related osteonecrosis of jaw

Bite wounds

Bites and stings, arachnids

Bites and stings, insect

Bites, snake

Bladder cancer

Blastomycosis

Blepharitis

Body dysmorphic disorder

Bone tumor, primary malignant

Borderline personality disorder

Botulism

Brain Metastases

Brain neoplasm, benign

Brain neoplasm, Glioblastoma

Breast cancer

Breech birth

Bronchiectasis

Brucellosis

Brugada syndrome

Bruxism

Budd-Chiari syndrome

Bulimia nervosa

Bullous pemphigoid

Burning Mouth Syndrome

Burns

Bursitis

Candidiasis, Cutaneous

Candidiasis, Invasive

Carbon monoxide poisoning

Carcinoid syndrome

Cardiac tamponade

Cardiomyopathy , chemical- induced

Cardiomyopathy, dilated

Cardiomyopathy, hypertrophic

Cardiomyopathy, restrictive

Cardiomyopathy, stress-induced

Cardio-renal syndrome

Carotid sinus syndrome

Carotid stenosis

Carpal tunnel syndrome

Cataracts

Cat-scratch disease

Celiac disease

Cellulitis

Cerebral palsy

Cerebral vasculitis

Cervical cancer

Cervical disk syndromes

Cervical dysplasia

Cervical insufficiency

Cervicitis

Cervical polyps

Chagas' disease

Chancroid

Charcot-Marie-Tooth disease

Charcot's joint

Chemotherapy-induced nausea and vomiting

Chlamydia genital infections

Cholangitis

Cholecystitis

Cholelithiasis

Cholera

Chorea

Chronic Fatigue Syndrome

Chronic Inflammatory Demyelinating Polyneuropathy (CIDP)

Chronic Kidney Disease

Chronic obstructive pulmonary disease

Churg-Strauss syndrome

Cirrhosis

Primary biliary cirrhosis formerly (Cirrhosis, primary biliary)

Claudication

Clostridium difficile infection

Cocaine overdose

Coccidioidomycosis

Cogan's syndrome

Colorado tick fever

Colorectal cancer

Compartment syndrome

Complex regional pain syndrome

Concussion (previously Sports-related Concussion)

Conduct disorder

Condyloma acuminatum

Congenital Adrenal Hyperplasia

Conjunctivitis

Contact dermatitis

Contraception

Conversion disorder

Cor pulmonale

Corneal abrasion

Corneal ulceration

Coronary Artery Disease

Costochondritis

Craniopharyngioma

Creutzfeldt-Jakob disease

Crohn's disease

Cryoglobulinemia

Cryptococcosis

Cryptorchidism

Cryptosporidium infection

Cubital tunnel syndrome

Cushing's disease and syndrome

Cutaneous larva migrans

Cystic fibrosis

Cysticercosis

Cytomegalovirus infection

Deep vein thrombosis

Delayed Puberty

Delirium

Delirium tremens

Delusions of parasitosis

Dementia with Lewy bodies

Dengue Fever

Dependent personality disorder

Depression, major

De Quervain's tenosynovitis

Dermatitis Herpetiformis

Diabetic foot

Diabetes insipidus

Diabetes mellitus

Diabetic ketoacidosis

Diabetic polyneuropathy

Diabetic retinopathy (previously titled Retinopathy, diabetic)

Diffuse idiopathic skeletal hyperostosis (DISH)

Digoxin overdose

Diphtheria

Fred F. Ferri, MD, FACP, Clinical Professor, The Warren Alpert Medical School, Brown University, Providence, Rhode Island