Soft Tissue Augmentation, 4th Edition
Hardcover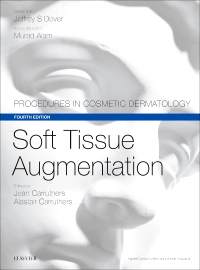 Part of the practical and dynamic Procedures in Cosmetic Dermatology Series, Soft Tissue Augmentation, 4th Edition, brings you up to speed with today's best uses of traditional and new fillers. This well-organized text provides current, authoritative guidance on new and novel non-permanent fillers, darker skin, platelet-rich plasma, the tower technique, and much more. The renowned author team of Drs. Alastair and Jean Carruthers offers evidence-based, procedural how-to's and step-by-step advice on proper techniques, pitfalls, and tricks of the trade, so you can successfully incorporate the latest procedures into your practice.
Features a well-organized format with key points lists, pearls, and case studies as they appear in practice.

Expert Consult™ eBook version included with purchase, which allows you to search all of the text, figures, and references from the book on a variety of devices

Contains new information on the Emervel® family, safe fat transplantation, permanent fillers, temple reflation, neck and chest, vascular compromise, and the tower technique of filler injection.

Splits chapters into separate sections on different types of fillers for ease of reference, and includes a new section on complications.

Includes many new images and procedural videos that depict exactly how to perform the techniques.

1 Introduction 2 Fillers: Paradigm Shifts Produce New Challenges 3 Facial Attractiveness and the Central Role of Volume

NONPERMANENT FILLERS

4 NASHA Family 5 Juvéderm Family 6 Belotero and Teosyal 7 Radiesse and Radiesse with Lidocaine 8 Poly-l-Lactic Acid 9 Emervel Family 10 Safe Fat Transplantation

PERMANENT FILLERS

11 Introduction to Permanent Fillers: Pros and Cons 12 Liquid Injectable Silicone 13 Bellafill

VOLUMIZING LOCATIONS

14 Forehead Reflation 15 Temple Reflation 16 Three-Dimensional Reflation of the Glabella and Adjacent Forehead 17 Volumetric Treatment of the Brows 18 Infraorbital Hollow and Nasojugal Fold 19 Midface 20 Nose 21 Perioral and Mandibular Filling: Framing the Lips 22 Lip Augmentation 23 Soft Tissue Augmentation of the Hands 24 Neck and Chest 25 Buttocks 26 Earlobe Rejuvenation 27 Tower Technique of Filler Injection 28 Vascular Compromise

COMPLICATIONS

29 Complications of Temporary Fillers 30 Complications of Permanent Fillers 31 Reversers 32 Combinations 33 Legal Aspects of Soft Tissue Filler Treatments 34 Pretreatment and Posttreatment Photography

Alastair Carruthers, MA, BM, BCh, FRCP(LON), FRCPC, Cosmetic Dermatologic surgeon, and Clinical Professor of Dermatology with the Faculty of Medicine at the University of British Columbia (UBC). and Jean Carruthers, MD, FRCSC, Cosmetic Surgeon and a Clinical Professor of Ophthalmology with the Faculty of Medicine at the University of British Columbia (UBC).