Botulinum Toxin, 4th Edition
Hardcover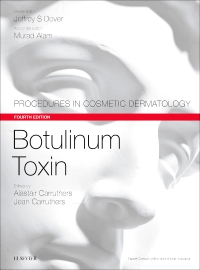 Free Shipping!
In Stock
This item has low stock levels and may be back-ordered. We'll let you know if it is back-ordered, and you will not be charged until the item ships.
Part of the practical and dynamic Procedures in Cosmetic Dermatology Series, Botulinum Toxin, 4th Edition, brings physicians at all levels of experience up to speed with today's best injection techniques. This well-organized text provides current, authoritative guidance on popular procedures including masseter hypertrophy and darker skin types, the therapeutic uses of botulinum toxins, and their future in dermatology. The renowned author team of Drs. Jean Carruthers and Alastair Carruthers offers evidence-based, procedural how-to's and step-by-step advice on proper techniques, pitfalls, and tricks of the trade, so you can successfully incorporate the latest procedures into your practice.
Includes complete, clear descriptions and rationales for injection placement for facial and neck rejuvenation and hyperhidrosis, with high-quality videos demonstrating the techniques of injection.
Addresses the differences in doses and particular characteristics among different botulinum toxin preparations in every chapter.
Features a well-organized format with key points lists, pearls, and case studies as they appear in practice.

Contains new chapters throughout, plus new information on injectable daxibotulinumtoxinA (RT002), topical botulinum toxin type A and benzyl alcohol.
Includes many new images and procedural videos that depict exactly how to perform the techniques.
Expert Consult™ eBook version included with purchase, which allows you to search all of the text, figures, and references from the book on a variety of devices.

1 Therapeutic Uses of the Botulinum Toxins 2 History of OnabotulinumtoxinA Therapeutic 3 History of Cosmetic Botulinum Toxin 4 Basic Science of BOTOX® Cosmetic 5 AbobotulinumtoxinA: Science and Clinical Usage 6 Basic Science: Xeomin® 7 Basic Science: Myobloc® 8 Neuronox® and Innotox® 9 Injectable DaxibotulinumtoxinA (RT002) 10 Comparison of Botulinum Toxins 11 Topical DaxibotulinumtoxinA (RT001) 12 Topical Botulinum Toxin Type A 13 Reconstitution and Dilution 14 Benzyl Alcohol 15 Glabella 16 Modulation of Eyebrow Position and Shape by Treatment with Neuromodulators and Fillers 17 Frontalis and Horizontal Forehead Line 18 Treatment of Crow's Feet 19 Infraorbital/Upper and Lower Eyelids 20 Treatment of the Midface with Botulinum Toxin 21 Orbicularis Oris, Mentalis, and Depressor Anguli Oris 22 Platysma, Nefertiti Lift®, and Beyond 23 The Masseters and their Treatment with Botulinum Toxin 24 Darker Skin Types 25 Combination Noninvasive Facial Aesthetic Treatments with Botulinum Toxin Type A 26 Focal Axillary Hyperhidrosis 27 Palmoplantar Hyperhidrosis 28 The Future of Neuromodulators in Aesthetic Medicine

Alastair Carruthers, MA, BM, BCh, FRCP(LON), FRCPC, Cosmetic Dermatologic surgeon, and Clinical Professor of Dermatology with the Faculty of Medicine at the University of British Columbia (UBC). and Jean Carruthers, MD, FRCSC, Cosmetic Surgeon and a Clinical Professor of Ophthalmology with the Faculty of Medicine at the University of British Columbia (UBC).