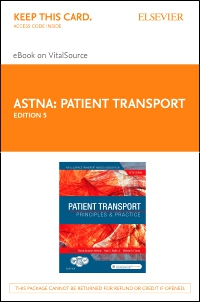 Publication Date:
10-01-2017
PART - Patient Transport - Elsevier eBook on VitalSource (Retail Access Card), 5th Edition
Elsevier eBook on VitalSource - Access Card
Publication Date:
10-01-2017
Free Shipping!
This item has low stock levels and may be back-ordered. We'll let you know if it is back-ordered, and you will not be charged until the item ships.
Whether you're caring for patients on the ground or in the air, Patient Transport: Principles & Practice, 5th Edition is an essential tool for your success in transport nursing. Developed by ASTNA, this trusted, one-of-a-kind resource has been extensively revised to keep you up-to-date with the latest technological advances, and help you meet the ever-changing needs of this critical nursing field. Comprehensive overviews familiarize you with the most common conditions and injuries encountered in practice, accompanied by important management considerations to help you ensure the most effective communication and the safest patient care in all transport settings. In addition, expanded content on bariatrics are featured throughout the book, along with 350 online questions and answers mapped to the CRFN/CTRN® exams.
Expanded coverage of injuries commonly encountered in flight and ground nursing includes pathophysiology, assessment, planning, implementation, and evaluation discussions.
Information based on the latest updates from the Federal Aviation Association and the National Transportation Safety Board alerts you to important safety regulations.
Meets the needs of all healthcare providers dedicated to expert care delivery in transport, including paramedics, physicians, respiratory therapists, pilots, mechanics and communication specialist.
Detailed coverage of management issues includes scene management, communication, safety, disaster management/triage, quality management, and marketing/public relations.

NEW! Extensive revisions throughout text includes detailed objectives for every chapter, expanded content on bariatrics, and updates to chapters including Scene Operations and Safety, Neurologic Trauma, Patient Safety, and Shock.
NEW! Real-life scenarios with updated technology demonstrate how to apply concepts to scenarios similar to those you'll encounter in practice.
NEW! Focus on interprofessional and collaborative nature of transport, emphasizes the importance of teamwork in ensuring successful patient outcomes.
NEW! Evolve site with 350 questions and answers mapped to the CRFN/CTRN® provide additional online preparation.

Section I. History and the Current Role of Air and Ground Transport Personnel 1. History of Patient Transport 2. Members of Transport Team 3. Preparation for Practice

Section II. General Principles of Practice 4. Transport Physiology 5. Scene Operations and Safety 6. Communications 7. Teamwork and Human Performance 8. Patient Safety 9. Operational Safety and Survival

Section III. Patient Care Principles 10. Patient Assessment 11. Airway Management 12. Mechanical Ventilation 13. Shock

Section IV. Trauma 14. General Principles of Trauma Management 15. Neurologic Trauma 16. Thoroabdominal Trauma 17. Musculoskeletal and Soft Tissue Trauma 18. Burn Trauma

Section V. Medical Problems and Environmental Emergencies 19. Neurologic Emergencies 20. Cardiovascular Emergencies 21. Mechanical Circulatory Support Devices in Transport 22. Pulmonary Emergencies 23. Abdominal Emergencies 24. Metabolic, Endrocrine, and Electrolyte Disturbances 25. Infectious and Communicable Diseases 26. Heat- and Cold-related Emergencies 27. Toxicologic Emergencies

Section VI. Selected Patient Populations 28. Gynecologic and Obstetric Emergencies 29. Care and Transport of the Newborn 30. The Pediatric Patient 31. Military Patient Transport

Section VII. Professional Issues 32. Professional Issues 33. Accreditation for Air and Ground Medical Transport 34. Wellness

ASTNA