Current Anesthesia Practice - Elsevier eBook on VitalSource
,
Elsevier eBook on VitalSource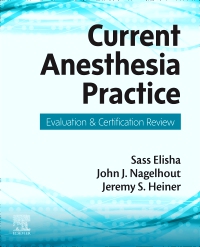 Or $0.00 with a valid access code
Not Yet Available
Coming Soon!
Expected availability date: 03-06-2020
This is the exam review nurse anesthetists have been waiting for! Expertly written by the leading author team of Elisha, Nagelhout, and Heiner, Current Anesthesia Practice: Evaluate Your Knowledge, 1st Edition helps prepare nurse anesthetists for the NCE and CPC exam. It is the ONLY certification review text for nurse anesthetists, making it an invaluable study tool while prepping for the NCE or the new CPC exam. Four comprehensive chapters cover foundational concepts: Airway Management; Applied Pharmacology; Applied Human Physiology, Pathophysiology and Anesthesia Case Management; and Anesthesia Equipment and Technology. Answers to review questions throughout the book are found in the appendix.
UNIQUE! The ONLY Certification Review text for nurse anesthetists.
UNIQUE! Written by the leading experts in nurse anesthesia, Elisha and Nagelhout.
Prepares you for both the current CRNA licensure exam and the new CPC exam.
UNIQUE! End-of- section Knowledge Check questions with answers provided in the back of the book.

1. Airway Management
•Anatomy
•Physiological Concepts
•Pathophysiologic Concepts
•Airway Blocks
•Airway Assessments
•Airway Equipment, Management of Devices, and Procedures
•Airway Management Concepts
2. Pharmacology
•General Principles of Pharmacodynamics and Pharmacokinetics
•Inhalation Anesthetics
•Anesthesia Induction Medications
•Induction Agents
•Opiates
•Neuromuscular Blocking Agents
•Anticholinesterase Agents
•Selective Muscle Relaxant Binding Agent
•Anticholinergics
•Autonomic Nervous System – Sympathomimetic Amines
•α-Receptor Blocking Agents
•β-Adrenergic Blocking Agents
•Bronchodilators
•Calcium Channel Blockers
•Antihypertensive Agents
•Vasodilators
•Antiarrythmics
•Digitalis
•Diuretics
•Nonsteroidal Anti-inflammatory Agents
•Miscellaneous Analgesics
•Local Anesthetics
•Oral Antacids
•Antiparkinsonian Drugs
•Antibiotics
•Anticoagulants
•Antiemetics
•Histamine Receptor Antagonists
•Antiepileptic Drugs
•Dantrolene
•Herbal Supplements
•Insulin
•Oral Hypoglycemics
•Intravenous Dyes
•Lipid-Lowering Agents
•Phosphodiesterase Inhibitors
•Psychopharmacology
•Corticosteroids
•Uterotonics
3. Human Physiology, Pathophysiology and Anesthesia Case Management
•Cardiovascular System
•Respiratory
•Neurologic System
•Thermoregulation
4. Anesthesia Equipment and Technology
•Infection Control: Disinfection
•Monitoring Modalities
•Anesthetic Gas Machine
•Standards for Preanesthesia Evaluation and Informed Consent
Appendix A: Knowledge Check Answers

Sass Elisha and John J. Nagelhout, CRNA, PhD, FAAN, Director, School of Anesthesia, Kaiser Permanente, California State University-Fullerton, Southern California Permanente Medical Group, Pasadena, CA