Saunders Comprehensive Review for the NCLEX-PN® Examination - Elsevier eBook on VitalSource, 7th Edition
Elsevier eBook on VitalSource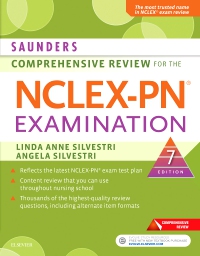 Or $0.00 with a valid access code
Review for the NCLEX-PN® exam with leading NCLEX® experts Linda Anne Silvestri and Angela Silvestri! Saunders Comprehensive Review for the NCLEX-PN® Examination, 7th Edition provides everything you need to prepare for the NCLEX-PN exam — a review of essential nursing content, more than 4,500 NCLEX exam-style questions, detailed rationales, and test-taking tips and strategies. Based on Silvestri's proven Pyramid to Success, the book includes many questions that test the critical thinking skills you need to pass the NCLEX. An Evolve companion website adds a pre-test that generates a study calendar, study questions with immediate feedback for both correct and incorrect answers, and practice exams with immediate scoring. Updated to reflect the latest NCLEX-PN test plan, this complete review is a perennial favorite of students preparing for the NCLEX.
More than 4,500 practice questions are included in the book and the Evolve companion website.
Detailed rationales are provided for both correct and incorrect answer options.
Alternate item format questions include multiple response, prioritizing, fill-in-the-blank, figure/illustration, chart/exhibit, graphic option, and audio/video clips, as the NCLEX-PN exam is no longer limited to multiple-choice questions.
UNIQUE! A 75-question pre-test on Evolve provides feedback on your strengths and weaknesses, and the results generate an individualized study calendar.
An 85-question comprehensive exam in the book matches the client needs percentages identified in the NCLEX-PN test plan.
Pyramid to Success sections at the beginning of each unit provide an overview of content, guidance for your review, and the subject's relative importance in the NCLEX-PN text plan.
Pyramid Points and Pyramid Alert boxes identify content that typically appears on the NCLEX-PN exam.
What Should You Do? boxes in each chapter help you develop critical thinking skills, with answers at the end of the chapter.

NEW! Current NCLEX-PN test plan is incorporated into this review, including the exam's newly added content.
UPDATED test-taking strategies are included in a separate chapter and for each question to give clues for finding the correct answers.
UPDATED Priority Nursing Action boxes help you to effectively prioritize nursing care, and include detailed rationales and textbook references.
NEW! Learning objectives tied to client needs are provided for each unit in the book.

Unit 1: NCLEX-PN Exam Preparation
1. The NCLEX-PN Examination
2. Pathways to Success
3. The NCLEX-PN Examination: From a Graduate's Perspective
4. Test-Taking Strategies
Unit 2: Professional Standards in Nursing Care
5. Cultural Awareness
6. Ethical and Legal Issues
7. Delegating, Managing, and Prioritizing Client Care
Unit 3: Nursing Sciences
8. Fluids and Electrolytes
9. Acid-Base Balance
10. Vital Signs and Laboratory Values
11. Nutritional Components of Care
12. Intravenous Therapy and Blood Administration
Unit 4: Fundamentals of Care
13. Health and Physical Data Collection Techniques for the Adult Client
14. Hygiene and Safety
15. Medication and Intravenous Administration
16. Perioperative Nursing Care
17. Positioning Clients
18. Care of a Client with a Tube
Unit 5: Growth and Development Across the Life Span
19. Theories of Growth and Development
20. Developmental Stages
21. Care of the Older Client
Unit 6: Maternity Nursing
22. Reproductive System
23. Prenatal Period and Risk Conditions
24. Labor and Birth and Associated Complications
25. The Postpartum Period and Associated Complications
26. Care of the Newborn
27. Maternity and Newborn Medications
Unit 7: Pediatric Nursing
28. Integumentary Disorders
29. Hematological and Oncological Disorders
30. Metabolic, Endocrine, and Gastrointestinal Disorders
31. Eye, Ear, and Throat and Respiratory Disorders
32. Cardiovascular Disorders
33. Renal and Urinary Disorders
34. Neurological and Cognitive Disorders
35. Musculoskeletal Disorders
36. Infectious and Communicable Diseases
37. Pediatric Medication Administration and Calculations
Unit 8: The Adult Client with an Integumentary Disorder
38. Integumentary System
39. Integumentary Medications
Unit 9: The Adult Client with a Hematological or Oncological Disorder
40. Hematological and Oncological Disorders
41. Hematological and Oncological Medications
Unit 10: The Adult Client with an Endocrine Disorder
42. Endocrine System
43. Endocrine Medications
Unit 11: The Adult Client with a Gastrointestinal Disorder
44. Gastrointestinal System
45. Gastrointestinal Medications
Unit 12: The Adult Client with a Respiratory Disorder
46. Respiratory System
47. Respiratory Medications
Unit 13: The Adult Client with a Cardiovascular Disorder
48. Cardiovascular System
49. Cardiovascular Medications
Unit 14: The Adult Client with a Renal or Urinary Disorder
50. Renal and Urinary System
51. Renal and Urinary Medications
Unit 15: The Adult Client with an Eye or Ear Disorder
52. The Eye and the Ear
53. Eye and Ear Medications
Unit 16: The Adult Client with a Neurological Disorder
54. Neurological System
55. Neurological Medications
Unit 17: The Adult Client with a Musculoskeletal Disorder
56. Musculoskeletal System
57. Musculoskeletal Medications
Unit 18: The Adult Client with an Immune Disorder
58. Immune System
59. Immunologic Medications
Unit 19: The Adult Client with a Mental Health Disorder
60. Foundations of Psychiatric Mental Health Nursing
61. Mental Health Disorders
62. Addictions
63. Crisis Theory and Intervention
64. Psychiatric Medications
Unit 20: Comprehensive Test
References
Glossary
Index
Priority Nursing Action box list

Linda Anne Silvestri, PhD, RN, FAAN, Nursing Instructor, University of Nevada, Las Vegas, School of Nursing, Las Vegas, Nevada; President and Owner, Nursing Reviews, Inc., Henderson, Nevada; Director and Owner, Professional Nursing Seminars, Inc., Henderson, Nevada; Elsevier, Author of NCLEX Review Resources, Next Generation NCLEX® (NGN) Subject Matter Expert and Consultant and Angela Elizabeth Silvestri, PhD, APRN, FNP-BC, CNE, Associate Professor & BSN Program Director, University of Nevada, Las Vegas, School of Nursing, Las Vegas, Nevada.