Callen's Ultrasonography in Obstetrics and Gynecology - Elsevier eBook on VitalSource (Retail Access Card), 6th Edition
Elsevier eBook on VitalSource - Access Card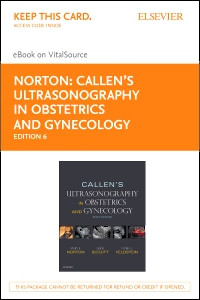 Free Shipping!
This item has low stock levels and may be back-ordered. We'll let you know if it is back-ordered, and you will not be charged until the item ships.
Get outstanding guidance from the world's most trusted reference on OB/GYN ultrasound. Now brought to you by lead editor Dr. Mary Norton, Callen's Ultrasonography in Obstetrics and Gynecology has been completely and exhaustively updated by a team of obstetric, gynecologic, and radiology experts to reflect the most recent advances in the field. It addresses the shift in today's practice to a collaborative effort among radiologists, perinatologists, and OB/GYNs, with new emphasis placed on genetics and clinical management. This must-have resource covers virtually all aspects of fetal, obstetric and gynecologic ultrasound — from the common to the rare — in one essential clinical reference, allowing you to practice with absolute confidence.
Access to this product, which may be at the discretion of your institution, is up to 3 years of online and perpetual offline access. Elsevier reserves the right to restrict or remove access due to changes in product portfolio or other market conditions.
Highly templated, full-color format allows you to locate information more quickly.
Full-color medical illustrations present key anatomic details in a clear manner.
Thousands of digital-quality images depict the complete range of normal and abnormal imaging presentations.

Provides extensive updates of text and images, including the latest in imaging, Doppler techniques, genetic testing, and clinical management.
Brand new chapters provide up-to-date, comprehensive coverage of topics relevant to current practice:

-First Trimester Fetal Anatomy

-Obstetric Ultrasound and the Obese Patient

-Evaluation of Pelvic Pain in the Reproductive Age Patient

-Gynecologic Ultrasound in the Pediatric and Adolescent Patient

-Ultrasound and Magnetic Resonance Imaging in Urogynecology

-The Role of Ultrasound in Gynecologic Interventions

Highlights significant new genetic testing content, including correlation with ultrasound evaluation of the fetus.
Places increased emphasis on 3-dimensional imaging and correlative imaging with magnetic resonance (MR).
Features new practice guidelines for obstetric evaluation (including first trimester assessment) and gynecologic management (including evaluation of the endometrium and of ovarian masses).
Features new information about fetal imaging guidelines from the National Institute of Child Health and Human Development (NICHD).
Provides expanded discussion of fetal, obstetric, and gynecologic interventions with new emphasis on clinical use and application of ultrasound imaging.
Includes key and comprehensive reference data used for evaluation of fetal growth and other specialized measurements.

SECTION I. Obstetrics

1. Obstetric Ultrasound Examination 2. Genetics and Prenatal Diagnosis 3. Ultrasound Evaluation of Fetal Aneuploidy in the First and Second Trimesters 4. Ultrasound of the Early First Trimester 5. Evaluation of the Fetal Anatomy in the First Trimester 6. Fetal Biometry and Growth 7. Ultrasound Evaluation of Multiple Gestations 8. Ultrasound Evaluation of Normal Fetal Anatomy 9. Ultrasound Evaluation of the Fetal Central Nervous System 10. Ultrasound Evaluation of the Fetal Face and Neck 11. Fetal Musculoskeletal System 12. Ultrasound Evaluation of the Fetal Thorax 13. Sonographic Evaluation of the Fetal Heart 14. Ultrasound Evaluation of the Fetal Gastrointestinal Tract and Abdominal Wall 15. Fetal Genitourinary Tract 16. Ultrasound Features of Fetal Syndromes 17. Ultrasound Evaluation of Hydrops Fetalis 18, Ultrasound Evaluation of the Gravid Cervix 19. Ultrasound Evaluation of the Placenta, Membranes, and Umbilical Cord 20. Amniotic Fluid Volume in Fetal Health and Disease 21. Antepartum Fetal Surveillance and the Role of Ultrasound 22. Role of Doppler Ultrasound in Obstetrics 23. Role of Magnetic Resonance Imaging in Obstetrics 24. Role of Sonography in Fetal Procedures 25. Obstetric Ultrasound Imaging and the Obese Patient

SECTION II. Gynecology

26. Normal Anatomy of the Female Pelvis and Transvaginal Sonography 27. Abnormal Uterine Bleeding-The Role of Ultrasound 28. Ultrasound Evaluation of the Uterus 29. Evaluation of Pelvic Pain in the Reproductive Age Patient 30. Ultrasound Evaluation of the Ovaries 31. Ultrasound Evaluation of the Fallopian Tube 32. Sonographic Imaging of Infertility and Assisted Reproduction 33. Ectopic Pregnancy 34. Gynecologic Sonography in the Pediatric and Adolescent Patient 35. Ultrasound and Magnetic Resonance Imaging in Urogynecology 36. Role of Magnetic Resonance Imaging in the Evaluation of Gynecologic Disorders 37. Role of Sonography in Gynecologic Interventions

SECTION III. Technical Considerations and Aberrations

38. Artifacts, Pitfalls, and Normal Variants in Obstetrical and Gynecologic Ultrasound Appendix A. Measurements Frequently Used to Estimate Gestational Age and Fetal Biometry Appendix B. Measurements Used in Assessing Fetal Weights, Growth, and Body Proportions Appendix C. Measurements for Amniotic Fluid Assessment Appendix D. Fetal Doppler Assessment (Noncardiac) Appendix E. Doppler of the Middle Cerebral Artery to Assess Fetal Anemia Appendix F. Fetal Cardiac Measurements and Doppler Assessment Appendix G. Sonographic Detection of Chromosomal Abnormalities Appendix H. Medications and Reported Associated Malformations Appendix I. Estimated Radiation Exposure to the Fetus During Radiographic Examinations Appendix J. Magnetic Resonance Imaging of the Female Pelvis: Representative Protocols

Mary E Norton, MD, Professor, Obstetrics, Gynecology and Reproductive Sciences, University of California at San Francisco, School of Medicine, San Francisco, California