Elsevier Adaptive Learning for Step-By-Step Medical Coding, 2017 edition (Access Card)
,
Elsevier Adaptive Learning - Access Card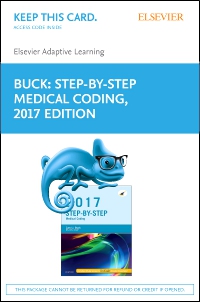 Corresponding chapter-by-chapter to Step-By-Step Medical Coding, 2017 Edition, Elsevier Adaptive Learning combines the power of brain science with sophisticated, patented Cerego algorithms to help you learn faster and remember longer. It's fun; it's engaging; and it's constantly tracking your performance and adapting to deliver content precisely when it's needed to ensure core information is transformed into lasting knowledge.
Duration for access to this product, which may be at the discretion of your institution, is up to 36 months. Elsevier reserves the right to restrict or remove access due to changes in product portfolio or other market conditions.
An individual study schedule reduces cognitive workload and helps you become a more effective learner by automatically guiding the learning and review process.
The mobile app offers a seamless learning experience between your smartphone and the web with your memory profile maintained and managed in the cloud.
UNIQUE! Your memory strength is profiled at the course, chapter, and item level to identify personal learning and forgetting patterns.
UNIQUE! Material is re-presented just before you would naturally forget it to counteract memory decay.
A personalized learning pathway is established based on your learning profile, memory map, and time required to demonstrate information mastery.
The comprehensive student dashboard allows you to view your personal learning progress.

Unit 1: Reimbursement 1. Reimbursement, HIPAA, and Compliance

Unit 2: ICD-10-CM 2. An Overview of ICD-10-CM 3. ICD-10-CM Outpatient Coding and Reporting Guidelines 4. Using ICD-10-CM 5. Chapter-Specific Guidelines (ICD-10-CM Chapters 1-10) 6. Chapter-Specific Guidelines (ICD-10-CM Chapters 11-14) 7. Chapter-Specific Guidelines (ICD-10-CM Chapters 15-21)

Unit 3: CPT and HCPCS 8. Introduction to CPT 9. Introduction to the Level II National Codes (HCPCS) 10. Modifiers 11. Evaluation and Management (E/M) Services 12. Anesthesia 13. Surgery Guidelines and General Surgery 14. Integumentary System 15. Musculoskeletal System 16. Respiratory System 17. Cardiovascular System 18. Hemic, Lymphatic, Mediastinum, and Diaphragm 19. Digestive System 20. Urinary and Male Genital Systems 21. Reproductive, Intersex Surgery, Female Genital System, Maternity Care and Delivery 22. Endocrine and Nervous Systems 23. Eye, Ocular Adnexa, Auditory, and Operating Microscope 24. Radiology 25. Pathology/Laboratory 26. Medicine

Unit 4: Inpatient Coding 27. Inpatient Coding

Appendix A: Online Resources Appendix B: Exercise Answers Appendix C: Quick Check Answers Appendix D: Toolbox Answers Appendix E: Learning Objective Review Answers Appendix F: EHR Screens

Glossary Figure Credits Coders' Index

Carol J. Buck, MS, CPC, CCS-P, Former Program Director, Medical Secretarial Programs, Northwest Technical College, East Grand Forks, MN