Cellular and Molecular Immunology Elsevier eBook on VitalSource (Retail Access Card)
, 9th Edition
Elsevier eBook on VitalSource - Access Card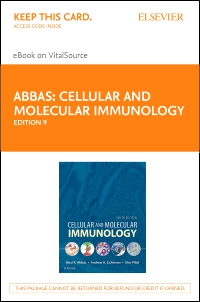 Free Shipping!
This item has low stock levels and may be back-ordered. We'll let you know if it is back-ordered, and you will not be charged until the item ships.
The top required and recommended immunology text worldwide, Cellular and Molecular Immunology by Drs. Abul K. Abbas, Andrew H. H. Lichtman, and Shiv Pillai, is a clear, well-written, and superbly illustrated introduction to the field. The 9th Edition retains a practical, clinical focus while updating and revising all content to ensure clarity and comprehension, bringing readers fully up to date with new and emerging information in this challenging area.
Duration for access to this product, which may be at the discretion of your institution, is up to 84 months. Elsevier reserves the right to restrict or remove access due to changes in product portfolio or other market conditions.
Highlights the implications of immunologic science for the management of human disease, emphasizing clinical relevance throughout.
Provides a highly visual, full-color description of the key immunologic and molecular processes with a fully updated, comprehensive, and consistent art program.
Helps readers grasp the details of experimental observations that form the basis for the science of immunology at the molecular, cellular, and whole-organism levels and draw the appropriate conclusions.
Includes summary boxes that assist with rapid review and mastery of key material.

Features updates from cover to cover, including tumor immunity (tumor antigens, cancer immunotherapy), immune checkpoints, cytosolic sensors for DNA, non-canonical inflammasomes, prionization as a signaling mechanism, monogenic defects in immunity, and more.

Chapter1 Properties and Overview of Immune Responses

Chapter2 Cells and Tissues of the Immune System

Chapter3 Leukocyte Circulation and Migration into Tissues

Chapter4 Innate Immunity

Chapter5 Antibodies and Antigens

Chapter6 Antigen Presentation to T Lymphocytes and the Functions of MHC Molecules

Chapter7 Immune Receptors and Signal Transduction

Chapter8 Lymphocyte Development and Antigen Receptor Gene Rearrangement

Chapter9 Activation of T Lymphocytes

Chapter 10 Differentiation and Functions of CD4+ Effector T Cells

Chapter 11 Differentiation and Functions of CD8+ Effector T Cells

Chapter 12 B Cell Activation and Antibody Production

Chapter 13 Effector Mechanisms of Humoral Immunity

Chapter 14 Specialized Immunity at Epithelial Barriers and in Immune Privileged Tissues

Chapter 15 Immunologic Tolerance and Autoimmunity

Chapter 16 Immunity to Microbes

Chapter 17 Transplantation Immunology

Chapter 18 Immunity to Tumors

Chapter 19 Hypersensitivity Disorders

Chapter 20 Allergy

Chapter 21 Congenital and Acquired Immunodeficiencies

Appendix I Glossary

Appendix II Cytokines

Appendix III Principle Features of Selected CD Molecules

Appendix IV Laboratory Techniques Commonly Used in Immunology

Abul K. Abbas, MBBS, Distinguished Professor and Chair, Department of Pathology, University of California San Francisco, San Francisco, California, Andrew H. H. Lichtman, MD, PhD, Professor of Pathology, Harvard Medical School, Brigham and Women's Hospital, Boston, Massachusetts and Shiv Pillai, MBBS, PhD, Professor of Medicine and Health Sciences and Technology, Harvard Medical School, Ragon Institute of Massachusetts General Hospital, MIT and Harvard, Boston, Massachusetts