Physician Assistant: A Guide to Clinical Practice Elsevier eBook on VitalSource (Retail Access Card), 6th Edition
Elsevier eBook on VitalSource - Access Card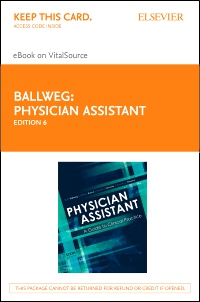 Free Shipping!
This item has low stock levels and may be back-ordered. We'll let you know if it is back-ordered, and you will not be charged until the item ships.
Entering its 6th edition, Physician Assistant: A Guide to Clinical Practice is the only text that covers all aspects of the physician assistant profession, the PA curriculum, and the PA's role in clinical practice. It is designed as a highly visual and practical resource to be used across the spectrum of lifelong learning, enabling students and practicing PAs to thrive in a rapidly changing health care system.
Access to this product, which may be at the discretion of your institution, is up to 3 years of online and perpetual offline access. Elsevier reserves the right to restrict or remove access due to changes in product portfolio or other market conditions.
Teaches how to prepare for each core clinical rotation and common electives, as well as how to work with atypical patient populations such as homeless patients and patients with disabilities.
A succinct, bulleted writing style; convenient tables; practical case studies; and clinical application questions throughout enable you to master key concepts and clinical applications.
Helps you master all the core competencies needed for certification or recertification.

Addresses all six Physician Assistant Competencies, as well as providing guidance for the newly graduated PA entering practice.
Includes quick-use resources, such as objectives and key points sections for each chapter, tip boxes with useful advice, abundant tables and images, and 134 updated case studies.
Features chapters for the 7 core clinical rotations and 5 common electives, with key guidance on how to prepare effectively and what to expect.
Provides updated health policy information, expanded information about international programs, cultural competencies, and pearls and pitfalls on working internationally as a PA.
Outlines the basic principles of Interprofessional Education – an important new trend in medical education nationally.
New chapters cover: Maximizing Your Education, Future of the Profession, Principles of PA Education, Managing Stress and Burnout, and many other topics.

Section I Overview

1. Maximizing Your Physician Assistant Education

2. History of the Profession and Current Trends

3. International Development of the Physician Assistant Profession

4. Physician Assistant Education: Past, Present, and Future Challenges

5. Safety in Clinical Settings

6. Assuring Quality for Physician Assistants: Accreditation, Certification, Licensing, and Privileging

7. Physician Assistant Relationship to Physicians

8. Healthcare Financing and Reimbursement

9. The Political Process

10. Interprofessional Practice and Education

Section 2 Medical Knowledge

11. Evidence-Based Medicine

12. Research and the Physician Assistant

13. Keeping People Healthy

14. Clinical Procedures

15. Genetic and Genomic Applications in Clinical Practice

16. Chronic Care Perspectives

17. Considerations for a Logical Approach to Medication Prescribing

18. Complementary and Integrative Health

19. Geriatric Medicine

20. End-of-Life Issues

Section 3 Interpersonal and Communication Skills

21. Communication Issues

22. Electronic Health Record

23. Patient Education

24. Providing Culturally Competent Health Care

Section 4 Patient Care: Clinical Rotations

25. Family Medicine

26. Internal Medicine

27. Women's Health

28. Pediatrics

29. Behavioral Science and Medicine: Essentials in Practice

30. Surgery

31. Emergency Medicine

32. Elective Rotations

A. Cardiology

B. Dermatology

C. Orthopedics

D. Oncology

E. Other Medical Subspecialties

F. Other Surgical Subspecialties

Section 5 Professionalism

33. Professionalism

34. Clinical Ethics

35. Medical Malpractice and Risk Management

36. Postgraduate Clinical Training Programs for Physician Assistants

37. Managing Stress and Burnout

Section 6 Practice-Based Learning and Improvement

38. Health Disparities

39. Patient Safety and Quality of Care

Section 7 Systems-Based Practice

40. Health and Health Care Delivery Systems

41. Rehabilitative and Long-Term Care Systems

42. Health Care for the Homeless

43. Correctional Medicine

44. Military Medicine

45. Inner-City Health Care

46. Rural Health Care

47. International Health Care

48. Patients with Disabilities

49. Mass Casualty Natural Disaster

Section 8 Your Physician Assistant Career

50. Leadership Skills for Physician Assistants

51.Be a Physician Assistant Educator

52. Professional Service

53. The Future of the Physician Assistant

Appendix: Link to ARC-PA Website

Tamara S Ritsema, PhD, MPH, PA-C/R, Associate Professor Department of Physician Assistant Studies George Washington University School of Medicine and Health Sciences, Washington, DC, USA Senior Lecturer Physician Associate Programme St. George's, University of London, London, GBR, Darwin L. Brown, MPH, PA-C, DFAAPA, Academic Director School of Medicine Physician Assistant Program Creighton University Omaha, NE, USA, Daniel T. Vetrosky, PhD, PA-C, DFAAPA, Associate Professor (Ret) Department of Physician Assistant Studies University of South Alabama, Mobile, AL, USA and Ruth Ballweg, MPA, PA-C Emeritus, DFAAPA, Professor Emeritus, Department of Family Medicine, University of Washington School of Medicine, Seattle, Washington; Director of International Affairs, National Commission on Certification of Physician Assistants, Johns Creek, Georgia