Ferri's Best Test Elsevier eBook on VitalSource (Retail Access Card), 4th Edition
Elsevier eBook on VitalSource - Access Card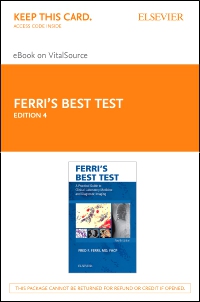 Free Shipping!
This item has low stock levels and may be back-ordered. We'll let you know if it is back-ordered, and you will not be charged until the item ships.
Practical and concise, this spiral bound, pocket-sized manual is a quick, go-to reference for up-to-date clinical material on today's diagnostic testing and laboratory tests. Three convenient sections provide quick access to key information on clinical laboratory testing, diagnostic imaging, and diagnostic algorithms. Experienced author Dr. Fred Ferri uses a unique, easy-to-follow format to simplify complex information and help you choose the best test to supplement your clinical diagnostic skills.
Access to this product, which may be at the discretion of your institution, is up to 3 years of online and perpetual offline access. Elsevier reserves the right to restrict or remove access due to changes in product portfolio or other market conditions.
Includes both lab and imaging tests for concise, convenient access to all diagnostic test options for more than 200 common diseases and disorders.
Includes essential information on indications, advantages, disadvantages, approximate costs, normal ranges, typical abnormalities, likeliest causes, and more.

Features a new appendix on when to use contrast agents in ordering CT and MRI scans.

Discusses new modalities including transient elastography (Fibroscan), CT enterography and CT enteroclysis.

Provides new comparison tables to easily evaluate the best test; new algorithms for evaluation of immunodeficiency and hematochezia; and new tables and illustrations throughout to improve your test selection.

Expert Consult™ eBook version included with purchase. This enhanced eBook experience allows you to search all of the text, figures, and references from the book on a variety of devices.

Ferri's Best Test, 4/E

Section I Diagnostic Imaging A. Abdominal and Gastrointestinal (GI) Imaging 1. Abdominal Film, Plain (Kidney, Ureter, and Bladder [KUB]) 2. Barium Enema (BE) 3. Barium Swallow (Esophagram) 4. Upper GI (UGI) Series 5. Computed Tomographic Colonoscopy (CTC, Virtual Colonoscopy) 6. CT Scan of Abdomen And Pelvis 7. CT Enterography 8. CT Enteroclysis 9. Magnetic Resonance Enterography (MRE) 10. Cholescintigraphy (Hepatobiliary Iminodiacetic Acid [HIDA] Scan, Diisopropyl Iminodiacetic Acid [Disida] Scan 11. Endoscopic Retrograde Cholangiopancreatography (ERCP) 12. Percutaneous Biliary Procedures 13. Magnetic Resonance Cholangiopancreatography (MRCP) 14. Meckel Scan (Tc-99m Pertechnetate Scintigraphy) 15. MRI Scan of Abdomen 16. Small-Bowel Series 17. Tc-99m Sulfur Colloid (Tc99m SC) Scintigraphy for GI Bleeding 18. Tc-99m-Labeled Red Blood Cell (RBC) Scintigraphy for GI Bleeding 19. Ultrasound Of Abdomen 20. Ultrasound of Appendix 21. Ultrasound of Gallbladder and Bile Ducts 22. Ultrasound of Liver 23. Ultrasound of Pancreas 24. Endoscopic Ultrasound (Eus) 25. Video Capsule Endoscopy (Vce) 26. Transient Elastography (Fibroscan) B. Breast Imaging 1. Mammogram 2. Breast Ultrasound 3. MRI Of The Breast C. Cardiac Imaging 1. Stress Echocardiography 2. Cardiovascular Radionuclide Imaging (Thallium, Sestamibi, Dipyridamole [Persantine] Scan), Positron Emission Tomography (Pet), Single Photon Emission Computed Tomography (Spect) 3. Cardiac MRI (CMR) Scan 4. Multidetector CT Scan 5. Transesophageal Echocardiogram (TEE) 6. Transthoracic Echocardiography (TTE) 7. Intravascular Ultrasound (IVUS) D. Chest Imaging 1. Chest Radiograph 2. CT Scan of Chest 3. MRI Scan of Chest E. Endocrine Imaging 1. Adrenal Medullary Scintigraphy (Metaiodobenzylguanidine [MIBG] Scan) 2. Parathyroid (PTH) Scan 3. Thyroid Scan (Radioiodine Uptake Study) 4. Thyroid Ultrasound F. Genitourinary Imaging 1. Obstetric Ultrasound 2. Pelvic Ultrasound 3. Prostate Ultrasound 4. Renal Ultrasound 5. Scrotal Ultrasound 6. Transvaginal (Endovaginal) Ultrasound 7. Urinary Bladder Ultrasound 8. Hysterosalpingography (HSG) 9. Intravenous Pyelography (IVP) And Intravenous Retrograde Pyelography G. Musculoskeletal and Spinal Cord Imaging 1. Plain X-Ray Films of Skeletal System 2. Bone Densitometry (Dual-Energy X-Ray Absorptiometry [DEXA] Scan) 3. MRI Scan of Spine 4. MRI Scan of Shoulder 5. MRI Scan of Hip And Extremities 6. MRI Scan of Pelvis 7. MRI Scan of Knee 8. CT Scan of Spinal Cord 9. Arthrography 10. CT Myelography 11. Nuclear Imaging (Bone Scan, Gallium Scan, White Blood Cell [WBC] Scan) H. Neuroimaging Of Brain 1. CT Scan of Brain 2. MRI Scan of Brain I. Positron Emission Tomography (PET) J. Single-Photon Emission Computed Tomography (SPECT) K. Vascular Imaging 1. Angiography 2. Aorta Ultrasound 3. Arterial Ultrasound 4. Captopril Renal Scan (CRS) 5. Carotid Ultrasonography 6. Computed Tomographic Angiography (CTA) 7. Magnetic Resonance Angiography (MRA) 8. Magnetic Resonance Direct Thrombus Imaging (MRDTI) 9. Pulmonary Angiography 10. Transcranial Doppler 11. Venography 12. Compression Ultrasonography and Venous Doppler Ultrasound 13. Ventilation/Perfusion (V/Q) Lung Scan L. Oncology 1. Whole-Body Integrated (Dual-Modality) PET-CT 2. Whole-Body MRI

Section II Laboratory Values And Interpretation Of Results ACE Level Acetone (Serum or Plasma) Acetylcholine Receptor (AChR) Antibody Acid Phosphatase (Serum) Acid Serum Test Activated Clotting Time (ACT) Activated Partial Thromboplastin Time (aPTT) Adrenocorticotropic Hormone (ACTH) Alanine Aminopeptidase Alanine Aminotransferase (ALT, Formerly Serum Glutamic-Pyruvic Transaminase [SGPT]) Albumin (Serum) Alcohol Dehydrogenase Aldolase (Serum) Aldosterone (Plasma) Alkaline Phosphatase (Serum) Alpha-1-Antitrypsin (Serum) Alpha-1-Fetoprotein (Serum) ALT Aluminum (Serum) AMA Amebiasis Serological Test Aminolevulinic Acid (d-ALA) (24-hour Urine Collection) Ammonia (Serum) Amylase (Serum) Amylase, Urine Amyloid A Protein (Serum) ANA ANCA Androstenedione (Serum) Angiotensin II Angiotensin-Converting Enzyme (ACE) Level ANH Anion Gap Anticardiolipin Antibody (ACA) Anticoagulant Antidiuretic Hormone Anti-DNA Anti-ds DNA Antiglobulin Test, Direct (Direct Antiglobulin Test , DAT, Coombs Direct ) Antiglomerular Basement Antibody Anti-HCV Antihistone Antimitochondrial Antibody (AMA) Antineutrophil Cytoplasmic Antibody (ANCA) Antinuclear Antibody (ANA) Antiphospholipid Antibody Anti-RNP Antibody Anti-Scl-70 Anti-Smith (anti-Sm) Antibody Anti-Smooth Muscle Antibody Antistreptolysin O Titer (streptozyme, ASLO titer) Antithrombin III Apolipoprotein A-1 (Apo A-1) Apolipoprotein B (Apo B) Arterial Blood Gases Arthrocentesis Fluid ASLO titer Aspartate Aminotransferase (AST, Serum Glutamic Oxaloacetic Transaminase [SGOT]) Atrial Natriuretic Hormone (ANH) Basophil Count Bicarbonate Bile Acid Breath Test Bile, Urine Bilirubin, Direct (Conjugated Bilirubin) Bilirubin, Indirect (Unconjugated Bilirubin) Bilirubin, Total Bilirubin, Urine Bladder Tumor–Associated Antigen Bleeding Time (Modified IVY Method) Blood Volume, Total Bordetella Pertussis Serology BRCA-1, BRCA-2 Breath Hydrogen Test B-Type Natriuretic Peptide (BNP) BUN C3 C4 CA 15-3 CA 27-29 CA 72-4 CA 125 Calcitonin (Serum) Calcium (Serum) Calcium, Urine Cancer Antigen 15-3 (CA 15-3) Cancer Antigen 27-29 (CA 27-29) Cancer Antigen 72-4 (CA 72-4) Cancer Antigen 125 (CA-125) Captopril Stimulation Test Carbamazepine (Tegretol) Carbohydrate Antigen 19-9 Carbon Dioxide, Partial Pressure Carbon Monoxide Carboxyhemoglobin (COHb) Cardiac Markers (Serum) Cardiac Troponins Carcinoembryonic Antigen (CEA) Cardio-CRP Carotene (Serum) Catecholamines, Urine CBC CCK CCK-PZ CD4 T-lymphocyte Count (CD4 T-cells) CD40 Ligand CEA Cerebrospinal Fluid (CSF) Ceruloplasmin (Serum) Chlamydia Group Antibody Serologic Test Chlamydia Trachomatis Polymerase Chain Reaction (PCR) Chloride (Serum) Chloride (Sweat) Chloride, Urine Cholecystokinin-Pancreozymin (CCK, CCK-PZ) Cholesterol, Low-Density Lipoprotein Cholesterol, High-Density Lipoprotein Cholesterol, Total Chorionic Gonadotropin (hCG), Human (ser

Fred F. Ferri, MD,, Clinical Professor, The Warren Alpert Medical School, Brown University, Providence, Rhode Island