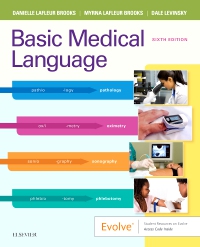 Basic Medical Language with Flash Cards, 6th Edition
Paperback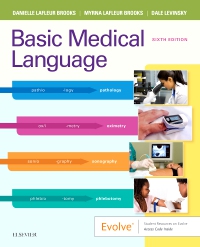 This item has low stock levels and may be back-ordered. We'll let you know if it is back-ordered, and you will not be charged until the item ships.
The perfect text for a shorter medical terminology course, Basic Medical Language, 6th Edition provides the foundation your students need to confidently communicate with other members of the health care team. This basic medical vocabulary text focuses on building students' word skills by explaining a carefully selected group of suffixes, prefixes, and combining forms to provide the basis for recognizing and defining hundreds of medical terms. Clear, illustrated lessons present terms by body system, introducing word parts and providing review exercises that ask students to define terms or combine word parts to create terms. The new edition of this text also reinforces student learning with case studies, images, exercises and carefully crafted, fully accessible Evolve resources.
Over 200 flash cards packaged free with the text make it easier for you to memorize terms.
Electronic health record mockups provide exposure to the electronic health records that you will encounter in practice.
Systemic presentation of medical terms helps you learn and recognize new words as you encounter them by combining parts.
Case studies serve as review sections and provide additional opportunities for you to apply what you have learned.
Engaging integrated exercises, including matching, building, and reading medical terms in context.
Consistent organization and pacing of lessons ensures steady acquisition of terminology.
Objectives integrated with headings clarify how the content is presented within lessons and show you how objectives relate to content.

NEW! An expanded Career Focus feature highlights professionals whose work focuses on specific body systems.
NEW! Integrated chapter quizzes test your knowledge and provide instant feedback on your progress.
NEW! Updated terminology and illustrations provide students with the latest pathology and procedure information.
NEW! Expanded abbreviation lists provide you with the most important healthcare abbreviations.

1. Introduction to Medical Language, Body Structure, and Oncology

2. Directional Terms, Planes, Regions, Positions, and Quadrants

3. Integumentary System, Colors, and Plural Endings

4. Respiratory System

5. Urinary System

6. Reproductive Systems

7. Cardiovascular and Lymphatic Systems

8. Digestive System

9. Eye and Ear

10. Musculoskeletal System

11. Nervous System

12. Endocrine System

Appendices

A: Word Parts Used in Basic Medical Language

B: Abbreviations, Including Error-prone Abbreviation List

C: Answers to Exercises

Danielle LaFleur Brooks, MEd, MA, Faculty, Medical Assisting and Allied Health and Science
Community College of Vermont
Montpelier, Vermont, Myrna LaFleur Brooks, RN, BEd, Founding President of the National Association of Health Unit Clerks/Coordinators, Faculty Emeritus, Maricopa County Community College District, Phoenix, AZ and Dale M Levinsky, MD, Clinical Associate Professor
Department of Family and Community Medicine
University of Arizona College of Medicine
Tucson, Arizona
This item has low stock levels and may be back-ordered. We'll let you know if it is back-ordered, and you will not be charged until the item ships.