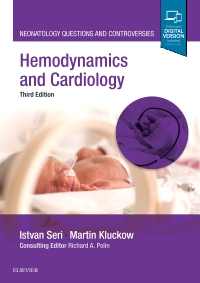 Publication Date:
08-29-2018
Hemodynamics and Cardiology, 3rd Edition
Hardcover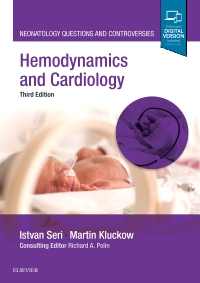 Publication Date:
08-29-2018
Free Shipping!
In Stock
This item has low stock levels and may be back-ordered. We'll let you know if it is back-ordered, and you will not be charged until the item ships.
Dr. Richard Polin's Neonatology Questions and Controversies series highlights the most challenging aspects of neonatal care, offering trustworthy guidance on up-to-date diagnostic and treatment options in the field. In each volume, renowned experts address the clinical problems of greatest concern to today's practitioners, helping you handle difficult practice issues and provide optimal, evidence-based care to every patient.
SECTION A. DEVELOPMENTAL CARDIOVASCULAR PHYSIOLOGY AND PATHOPHYSIOLOGY

1.Principles Of Developmental Cardiovascular Physiology And Pathophysiology

2. Vascular Regulation Of Blood Flow To Organs In The Preterm And Term Neonate

3. Definition Of Normal Blood Pressure Range: The Elusive Target

SECTION B. HEMODYNAMIC PRINCIPLES OF POSTNATAL TRANSITION

4. Cardiorespiratory Effects Of Delayed Cord Clamping

5. Hemodynamic Significance And Clinical Relevance Of Delayed Cord Clamping And Cord Milking

6. Transitional Hemodynamics And Pathophysiology Of P/Ivh

7. The Immature Autonomic Nervous System, Hemodynamic Regulation, And Brain Injury In The Preterm Neonate

8. Pathophysiology Of Pphn: Cellular Basis And Animal Studies

9. Pathophysiology-Based Treatment Of Pphn -

SECTION C. DIAGNOSIS OF NEONATAL CARDIOVASCULAR COMPROMISE: METHODS AND THEIR CLINICAL APPLICATIONS

Sub-Section C1 Assessment Of Systemic Blood Flow And Cardiac Function: Ultrasound

10. Point Of Care Ultrasound In The Assessment Of The Neonatal Cardiovascular System

11. Assessment Of Systemic Blood Flow And Myocardial Function In The Neonatal Period Using Ultrasound

12. Tissue Doppler Imaging

13. Speckle Doppler Tracking

Sub-Section C2 Assessment Of Systemic Blood Flow And Cardiac Function: Other Methods

14. Assessment Of Cardiac Output In Neonates: Techniques Using The Fick Principle, Indicator Dilution Technology, Doppler Ultrasound, Thoracic Electrical Impedance And Arterial Pulse Contour Analysis

15. Cardiac MRI In The Assessment Of Systemic And Organ Blood Flow And The Function Of The Developing Heart

16. Methods To Assess Systemic And Organ Blood Flow In The Neonate: Principles

Sub-Section C3 Assessment Of Organ And Peripheral Blood Flow

17. Near-Infrared Spectroscopy

18. Clinical Applications Of Near-Infrared Spectroscopy In Neonates

19. Assessment Of The Microcirculation In The Neonate

Sub-Section C4 Comprehensive And Predictive Monitoring

20 Heart Rate And Cardiorespiratory Analysis For Sepsis And Nec Prediction

21. Comprehensive, Real-Time Hemodynamic Monitoring And Data Acquisition: An Essential Component Of The Development Of Individualized Neonatal Intensive Care

SECTION D. CLINICAL PRESENTATIONS AND TREATMENT OF CARDIOVASCULAR COMPROMISE IN THE NEONATE

Sub-Section D1 Patent Ductus Arteriosus

22. Diagnosis, Evaluation And Monitoring Of Pda In The Very Preterm Infant

23. Pharmacologic Management Of Pda In The Very Preterm Neonate

24. Surgical Management Of Pda In The Very Preterm Infant And Post Ligation Cardiac Compromise

25. Pathophysiology Based Management Of The Hemodynamically Significant Ductus Arteriosus In The Very Preterm Neonate

26. Cardiovascular Compromise In The Preterm Infant During The First Postnatal Day

Sub-Section D2 Pathophysiology And Treatment Of Neonatal Shock

27. Assessment And Management Of Septic Shock & Hypovolaemia

28. Hemodynamics In The Asphyxiated Neonate And Effects Of Therapeutic Hypothermia

29. Pathopysiologically Based Management Of Circulatory Compromise

30. The Neonate With Relative Adrenal Insufficiency And Vasopressor Resistance

SECTION E. CARDIOLOGY

31. Neonates With Complex Congenital Heart Disease: Delivery Room Management And Stabilization Before Transfer To The Cardiac Icu

32. Catheter-Based Therapy In The Neonate With Congenital Heart Disease

Istvan Seri, MD, Professor of Pediatrics, Division Chief, USC Division of Neonatal Medicine, Keck School of Medicine/Children's Hospital Los Angeles, Los Angeles, CA, USA