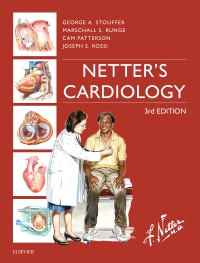 Publication Date:
05-06-2019
Netter's Cardiology Elsevier eBook on VitalSource, 3rd Edition
Elsevier eBook on VitalSource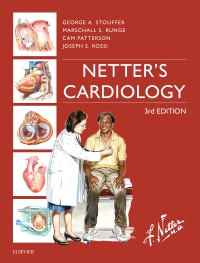 Publication Date:
05-06-2019
Or $0.00 with a valid access code
Perfect for residents, generalists, anesthesiologists, emergency department physicians, medical students, nurses, and other healthcare professionals who need a practical, working knowledge of cardiology, Netter's Cardiology, 3rd Edition, provides a concise overview of cardiovascular disease highlighted by unique, memorable Netter illustrations. This superb visual resource showcases the well-known work of Frank H. Netter, MD, and his successor, Carlos Machado, MD, a cardiologist who has created clear, full-color illustrations in the Netter tradition. New features and all-new chapters keep you up to date with the latest information in the field.
Access to this product, which may be at the discretion of your institution, is up to 3 years of online and perpetual offline access. Elsevier reserves the right to restrict or remove access due to changes in product portfolio or other market conditions.
SECTION I - Introduction

Basic Anatomy and Embryology of the Heart

The History and Physical Examination

Genetics in Cardiovascular Disease

Effects of Exercise on Cardiovascular Health

Cardiovascular Epidemiology and Risk Prediction Models

Stem Cell Therapies for Cardiovascular Disease

SECTION II - Diagnostic Testing

Electrocardiography

Chest Radiography

Echocardiography

Stress Testing and Nuclear Imaging

Cardiac Computed Tomography and Magnetic Resonance Imaging

Diagnostic Coronary Angiography

Left and Right Heart Catheterization

SECTION III - Vascular Biology and Risk Factors for Coronary Artery Disease

Atherosclerosis and Angiogenesis

Hypertension

Lipid Abnormalities

Diabetes and Cardiovascular Events

Cardiovascular Effects of Air Pollutants

SECTION IV - CORONARY HEART DISEASE

Stable Coronary Artery Disease

Non–ST-Elevation Myocardial Infarction

ST-Elevation Myocardial Infarction

Percutaneous Coronary Intervention

Coronary Artery Bypass Surgery

Cardiogenic Shock after Myocardial Infarction and Percutaneous support devices

Congenital Coronary Anomalies

Coronary Hemodynamics and FFR

SECTION V - MYOCARDIAL DISEASES AND CARDIOMYOPATHY

Epidemiology of Congestive Heart Failure- HFpEF and HFrEF

Management of Acute Heart Failure

Management of Chronic Heart Failure

Hypertrophic Cardiomyopathy

Restrictive Cardiomyopathy

Hereditary Cardiomyopathies

Myocarditis

Cardiac Transplantation and Mechanical Circulatory Support Devices

Stress-Induced Cardiomyopathy

SECTION VI - CARDIAC RHYTHM ABNORMALITIES

Bradyarrhythmias

Supraventricular Tachycardia

Atrial Fibrillation- Rate vs. Rhythm

Atrial Fibrillation- Stroke Prevention

Atrial Fibrillation- Ablation Techniques

Ventricular Tachycardia

Sudden Cardiac Death

Syncope

Cardiac Pacemakers and Defibrillators

SECTION VII - VALVULAR HEART DISEASE

Aortic Valve Disease

Mitral Valve Disease

Cardiovascular Manifestations of Rheumatic fever

Tricuspid and Pulmonic Valve Disease

Infective Endocarditis

Surgical Treatment of Valvular Heart Disease

SECTION VIII - STRUCTURAL HEART DISEASE

Clinical Presentation of Adults with Congenital Heart Disease

Catheter-based Therapies for Adult Congenital Heart Disease

Surgical Interventions for Congenital Heart Disease

Transcatheter Aortic Valve Replacement

Transcatheter Mitral Valve Repair

SECTION IX - PERICARDIAL DISEASES

Pericardial Disease: Clinical Features and Treatment

Pericardial Disease: Diagnosis and Hemodynamics

SECTION X - PERIPHERAL VASCULAR DISEASE

Renovascular Hypertension and Renal Denervation

Interventional Approaches for Peripheral Arterial Disease

Surgery for Peripheral Vascular Diseases

Carotid Artery Revascularization

Diseases of the Aorta

Deep Vein Thrombosis and Pulmonary Embolism

SECTION XI - Cardiac Considerations in Specific Populations and Systemic Diseases

Cardiovascular Disease in Pregnancy

Neuromuscular Diseases and the Heart

Cardiovascular Manifestations of Endocrine Diseases

Connective Tissue Diseases and the Heart

Cardiac Tumors and Cardio-oncology

Pulmonary Hypertension

HIV and the Heart

Sleep Disorders and the Cardiovascular System

Cardiovascular Disease in Women

Cardiovascular Disease in the Elderly

George Stouffer, MD, Professor of Medicine Director, C.V. Richardson Cardiac Catheterization Laboratory Director, Interventional Cardiology, Marschall S. Runge, MD, PhD, University of North Carolina at Chapel Hill School of Medicine, Chapel Hill, NC, USA, Cam Patterson, MD, Chief, Division of Cardiology, Ernest and Hazel Craige Distinguished Professor of Cardiovascular Medicine; Director of the Carolina Cardiovascular Biology Center, Department of Medicine, Faculty in Pharmacology as well as Cell and Developmental Biology and Joseph S. Rossi, MD, FACC, FSCAI (Editor), Adjunct Associate Professor, UNC – Chapel Hill, UNC Regional Physicians Carolina Cardiology at High Point, Chapel Hill, North Carolina