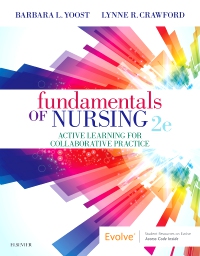 Publication Date:
02-18-2019
Fundamentals of Nursing Elsevier eBook on VitalSource, 2nd Edition
Elsevier eBook on VitalSource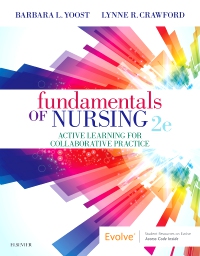 Publication Date:
02-18-2019
Or $0.00 with a valid access code
Yoost and Crawford's Fundamentals of Nursing is back for a second-edition encore! The text that made its name by focusing on simple language and active learning continues its focus on helping you truly understand, apply, and retain important nursing information and concepts. Using a warm and conversational style, this new second edition guides you towards a basic understanding of the nursing profession and then logically progresses through the nursing process and into the safe and systematic methods of applying care. Each chapter features realistic and complex case studies and critical thinking exercises woven throughout the content to help you continually apply what you've learned to actual patient care. A conceptual care mapping approach — created by Yoost and Crawford themselves — further your ability to make clinical judgments and synthesize knowledge as you develop plans of care after analyzing and clustering related patient assessment data. All of this paired with a wealth of student-friendly learning features and clinically-focused content offers up a fundamentally different — and effective — way for you to easily master the fundamentals of nursing.
UNIQUE! Warm, friendly writing style slows down the pace of information to give readers time to critically think and master all fundamental concepts and skills.
UNIQUE! Building block approach groups topics and concepts together thematically, in the order needed for readers to build their knowledge.
UNIQUE! Objective-driven approach presents clearly defined, numbered objectives that coordinate with all content and then wrap up with Objective Summaries.
UNIQUE! Active learning activities are incorporated throughout every chapter to help readers learn to apply chapter content to broader nursing concepts and realistic patient scenarios.
UNIQUE! Conceptual care mapping is taught and used throughout the text in conjunction with the Conceptual Care Map Creator.
UNIQUE! Emphasis on QSEN reinforces the Quality and Safety Education for Nurses competencies, including: patient-centered care, teamwork and collaboration, evidence-based practice, quality improvement, safety, and informatics.
Special feature boxes cover the areas of: diversity consideration, evidence-based practice, informatics, patient education, healthy literacy, health assessment questions, interprofessional collaboration and delegation, ethical and legal practice, home care considerations, safe practice alerts, QSEN, critical thinking exercises, and nursing care guidelines.

NEW! Interprofessional collaboration and delegation content appears throughout the text along with new IPE activities that are integrated into the Evolve resources.
NEW & UNIQUE! Review and exam questions tied to learning objectives use a building-block style approach that starts at lower Bloom's taxonomy levels in early chapters and builds to more complex levels as readers acquire more knowledge.
NEW! Emphasis on assignment and delegation covers the differences between them and how and when they're appropriate for an RN.
NEW! Content on complementary therapies has been integrated throughout the text to reflect the changes to the NCLEX exam.
NEW! Additional information has been added in the areas of HCAHPS, Health Literacy, Patient Education, Drugs of Abuse, Zika, Ebola, and more.

1. Nursing, Theory, and Professional Practice
2. Values, Beliefs, and Caring
3. Communication
4. Critical Thinking in Nursing
5. Introduction to the Nursing Process
6. Assessment
7. Nursing Diagnosis
8. Planning
9. Implementation and Evaluation
10. Documentation, Electronic Health Records, and Reporting
11. Ethical and Legal Considerations
12. Leadership and Management
13. Evidence-Based Practice and Nursing Research
14. Health Literacy and Patient Education
15. Nursing Informatics
16. Health and Wellness
17. Human Development: Conception through Adolescence
18. Human Development: Young Adult through Older Adult
19. Vital Signs
20. Health History and Physical Assessment
21. Ethnicity and Cultural Assessment
22. Spiritual Health
23. Public Health, Community-Based, and Home Health Care
24. Human Sexuality
25. Safety
26. Asepsis and Infection Control
27. Hygiene and Personal Care
28. Activity, Immobility, and Safe Movement
29. Skin Integrity and Wound Care
30. Nutrition
31. Cognitive and Sensory Alterations
32. Stress and Coping
33. Sleep
34. Diagnostic Testing
35. Medication Administration
36. Pain Management
37. Perioperative Nursing Care
38. Oxygenation and Tissues Perfusion
39. Fluid, Electrolyte, and Acid-Base Balance
40. Bowel Elimination
41. Urinary Elimination
42. Death and Loss

Barbara L Yoost, MSN, RN, CNE, ANEF and Lynne R Crawford, MSN, MBA, RN, CNE