Viral Outbreaks, Biosecurity, and Preparing for Mass Casualty Infectious Diseases Events
,
Hardcover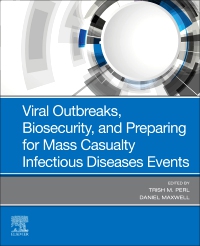 Free Shipping!
Not Yet Available
Coming Soon!
Expected availability date: 07-01-2020
Written by authorities in infectious disease and disaster preparedness, this one-stop resource covers the relevant theoretical, historical, and pragmatic considerations of viral outbreaks and bioterrorism. It provides an expert overview of this complex area for infectious disease physicians, emergency medicine physicians, hospital administrators, and more.
1. Historical Perspective

The Organisms

2. Anthrax

3. Tularemia

4. Plague

5. VHF

6. Small pox

7. Influenza

8. Avian Influenza

Coronavirus

9. SARS

10. MERS-CoV

Public Health Tracking, Prevention, and Planning

11. Ethical issues with preparedness

12. Surveillance strategies

13. Translating Policy into Practice

14. Planning for a Bioterrorism or Pandemic Event: Public Health Perspective

15. Issues in healthcare settings (including assessing exposures)

16. Transmission dynamics, modeling of outbreaks and interventions

17. Recovery from large infectious diseases outbreak

18. Diagnostics

19. Prevention

20. Designer pathogens and synthetic biology

Trish M. Perl, MD, MSc, Jay P Sanford Professor of Medicine, Chief of Infectious Diseases, Division of Infectious Diseases, UT Southwestern Medical Center, Dallas, Texas