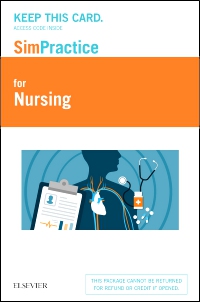 Publication Date:
02-22-2017
SimPractice for Nursing (Access Card), 1st Edition
Simulations - SimPractice - Access Card
Publication Date:
02-22-2017
Offering fully immersive, case-based simulation scenarios, SimPractice for Nursing gives you the opportunity to apply your clinical skills in a safe, yet realistic environment. Along the way, you'll gain valuable practice performing key skills and making decisions to help strengthen your clinical competency, as well as expand your critical thinking abilities and soft skills, such as communication.
Duration for access to this product, which may be at the discretion of your institution, is up to 36 months. Elsevier reserves the right to restrict or remove access due to changes in product portfolio or other market conditions.
Realistic virtual scenarios challenge you to make decisions and choose a course of action using a combination of case background information, assessment findings, and unfolding events during the simulation.
Interactive dialogue, including subjective assessment, patient education, and interdisciplinary communication, enables you to practice and improve your therapeutic communication skills.
Various skills are required to successfully navigate the simulation scenarios, allowing you to further develop your psychomotor, assessment, learner-led intervention, and clinical decision making and judgment skills.
After-Action Reports provide a patient outcome summary at the end of each simulation that indicates correct and incorrect actions.

VIRTUAL SCENARIOS

Health Assessment

Assessing Height & Weight
Assessing Mental Status
Assessing the Abdomen
Assessing the Chest & Lungs
Assessing the Head & Neck
Assessing the Heart
Assessing the Musculoskeletal System
Assessing the Neurologic System
Assessing the Peripheral Vascular System
Assessing the Skin, Hair, & Nails
Conducting a Head-to-Toe (Focused) Examination

Fundamentals

Administering an Oral Medication
Cognitive Assessment
Environmental Safety Assessment
Hand-Off Report - SBAR
Hand Washing
Orthostatic Blood Pressure Assessment
Pain Assessment
Peak Flow Testing
Pressure Ulcer Identification
Prioritization of Patient Care
Vital Signs Assessment

Medical-Surgical

Gastrointestinal Problems
Heart Failure
Postmortem Care
Respiratory Problems
Sepsis

Maternal-Newborn

Fetal Monitoring
Hypoglycemia
Newborn Care
Postpartum Hemorrhage
Preeclampsia

Pediatrics

Appendectomy
Asthma
Caloric Requirements
Fluid Requirements
RSV

Mental Health

Anxiety
Depression
Substance Abuse

Population-Based

Gerontology

Palliative, Hospice, and End-of-Life Care

Leadership

Elsevier