Gray's Clinical Photographic Dissector of the Human Body Elsevier eBook on VitalSource
, 2nd Edition
Elsevier eBook on VitalSource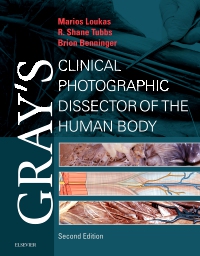 Or $0.00 with a valid access code
Perfect for hands-on reference, Gray's Clinical Photographic Dissector of the Human Body, 2nd Edition is a practical resource in the anatomy lab, on surgical rotations, during clerkship and residency, and beyond! The fully revised second edition of this unique dissection guide uses superb full-color photographs to orient you more quickly in the anatomy lab, and points out the clinical relevance of each structure and every dissection.
Duration for access to this product, which may be at the discretion of your institution, is up to 84 months. Elsevier reserves the right to restrict or remove access due to changes in product portfolio or other market conditions.
Section I Introduction

1 Dissection Laboratory Materials, Tools and Techniques

Section II Back

2 Muscles of the Back and Scapula

3 Suboccipital Triangle and Spinal Cord

Section III Thorax

4 Pectoral Region and Breast

5 Lungs, Removal of Heart, and Posterior Mediastinum

6 Heart

Section IV Upper Limb

7 Axilla and Arm

8 Forearm (Antebrachium)

9 Hand

Section V Abdomen

10 Anterior Abdominal Wall and Inguinal Region

11 Peritoneal Cavity

12 Gastrointestinal Tract

13 Posterior Abdominal Wall

Section VI Pelvis and Perineum

14 Pelvis

15 Perineum

Section VII Lower Limb

16 Gluteal Region

17 Thigh and Leg

18 Leg and Ankle

19 Foot

Section VIII Head and Neck

20 Neck

21 Face

22 Infratemporal Fossa

23 Calvaria, Dural Venous Sinuses, Brain, and Cranial Nerves

24 Orbit

25 Ear

26 Nasal Cavity

27 Pharynx and Oral Cavity

28 Larynx

29 Retropharyngeal Region and Pharynx

Clinical Applications

Index

Marios Loukas, MD, PhD, Dean of Basic Sciences, Dean of Research, Professor and Co-chair, Department of Anatomical Sciences, School of Medicine, St.George's University, Grenada WI, Brion Benninger, MD, MSc, Professor of Anatomy and Vice Chair, Department of Clinical and Anatomical Sciences, Western University of Health Sciences, Portland, Oregon; Faculty Member, Departments of Surgery, Orthopaedics and Rehabilitation, Oral Maxillofacial Surgery and Integrative Biosciences, School of Medicine, Dentistry and Physician Assistants, Oregon Health and Science University, Portland, Oregon; Member, Samaritan Orthopaedic Residency Faculty, Newport, Oregon, USA. and R. Shane Tubbs, MS, PA-C, PhD, Professor and Chief Scientific Officer, Seattle Science Foundation, Seattle, Washington; Professor, Department of Anatomical Sciences, St. George's University, Grenada, West Indies.