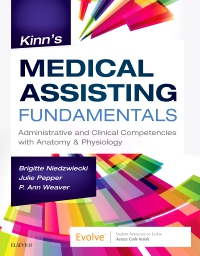 Publication Date:
09-17-2018
Kinn's Medical Assisting Fundamentals, 1st Edition
Paperback
Publication Date:
09-17-2018
In Stock
Most review copies are eBooks – how fast!
This item has low stock levels and may be back-ordered. We'll let you know if it is back-ordered, and you will not be charged until the item ships.
Help all levels of students launch their Medical Assisting careers with Kinn's Medical Assisting Fundamentals: Administrative and Clinical Competencies with Anatomy & Physiology! This practical, hands-on text features an easy-to-understand writing style and detailed visuals designed to ensure that today's learners master all the Medical Assisting knowledge, procedures, and skills needed for career success. Based on the content you know and trust from the Kinn's product suite, this brand-new text includes approachable coverage of math, medical terminology, soft skills, and anatomy and physiology. Complete with accompanying educator and student resources that incorporate the latest standards and competencies throughout.
Easy-to-grasp writing style is appropriate for all levels of learners in all types of Medical Assisting programs.
Trusted Kinn's content supports the following exam plans: CMA from the American Association of Medical Assistants; RMA and CMAS from American Medical Technologist; CCMA and CMAA from the National Healthcareer Association; NCMA from the National Center for Competency Testing; and CMAC from the American Medical Certification Association.
Emphasis on anatomy and physiology — along with pathology, signs/symptoms, diagnostic procedures, and treatments — enables you to meet key competencies.
Strong focus on medical terminology includes feature boxes that highlight chapter-related medical terminology to help you learn word parts, pronunciation, and definitions.
Math exercises embedded throughout the text challenge you to sharpen your math skills.
Procedures are mapped to CAAHEP and ABHES accreditation standards down to the step, offer rationales for each step, and can be conveniently performed in the classroom.
Customer Service boxes in appropriate chapters help you develop the soft skills that employers seek when hiring Medical Assistants.
Applied learning approach introduces a case scenario at the beginning of each chapter and then revisits it throughout the chapter to help you understand new concepts as they are presented.
Chapter learning tools include vocabulary with definitions, critical thinking applications, and content that ties directly to the order of learning objectives.
Pharmacology glossary of the top 100-150 most common over-the-counter and prescription medications gives you quick access to pronunciation guides, generic and trade names, and drug classification.

Unit 1: Medical Terminology, Anatomy and Physiology
1. Medical Terminology Basics
2. Anatomy and Physiology Basics
3. Musculoskeletal System
4. Integumentary System
5. Digestive System
6. Genitourinary System
7. Reproductive System
8. Blood and Immunity
9. Circulatory System
10. Respiratory System
11. Nervous System and Mental Health
12. Sensory System
13. Endocrine System
Unit 2: Professional Medical Assistant
14. Professionalism in Health Care
15. Legal Basics
16. Health Care Laws
17. Health Care Ethics
Unit 3: Administrative Ambulatory Care
18. The Health Record
19. Telephone Techniques and Scheduling
20. Technology and Written Communication
21. Daily Operations
22. Health Insurance Basics
23. Diagnostic Coding Basics
24. Procedural Coding Basics
25. Billing and Reimbursement
26. Accounts, Collections, and Banking
Unit 4: Basic Clinical Procedures
27. Infection Control
28. Vital Signs
29. Physical Examination
30. Assisting in Obstetrics and Gynecology
31. Assisting in Pediatrics
32. Assisting in Geriatrics
33. Assisting in Minor Surgery
Unit 5: Advanced Clinical Procedures
34. Patient Coaching with Health Promotion
35. Patient Coaching with Nutrition
36. Pharmacy Basics
37. Administering Medication
38. Emergencies and First Aid Procedures
39. Cardiopulmonary Procedures
Unit 6: Medical Laboratory
40. Assisting in the Clinical Laboratory
41. Assisting in the Analysis of Urine
42. Assisting in Blood Collection
43. Assisting in the Analysis of Blood
44. Assisting in Microbiology and Immunology
Unit 7: Employment Seeking
45. Career Development

Brigitte Niedzwiecki, RN, MSN, RMA, Medical Assistant Program Director & Instructor, Chippewa Valley Technical College, Eau Claire, Wisconsin, Julie Pepper, BS, CMA (AAMA), Medical Assisting Program Instructor, Health Navigator Program Director, Chippewa Valley Technical College, Eau Claire, Wisconsin and P. Ann Weaver, MSEd, MT(ASCP), Medical Assistant Instructor, Chippewa Valley Technical College, Eau Claire, Wisconsin