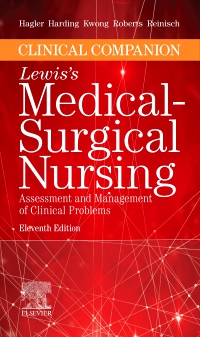 Clinical Companion to Lewis's Medical-Surgical Nursing
, 11th Edition
Paperback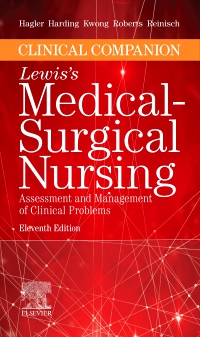 Not Yet Available
Coming Soon!
Expected availability date: 10-01-2019
Designed for portability, this clinical companion provides at-a-glance access to information students need for more than 200 medical-surgical conditions and procedures. Completely updated content mirrors the revisions in the new 11th edition of Lewis's Medical-Surgical Nursing: Assessment and Management of Clinical Problems text. The clinical companion is organized alphabetically for quick reference and includes a variety of full-color illustrations, summary tables, and a handy reference appendix full of laboratory values, Spanish translations of key phrases, and other information commonly used in nursing practice.
Consistent and practical information covers definitions and descriptions, pathophysiology, clinical manifestations, complications, diagnostic studies, interprofessional care and drug therapy, and nursing management.
Treatments and Procedures section summarizes the need-to-know content about common medical-surgical treatments and procedures such as basic life support, enteral nutrition, and artificial airway management.
Handy reference appendix contains information commonly used in nursing practice, including laboratory values, commonly used formulas, Spanish translations of key phrases, and much more.
Patient and caregiver teaching content is highlighted with a special icon to identify appropriate information to share with patients and caregivers about the care of various conditions.
Cross-references to the Lewis main text identify how to access more in-depth information.
Attractive four-color design makes it easy to locate specific information within the clinical companion.

NEW! Updated content reflects the revisions and updates in Lewis's Medical-Surgical Nursing, 11th Edition main text.

Debra Hagler, RN, PhD, ACNS-BC, CNE, CHSE, ANEF, FAAN, Clinical Professor
College of Nursing and Healthcare Innovation
Arizona State University
Phoenix, Arizona, Mariann M. Harding, PhD, RN, CNE, Associate Professor, Department of Nursing, Kent State University at Tuscarawas, New Philadelphia, Ohio, Jeffrey Kwong, DNP, MPH, ANP-BC, Program Director, Adult-Gerontology Nurse Practitioner Program; Program Director, HIV Sub-specialty; Columbia University School of Nursing, New York, New York, Dottie Roberts, RN, MSN, MACI, CMSRN, OCNS-C, CNE, Instructor, University of South Carolina College of Nursing, Columbia, South Carolina and Courtney Reinisch, RN, DNP, Director of Undergraduate Nursing
School of Nursing
Montclair State University
Montclair, New Jersey
Not Yet Available
Coming Soon!
Expected availability date: 10-01-2019